(Manufactures and model list added, Incomplete)
The combine harvester, or simply combine, also known as a thresher is a machine that combines the tasks of harvesting, threshing, and cleaning grain crops. The objective is the harvest of the crop; corn (maize), soybeans, flax (linseed), oats, wheat, or rye among others). The waste straw left behind on the field is the remaining dried stems and leaves of the crop with limited nutrients which is either chopped and spread on the field or baled for feed and bedding for livestock.
For combine history, see Combine harvester.
Combine Manufacturers
Edit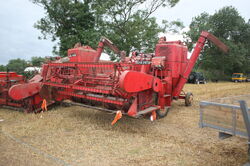 Early Makes
Edit
Preservation
Edit
A Few Early combines have been preserved, and a few small Hobby farmers use examples of early combines to harvest small acreages each year. There are a few events were combines are demonstrated, but the size of later ones makes moving them and even storage a problem, As classic machines like the MF 760 and MF 860 are 14' (4.2m) wide or more dependant on wheel configuration (without the header), and require a escort to move on most roads (in UK).
Modern Makes (1980 > Today)
Edit
(some brands in 1st section may belong here, as dates unknown)
References / sources
Edit
Literature
Edit
External links
Edit
Early Makes - pre 1940s

1940s to 1980s

Modern post 1980s

Independents
North America

Europe

India & Pakistan

Middle East
(Turkey, Iran,
Iraq, Syria etc...)

Far East
(Australasia, China,
Japan, Korea, Thailand,
Vietnam etc...)

South America
(Argentina, Brazil,
Uruguay etc)

Africa

Asia
(Russia, Tajikstan,
Uzbekistan, Ukraine)

Specialist types of tractor

Notable People - associated with the tractor industry

Inventors
Community content is available under
CC-BY-SA
unless otherwise noted.