This is a list of cars with non-standard door designs, sorted by door type. These car models use passenger door designs other than the standard design, which is hinged at the front edge of the door, and swings away from the car horizontally and towards the front of the car.
The main types of non-standard door designs are:
Scissor doors
Edit
Butterfly doors
Edit
Road cars
Edit
Racing cars
Edit
A common door design on Group C, IMSA GTP cars of the 1980s and early 1990s and recently on Daytona Prototype and Le Mans Prototype cars, this list does not include cars categorized as such.
Concept cars
Edit
Gullwing doors
Edit
Production cars
Edit
AMT Piranha
Bradley GTII
Dare DZ
Eagle SS Mk1
Fiberfab Aztec 7
Foers Ibex
Innes Lee Scorpion K19
Replicar Cursor
Sterling Sports Cars Sterling Car also known as Nova in UK
Cimbria and Neria (US versions of same car, made in diff years - later became the Eagle SS in the UK)
Manta Cars Mirage, which has two-part split doors where the top half is a removable gullwing door and the lower half is a scissor door
Concept cars
Edit
Isdera Commendatore 112i
Kia KV7 - normal doors up front, rear doors are gullwing
Opel Astra Xtreme (based on the racecar listed above)
Suicide doors
Edit
Models of automobile that featured suicide doors (i.e., doors hinged at the rear) include (but are not limited to):
Canopy doors
Edit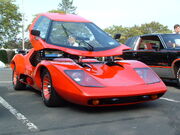 Sliding doors
Edit
A common door design on minivans and commercial vehicles, this list exclude all vehicles categorized as such.
BMW Z1 (the Z1 used unhinged doors that lowered into the chassis)
Kaiser Darrin (Used "pocket doors" that slide forward into the front fender.)
Lincoln Mark VIII Concept (Doors "rolled" into underbody of frame and disappeared from view, much like a blind. Prototype)
Mercedes-Benz NAFA Researchvehicle (A very small car similar to the Smart Fortwo with 2 doors sliding forward (at the front).
Other door types
Edit
References
Edit
Community content is available under
CC-BY-SA
unless otherwise noted.