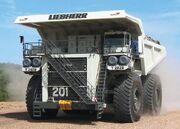 The Liebherr T 282B is a large earth-hauling dump truck designed by Liebherr, a German manufacturer of heavy equipment, household appliances, microelectronics, car parts, tool machines and aerospace components.
History
Launched in 2004, it became the largest earth-hauling tru ck in the world. The T 282B is an uprated version of the T 282 truck. The trucks are assembled in a 10 acre (4 hectare) factory in Newport News, Virginia, USA, that can handle four 282s at a time.
Specification
The T 282B has an empty weight of 203 tonnes, and a maximum capacity of 365 tonnes. The maximum operating weight is 592 tonnes.[1] It is 14.5 meters long and 7.4 meters tall over the canopy, with a wheelbase of 6.6 meters. The top level model is driven by a 10.5 tonne, 90 litre diesel engine, developed by Detroit Diesel and MTU (Germany), producing 3650 horsepower (2700 kW). This engine powers two Siemens electric traction motors in the rear axle. The top speed of the truck is 40 mph (65 km/h).
Cost
The truck costs about US$ 3.5 million. An CD-player and air conditioning systems are listed on the optional equipment spec, unusual in the world of professional hauling. Liebherr sells upto a few dozen of them every year, primarily to coal, copper, iron and gold mines in the USA, Chile, Indonesia, South Africa and Australia. Orders being influenced by demand for Minerals & commodities rising dramatically due to growth in China and South America. New mines can have fleets of a couple of dozen each.
See also
References / sources
External links

1900s

 •  •  •  •  •  •  •  •

1910-30s

 •  •  •  •  •  •  •  •

1930s

 •  •  •  •  •  •  •  •

1940s

 •  •  •  •  •  •  •

1950s

 •  •  •  •  •  •  •  •

1960s

 •  •  •  •  •  •  •  •

1970s

 •  •  •  •  •  •  •  •

1980

 •  •  •  •  •  •  •  •

1990s

 •  •  •  •  •  •  •  •  •

Industrial models

 •  •  •  •  •  •

Crawler tractors

 •  •  •

Note this list is under development
please add the model of any page this template is added to
(please fix omission / correct errors of dates)