Leyland Trucks is a United Kingdom truck manufacturer based in Leyland, Lancashire. It emerged from the bankruptcy of DAF NV as the result of a management buy-out, and was later acquired by PACCAR, of which it is now a subsidiary. Trucks which are designed and manufactured at Leyland Trucks are marketed under PACCAR's DAF brand name.
History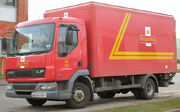 Its history lies in origins as Leyland Motors Ltd which subsequently became part of the nationalised British Leyland conglomerate. Upon the breakup of BL's successor Rover Group, the truck making division merged with DAF's truck business as DAF NV. When the new company became insolvent a few years later, Leyland Trucks emerged as an independent company.
Timeline
1896 Formed as the Lancashire Steam Motor Company.
1907 Name changed to Leyland Motors.
1968 Merger with British Motor Holdings to form British Leyland Motor Corporation (BLMC).
1975 BLMC was nationalised and became British Leyland (BL).
1986 BL changed its name to Rover Group.
1987 The Leyland Trucks division of Rover Group merged with DAF Trucks, and was floated on the Dutch stock exchange as DAF NV. The new company traded as Leyland DAF in the UK, and as DAF elsewhere.
1993 DAF NV became insolvent.
1993 New Leyland Trucks company created by management buy-out.
1998 Acquired by PACCAR of the United States and incorporated as the Leyland Trucks subsidiary of that company.
2006 Leyland Trucks stops manufacturing Foden Trucks after its parent company, PACCAR decided to cease production.
Products
DAF LF - Designed, developed and assembled at Leyland Trucks. This truck received the International Truck of the Year award in 2002.[1]
DAF CF - All CF65 2 axle rigids, and all right hand drive (RHD) versions of the CF75 and CF85 are assembled at Leyland Trucks.[1]
See also
Notes
References
External links