Leyland Trucks is a United Kingdom truck manufacturer based in Leyland, Lancashire. It emerged from the bankruptcy of DAF NV as the result of a management buy-out, and was later acquired by PACCAR, of which it is now a subsidiary. Trucks which are designed and manufactured at Leyland Trucks are marketed under PACCAR's DAF brand name.
History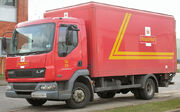 Its history lies in origins as Leyland Motors Ltd which subsequently became part of the nationalised British Leyland conglomerate. Upon the breakup of BL's successor Rover Group, the truck making division merged with DAF's truck business as DAF NV. When the new company became insolvent a few years later, Leyland Trucks emerged as an independent company.
Timeline
Products
See also
Notes
↑ 1.0 1.1 1.2 "Leyland Trucks' Product Range". Leyland Trucks.
References
External links