The name Leyland Lynx has been used for both a range of buses and Commercial vehicle model built by Leyland Commercial Vehicles at different times.
Lynx truck
Edit
The Lynx was an early model of internal combustion engined truck built by Leyland in the 1930s
Lynx truck model range
Edit
Preservation
Edit
A number of examples exist;
List of Preserved Leyland Lynx trucks
Registration No.
Make-Model or type no
Build-Year
Engine-Make/Type
Weight/class
Chassis/Body type
Owner
(if known)
Photo
Were seen/Featured
Other info






Please add any truck with known reg or serial no. with Photo if possible.
Create a page (link) for an individual truck by linking the reg or serial number using [[Truck make-model-reg no.|reg number]] or [[Truck make-model-serial no.|serial number]] in the relevant column. Then once saved click the red link to start the new page and add info on that truck.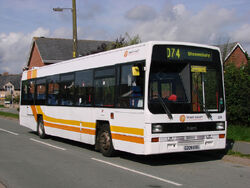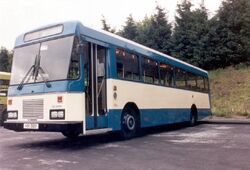 The Leyland Lynx is a single-decker bus built by Leyland Bus between 1984 and 1992. It was designed to replace the ageing Leyland National model range.
The type saw service all over the UK, with the largest fleet being based in the West Midlands, owned by West Midlands Travel (now National Express West Midlands), however the final three were withdrawn from normal passenger use in March 2009, with 10 now remaining in the driver training fleet.
Production vehicles began to enter service in 1986. From 1990 to 1992 the updated Lynx II version was produced. It could be recognised easily by its protruding front dash/grille panel, which on the original design was flat. The last two Lynxes entered service with Halton Transport (Widnes) in 1992 and 6 examples are still in in use.
Although the large majority of Lynxes carried the Leyland body, seven underframes were bodied by Alexander with N-type bodywork for Citybus (Belfast), including the first prototype. A small number of other underframes for export were bodied by other coachbuilders, including an Alexander PS type for Singapore Bus Service and 2 PMC Metro 90 (Galvastress MKV) bodied ones for Sydney, Australia.
Following the takeover of Leyland Bus by Volvo, the Lynx was superseded by the Volvo B10B. Total production of Lynxes was approximately 1060 vehicles, including six prototypes (one of which was not bodied) and several development vehicles. About 140 of the total were the Lynx II version.
The last ever Leyland Lynx to roll off the production line is owned by Halton Transport in Widnes. It is registered K853 MTJ, 57. Halton Transport still operates a small number of Lynx's although all are now only used on school contract services.
Preservation
Edit
Several Mk1 and Mk2 Lynxes have now gone into preservation, with some requiring extensive rebuilds to bring them back to original condition due to body corrosion, as well as reversing modifications made by companies during their history. One such example is the removal of all of the patterned body skirts, combined with the replacement of the square wheel arches with non-patterned round ones. Both of these modifications were made to make it easier to replace such parts in the event of an accident.
References / sources
Edit
based on WP article for Bus section
External links
Edit

| | |
| --- | --- |
| | This bus-related article is a stub. You can help Tractor & Construction Plant Wiki by expanding it. |
Community content is available under
CC-BY-SA
unless otherwise noted.