For a complete overview of all RX models, see Lexus RX.
The Lexus RX (XU30) is the second generation of the Lexus RX series of crossover SUVs that was sold by Lexus from 2003 to 2009. First introduced in 2003 at the North American International Auto Show, the initial RX 330 models (MCU33/MCU38) went on sale later that year. A Japanese domestic market and Southeast Asian version, the second generation Toyota Harrier (ACU30/ACU35; MCU30/MCU35), also went on sale in 2003. Introduced at the 2004 North American International Auto Show, the RX 400h (MHU33/MHU38) became the first production premium hybrid vehicle when it went on sale in 2005.[1] The RX 400h debuted a Lexus Hybrid Drive powertrain which combined a V6 gasoline engine with electrical motors.[1] In 2006, the RX 330 in North America was upgraded with a more powerful V6 engine and became the RX 350 (GSU30/GSU35).
All North American models were initially built in Japan until September 2003 when production of the RX 330 began in Cambridge, Ontario, Canada.[2] The second generation Lexus RX was sold until 2009, when it was succeeded by the third generation RX 350/450h.
History of development
Exterior and interior
The second generation Lexus RX featured a newer, sleeker body style than its predecessor with a 0.35 Cd figure and new LED tailamps.[3][4] Compared to the Lexus RX 330 and RX 350, the RX 400h featured a different front grille and round foglights, and also differently-styled LED taillights in place of the conventional LED ones on the RX 330/RX 350. Different exterior colors were offered. In 2007, Hybrid badging was added to the rear side doors.
The second generation RX 330/350 interior featured genuine Golden Bird's Eye Maple or Walnut wood trim, a sliding multi-level center storage console, dual-zone climate control, and power tilt/telescopic steering column. Available options included a 210-watt, 11-speaker Mark Levinson premium sound system, DVD-based navigation system with backup camera, rear seat DVD player with wireless headphones, and panoramic three panel moonroof.[5]
The RX 400h interior featured a hybrid information display on the navigation screen showing electrical motor, gasoline engine, and regenerative braking activation in real time.[6] Some RX 400h models without navigation screens displayed the information on a small monochrome display on the instrument panel. When launched in 2005, the RX 400h came exclusively with brushed aluminum interior accents, in place of the wood trim offered in the standard RX. This changed in 2006, when the RX 400h became available with Bird's Eye Maple wood trim.
Safety systems
All RX models came standard with eight airbags, including dual front airbags, front row side torso airbags, side curtain airbags, a driver's knee airbag; Vehicle Stability Control (VDIM on RX 400h) and a tire-pressure monitoring system were standard. An Adaptive Front-lighting System (AFS) with HID headlamps and a backup camera (w/navigation system) were optional. In Japan, the Toyota Harrier was offered with an optional Pre-Collision System (PCS).[7] The Lexus RX received a "Good" overall rating in the IIHS frontal crash test.[8] NHTSA crash test results in 2004 rated the RX 330 the maximum five stars in the Frontal Driver, Frontal Passenger, Side Driver, and Side Rear Passenger categories, and four of five stars in the Rollover category.[9]
Models
ACU30 / MCU30 / MCU33 (2003)
The second generation Lexus RX was previewed in January 2003 at the North American International Auto Show, and subsequently went on sale as a 2004 model in the U.S. In February 2003, the second generation Toyota Harrier (codename ACU30 and MCU30 for the front-wheel drive models, and ACU35 and MCU35 for the all-wheel drive models) was launched in Japan. The Harrier was fitted either a 2.4 L or 3.0 L V6 with or without all-wheel drive, and a new 5-speed automatic transmission with +/- shift along with availabile "AIRS" air-suspension on the 3.0 L V6 models.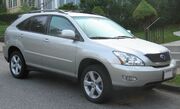 The redesigned Lexus RX was launched for European and Asian markets in early 2003, where it was sold as the RX 300 (MCU30/MCU35) and made in Japan. Asian markets included Singapore, where it succeeded the previously sold Harrier, South Korea, and Taiwan. The RX 300 featured a 3.0 L V6, with only the all-wheel drive version available, and air-suspension could be specified.
The second generation Lexus RX, called the RX 330 for the North American and Middle Eastern markets, began sales in March 2003.[10] The RX 330 (MCU33/MCU38) was powered by a 3.3-liter ULEV certified 3MZ-FE V6, rated at 230 horsepower (170 kW) SAE and 238 pound-feet (323 N·m) linked to a 5-speed automatic and was offered in either front or all-wheel drive. New technology features included Adaptive Front-lighting System (AFS) with swivel headlights,[11] height-adjustable air suspension on the all-wheel drive models, Dynamic Laser Cruise Control system, and rain-sensing wipers.
MHU33 / MHU38 (2005, 2006)
For a complete explanation of the RX 400h drivetrain, see

Lexus Hybrid Drive

.
Lexus debuted the RX 400h (MHU38) at the North American International Auto Show in 2004, with plans to launch the vehicle in the U.S. market. The equivalent Harrier Hybrid debuted in Japan on 22 March 2005, the same day as the Toyota Highlander Hybrid. The Lexus RX 400h made its U.S. sales debut in mid-2005, with over 9,000 pre-orders at launch.[12] The RX 400h's arrival in the U.S. had been delayed by several months; Lexus had announced in November 2004 that the American launch of the hybrid Lexus SUV would occur for the 2006 model year (with European and Asian launches during 2005).[13]
Since its launch, the all-wheel drive RX 400h/Harrier Hybrid was sold at a substantial premium over the non-hybrid RX 300/RX 330/RX 350/Harrier.[14] In the U.S., the initial base price was US$49,185, which was a US$5,600 premium over a similarly-equipped RX 330/RX 350.[1] A front-wheel drive version of the RX 400h debuted in 2006, with a base MSRP approximately US$1,400 less than the all-wheel drive RX hybrid.[15] For 2007, along with the reduction of the federal hybrid tax credit for its hybrids, Lexus lowered the base price of the RX 400h to US$42,580 and US$41,180 for the respective all-wheel and front-wheel drive versions.[16] The list price in Japan for the Harrier Hybrid ranged from ¥4.095 million to ¥4.62 million.[17] Based on the 2010 Lexus RX redesign, there was no RX 400h for the 2009 model year.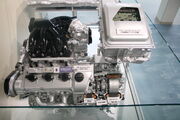 The gasoline-powered part of the RX 400h engine system was a 3.3 L 3MZ-FE V6, very similar to the one found in the RX 330. It produced 211 hp JIS (155 kW) and 288 N·m (212 ft·lbf).[18] The gasoline engine was aided by a maximum of two additional electric motors, one driving the front wheels, producing 167 hp JIS (123 kW) and 333 N·m (245 ft·lbf) and connected to the CVT gearbox,[18] and the other driving the rear wheels, producing 68 hp JIS (50 kW) and 130 N·m (95 ft·lbf).[18] The whole system, called Lexus Hybrid Drive (also Hybrid Synergy Drive), produced a maximum of 272 hp JIS (200 kW).[18] With Lexus Hybrid Drive, under normal driving conditions, only the front motor and gasoline engine were used. The rear motor was only used under full-throttle acceleration or when the front wheels lost traction.[1] An Ni-MH battery was responsible for powering the motors,[1] and charged by generators during deceleration or sharp cornering.[14] Standard features included an Electronically Controlled Brake and Vehicle Dynamics Integrated Management stability control system.
The RX 400h gasoline engine switched off automatically and the car ran completely on electricity when either stationary, decelerating, or being driven at slow speeds (0 to 40 miles per hour).[1] Not only did the hybrid drive in the RX 400h improve fuel economy, but with the assistance of the electric motor, the RX 400h could reach 60 mph (97 km/h) in less than 8 seconds,[1] quicker than the gasoline-only RX. Despite the increased performance, the RX 400h/Harrier Hybrid consumed roughly the same amount of gasoline as a compact four-cylinder sedan[19] and it qualified as a Super Ultra Low Emission Vehicle (SULEV) in America.[6] Passing power at lower and mid engine RPM's was noticeably improved due to the electric motor. The water pump for the ICE is driven by the camshaft belt. To save fuel the power steering pump and AC compressor become beltless, while the alternator is replaced by motor-generators.
Under the Japanese "10.15 mode" fuel consumption standard, the Harrier Hybrid could run 17.8 km per litre of fuel (compared with the standard coil-sprung V6 3.0 L Harrier, which returned 9.4 km/L). However, under 50% urban, 50% 70 mph (110km/h) driving, with less brake regeneration energy, consumption could be 10 km per litre. In Japan, it qualified as a "4-star" LEV-car, where it produced 75% fewer emissions than the standard specified in Heisei 17 (i.e. year 2005). In the U.S., the RX 400h was certified with a revised 2008 EPA fuel economy rating of 26 mpg city, 24 highway for the AWD model. Because of the hybrid system's ability to shut off the gasoline engine at slower speeds or at idle, its fuel economy was better in city driving,[6] in contrast with conventional petrol and diesel drivetrains. The RX 400h served as the launch vehicle of the Lexus hybrid lineup, which later expanded to include hybrid versions of other Lexus vehicles, including the GS 450h and LS 600h/ LS 600h L, and in 2009, the first ever designated-hybrid (no gas model available) Lexus, the HS 250h.
GSU30 / GSU35 (2007)
In 2006 for the 2007 model year, the RX received a mid-cycle refresh consisting of a new 3.5-liter 2GR-FE V6 replacing the 3.3-liter 3MZ-FE V6 engine on non-hybrid models, updating the vehicle's name from RX 330 to RX 350, with new model codes GSU30 and GSU35. The RX 350 also featured an updated, Lexus Generation V DVD navigation system with improved graphics, voice controlled destination inputs, and a new feature called "bread crumbs." Bread crumbs will enable drivers to retrace their steps. The new navigation system also featured voice dial systems and the ability to enter destinations by voice address while driving.
In 2007 for the 2008 model year, the RX received a revised grille, chrome door handles, available new seven-spoke 18-inch alloy wheels with a liquid graphite finish, and Brandy Wine Mica or Desert Sage Metallic were new exterior choices. Black Bird's Eye Maple wood with gray interior was a new interior option for that year.
Limited editions
Thundercloud
In January 2005, Lexus introduced the RX 330 "Thundercloud Edition" for the U.S. market, featuring a chrome horizontal-slatted grille, unique 5-spoke 18" alloy wheels, black Bird's Eye Maple wood trim, Thundercloud badges and carpeted floor mats, and two special exterior colors (Thundercloud Metallic and Thundercloud Flint Mica). Production was limited to 6,500 units.[20]
Pebble Beach
For the 2009 model year, Lexus added a new Pebble Beach Edition, limited to 6,000 units, Base MSRP: US$41,580 – US$42,980. These limited production models have "Pebble Beach" badges on front fenders and embroidered front floor mats, were available in Black Onyx and Truffle Mica color, and came equipped with limited-edition 18-inch alloy wheels, a color-keyed rear spoiler, and a chrome-finished grille. Buyers also received a choice of custom amenities designed to complement the Pebble Beach lifestyle.
Awards
The RX 330 was named most appealing luxury SUV by J.D. Power and Associates in 2004.[21] It was also the Best Overall Value in the SUV market over US$30,000} in 2003, 2004, and 2005 according to Intellichoice.[22][23] The Lexus RX 400h was one of only four SUVs to achieve recognition on J.D. Power and Associates' 2006 Automotive Environmental Index of the top 30 most environmentally-friendly vehicles.[24] J.D. Power also awarded the RX 400h the top spot for entry-luxury SUVs in its 2005 Automotive Performance, Execution and Layout Study on owners' attitudes towards new vehicle designs.[25] At the 2005 GreenFleet Awards in the United Kingdom, recognizing environmentally friendly transportation, Lexus was recognized for introducing the RX 400h with the 4x4 Manufacturer of the Year title.[26] The RX 400h was named SUV of Texas at the 2005 Texas Truck Rodeo awards,[27] and was awarded recognition as a CNET editor's choice vehicle in 2005.[28]
References
↑ 1.0 1.1 1.2 1.3 1.4 1.5 1.6 Job, Ann (

2005-10-26

). "Lexus introduces first luxury hybrid SUV". Retrieved on

2008-06-21

.

 

↑ Mahler, Jonathan. The Lexus Story: The Behind the Scenes Story of the #1 Automotive Luxury Brand in America. 2004: DK Melcher Media, NY. ISBN 0-971793-57-3., p. 182
↑ "Lexus Knowledge Base" (PDF). Lexus (2005). Retrieved on

2008-11-08

.
↑ Massy, Kevin (

2006-07-25

). "2007 Lexus RX 350 Review". CNET.com. Retrieved on

2008-11-15

.
↑ 6.0 6.1 6.2 Petersen, Thane (

2006-03-08

). "Hybrid Heaven in a Lexus".

BusinessWeek

. Retrieved on

2007-05-06

.
↑ Llanos, Miguel (

2004-09-14

). "Lexus hybrid SUV orders set record". MSNBC. Retrieved on

2010-10-17

.
↑ Healey, James (

2004-02-08

). "Hybrid Lexus SUV delayed", USA Today. Retrieved on

2008-11-15

.

 

↑ 14.0 14.1 "Lexus RX 400h". BusinessWeek (

2005-04-25

). Retrieved on

2007-05-06

.
↑ "Lexus introduces front-wheel drive RX 400h". Automotive World (2005-11). Retrieved on

2008-11-15

.
↑ "2007 Lexus Full Line Pricing". Lexus (2006-08). Retrieved on

2008-11-15

.
↑ "Toyota Releases 2 Hybrid Models in Japan". Asia Africa Intelligence Wire (

2005-03-25

). Archived from the original on

2012-07-20

. Retrieved on

2008-11-15

.
↑ 18.0 18.1 18.2 18.3 Pander, Von Jürgen (

2005-06-23

). "Lexus RX 400h: Scotty, Energie!". Der Spiegel. Retrieved on

2008-11-15

.
↑ Rothwell, Rob. "Front-Wheel Drive Lexus RX 400h Not Coming to Canada". American Auto Press. Retrieved on

2008-11-15

.
↑ Hanley,, Mike (2005). "2005 Lexus RX 330 Thundercloud Edition". Cars.com. Retrieved on

2008-11-15

.
↑ "J.D. Power and Associates 2004 Automotive Performance, Execution and Layout (APEAL) Study". Jdpower.com. Retrieved on

2010-10-17

.
↑ "IntelliChoice Reveals Best Overall Value Award Winners for 2003 Model Year Vehicles". Motortrend.com (

2003-02-14

). Retrieved on

2010-10-17

.
↑ "2005 Intellichoice Best Overall Value Awards". Intellichoice.com. Retrieved on

2010-10-17

.
↑ "2006 J.D. Power Automotive Environmental Index". Jdpower.com. Retrieved on

2010-10-17

.
↑ "2005 J.D. Power Automotive Performance, Execution and Layout Study". Jdpower.com. Retrieved on

2010-10-17

.
↑ "Lexus receives Green Fleet 4x4 Manufacturer of the Year award". Easier.com (

2005-09-24

). Retrieved on

2010-10-17

.
↑ "Texas Truck Rodeo Awards". Testdrivereport.com. Retrieved on

2010-10-17

.
↑ by mb1 - May 28, 2005. "CNET 2006 Lexus RX 400h". Reviews.cnet.com. Retrieved on

2010-10-17

.
External links