Jurassic World: Dominion Dominates Fandom Wikis - The Loop
Play Sound
The Lexus RX is a luxury crossover SUV sold by Lexus since 1998. The RX series has comprised multiple V6 and hybrid-powered models (such as the RX 300, RX 330, RX 350, RX 400h, and RX 450h), in either front-wheel drive or all-wheel drive versions. Three generations of the Lexus RX have been produced to date, in compact or mid-size form.[1] The Lexus RX has been the best-selling luxury SUV on the US market since its introduction and has ranked as among the best-selling luxury vehicles in the United States.[2] The RX is the only Lexus vehicle to be produced within as well as outside Japan, with North American market RX 350s being made at the Cambridge plant in Canada.[3]
The Lexus RX first premiered in 1997 as a Lexus concept, followed by the debut of the production RX 300 model at the 1998 North American International Auto Show.[4] In 2003, the second generation RX debuted in the U.S., and the redesigned RX 330 went on sale shortly after. Equivalent versions of the first and second generation models were sold in Japan under the Toyota Harrier (トヨタ・ハリアー) nameplate until 2008. In 2006, the RX line added the world's first luxury hybrid,[5] the RX 400h. The redesigned third generation RX 350 went on sale in early 2009,[6] followed later that year by the second generation Lexus RX hybrid, the RX 450h.[6]
As the earliest luxury crossover on the market, the Lexus RX has inspired similar competitors from rival marques.[7] Based on the unibody front-engine, front-wheel drive multi-model platform used by the Lexus ES, the RX is designed to combine the functional characteristics of an SUV with ride and features of a luxury sedan.[8] Its commercial success as Lexus' best-selling model has been attributed to the strong reliability reputation of Lexus and the RX line.[9] The RX is offered as GX's crossover counterpart, and is Lexus' only crossover SUV.
First generation (XU10)
First generation
Also called
Toyota Harrier
Production
1998–2003
Assembly
Miyawaka, Fukuoka, Japan
Engine(s)
2.2 L

5S-FE

I4
2.4 L

2AZ-FE

I4
3.0 L

1MZ-FE

V6
Transmission(s)
4-speed automatic
Wheelbase
103.1 in (2,620 mm)
Length
180.1 in (4,570 mm)
Width
71.5 in (1,820 mm)
Height
65.7 in (1,670 mm)
Related
Toyota Camry
1998–2000
In February 1997, Lexus debuted the "Sport Luxury Vehicle" (SLV) concept, a prototype crossover SUV, at the Chicago Auto Show.[4][10] This concept, which appeared close to production, combined the characteristics of an SUV, wagon, and sedan.[11] In Japan, the SLV concept appeared in first-generation Toyota Harrier form (codename SXU10 and MCU10 for the front-wheel drive models, and SXU15 and MCU15 for the all-wheel drive models) in December 1997. Two engines were available, the 2.2 L 5S-FE I4 which produced 102 kilowatts (137 hp) Japanese Industrial Standards (JIS) and 191 N·m (141 lb·ft), and the 3.0 L 1MZ-FE V6 which produced 161 kilowatts (216 hp) JIS and 304 N·m (224 lb·ft). Both engines could be specified with either front or all-wheel drivetrains. All models came with an automatic transmission. In Japan, the first-generation Harrier was a sales success, and many went to other right hand drive markets in Asia as grey imports.[12][13]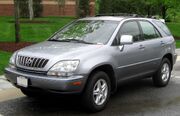 The Lexus RX 300 made its sales debut in America in March 1998 as a 1999 model following its premiere at the 1998 North American International Auto Show, it was powered by an LEV certified 3.0-liter 1MZ-FE V6 producing 220 horsepower (160 kW) SAE and 222 pound-feet (301 N·m) of torque, mated to a 4-speed automatic in either front or all-wheel drive variations.[14] On the exterior, the RX featured heated mirrors, automatic light-sensing headlights, a low step-in entry height, and an overall drag coefficient of 0.36 Cd.[15] The front and rear lights were similarly styled, being mounted inside translucent housings,[15] the rear liftgate had a top-mounted spoiler, and small quarter windows were located by the side-view mirrors. Ground clearance measured 20 centimetres (7.9 in).[15] Anti-lock brakes were standard, while Vehicle Stability Control was optional.[15] The first RX utilized a modified front-wheel drive sedan platform, derived from the Lexus ES,[16] while having its own floorpan.[14][17] Upon release, the Lexus RX was an immediate hit, and sold over 370,000 units in five years.[18]
The RX 300 interior included leather seats, wood trim, a multi-level center console with storage drawers, and individual reclining and sliding rear seats. A shift lever mounted near the instrument panel freed up floor space for additional storage. A 240-watt, 7-speaker Pioneer sound system was standard, while a premium Nakamichi customized sound system was available as an option. All models came standard with front seat-mounted side torso airbags. The IIHS rated the RX 300 "Good" overall in their frontal offset crash test.[19]
2000–2003
In 2000, for the 2001 model year the RX 300 was updated. Distinguishing features for the facelift version included "Altezza" rear light cluster and larger wheels. This facelift version signified the introduction of the RX 300 in Europe and Asia for the first time; the front-wheel drive version was not offered in either Europe or Asia.
The Harrier continued largely unchanged until November 2000, when the 2.2 liter 5S-FE engine was replaced by the 2.4 liter 2AZ-FE four-cylinder engine, producing 117 kilowatts (157 hp) JIS and 221 newton metres (163 lb·ft). As before, the engine was offered with either front-wheel drive or all-wheel drive. The change in engine also meant a change in model code, which was now ACU10 for the front-wheel drive version and ACU15 for the all-wheel drive version. A small facelift was also performed on the Harrier.
In 2001, the RX gained a number of options, including a DVD-based automotive navigation system, a wood and leather trimmed steering wheel, and tow hitch receiver. Cabin equipment options were grouped into new package offerings. For safety, Vehicle Stability Control became standard. In 2001, a limited edition "Silversport" was offered that included a monochromatic paint scheme in Millenium Silver or Black with an all black interior and perforated leather seats. Exclusively for 2002, Lexus introduced the limited RX 300 "Coach Edition," featuring perforated leather trim in the interior, honeycomb grille, Coach badging on the exterior and interior, and a set of Coach luggage. A burgundy exterior color, Venetian Red Pearl, was offered on 1999–2000 year models.[20]
Second generation (XU30)
Main article: Lexus RX (XU30)
2003–2006
In January 2003, Lexus unveiled the second-generation model of its best-selling luxury crossover SUV at the North American International Auto Show, featuring a newer, sleeker body style with a 0.35 Cd figure and new LED tailamps.[21][22] The basic chassis was shared with the Highlander SUV,[23] with underpinnings derived from the MC midsize front-wheel drive platform.[24] The second generation RX, called the RX 330 for the North American and Middle Eastern markets, began sales in March 2003.[25] The RX 330, codename MCU33 and MCU38 arrived in the US as a 2004 model year vehicle.
In February 2003, the second generation Toyota Harrier (codename ACU30 and MCU30 for the front-wheel drive models, and ACU35 and MCU35 for the all-wheel drive models) was launched in Japan. Mechanical specification was largely similar to the first-generation Harrier, with the same engine and drivetrain combinations (2.4 L and 3.0 L V6 with or without all-wheel drive). The main difference was a new 5-speed automatic transmission with +/- shift replacing the 4-speed item in the 3.0 L V6, the availability of "AIRS" air-suspension on the 3.0 L V6 models, and an optional Pre-Collision System (PCS).[26]
The second generation Lexus RX launched in Europe and Asia markets in early 2003 (including Singapore, where it succeeded the previously sold Harrier, South Korea, and Taiwan). It was still the RX 300 and made in Japan. Mechanical specifications were more or less identical to the 3.0 L V6 Harrier, with only the all-wheel drive version available, and air-suspension optional. All North American models were also built in Japan until September 2003, when RX 330 production began at the TMMC plant in Cambridge, Ontario, Canada.[3]
The RX 330 was powered by a 3.3-liter ULEV certified 3MZ-FE V6, producing 230 horsepower (170 kW) SAE and 238 pound-feet (323 N·m) mated to a 5-speed automatic and was available in either front or all-wheel drive. Height-adjustable air suspension was again an option on the all-wheel drive models. The new RX interior featured genuine Golden Bird's Eye Maple or Walnut wood trim, a sliding multi-level center storage console, dual-zone climate control, tilt steering column, and eight airbags including a driver's knee airbag. Available options included a 210-watt, 11-speaker Mark Levinson premium sound system, DVD-based navigation system with backup camera, rear seat DVD player with wireless headphones, panoramic three panel moonroof, a new Adaptive Front-lighting System (AFS) with swivel headlights,[27] Dynamic Laser Cruise Control system, power tilt/telescopic steering wheel and rain-sensing wipers.[28]
The world's first luxury hybrid,[5] the RX 400h premiered at the 2004 North American International Auto Show in Detroit and went on sale in North America in April 2005,[29] and the equivalent Harrier Hybrid went on sale in Japan on March 2005. The debut model was first offered in all-wheel drive, codename MHU38, and in 2006 a front-wheel drive version was added, codename MHU35. Europe and Asia also received the hybrid RX in 2006. The RX 400h featured Lexus Hybrid Drive, which combined a 3.3-liter 3MZ-FE V6 engine and electric motors.[5] The RX 400h's hybrid powertrain resulted in performance akin to a V8 with improved fuel economy and lower emissions, and greater passing power. VDIM replaced the VSC system on the RX 400h. The RX 400h featured styling differences with the conventional gas-powered RX, including brushed aluminum interior trim in place of wood, round foglights, and a different grille;[5] after 2007, additional exterior hybrid signifiers were added.
2006–2009
In 2006 for the 2007 model year, the RX received a mid-cycle refresh consisting of a new 3.5-liter 2GR-FE V6 replacing the 3.3-liter 3MZ-FE V6 engine on non-hybrid models, updating the vehicle's name from RX 330 to RX 350, with new model codes GSU30 and GSU35. In 2007 for the 2008 model year, the RX received a revised grille, chrome door handles, available new seven-spoke 18-inch alloy wheels, and new exterior choices.
Sales of the second generation Lexus RX continued the success of the RX series for Lexus. In 2006, the RX series sold over 108,000 units, making the Lexus RX the best-selling luxury vehicle in the United States.[30]
Third generation (AL10)
Third generation
Production
2009–present
Assembly
Cambridge, Ontario, Canada (TMMC)
Miyawaka, Fukuoka, Japan
Platform
K platform (AGL/GGL/GYL)
Engine(s)
2.7 L

1AR-FE

I4 (gasoline)
3.5 L

2GR-FE

V6 (gasoline)
3.5 L

2GR-FXE

V6 (gasoline hybrid)
Transmission(s)
6-speed automatic

U660E/F
Main article: Lexus RX (AL10)
2009–present
At the 2007 Tokyo Auto Show, the LF-Xh concept was unveiled, hinting at the styling direction of the next RX. Later in November 2008, the redesigned third generation RX premiered at the Greater Los Angeles Auto Show, appearing as the standard RX 350 (GGL10/GGL15) and hybrid RX 450h (GYL10/GYL15).[6][31] The Japanese market Toyota Harrier was discontinued, with previous generation sales held for several months following the third generation's debut.[32]
The redesigned RX 350 features a revised 3.5-liter 2GR-FE V6 engine producing 275 horsepower (205 kW) with a wider power curve,[33][34] it remains ULEV-II certified and now uses a six-speed automatic transmission with sequential shift.[34] A double wishbone rear suspension setup replaces the previous MacPherson strut design for improved handling and greater cargo space, while an optional Sports Package adds a performance-tuned suspension.[33] Both non-hybrid and hybrid models continue in either front or all-wheel drive configurations,[33] with the all-wheel drive system gaining Active Torque Control for greater efficiency, and all models are built off the new midsize flexible K-platform.[35] American RX 350 sales began in February 2009 as a 2010 model.
In keeping with L-finesse design language, the new exterior styling includes a rear spoiler which hides the rear window wiper and radio antenna creating a less cluttered appearance. The drag coefficient on the latest RX 350 has been reduced to 0.33 Cd.[33] Exterior dimensions are increased, with cargo room increased by five percent.[33] Standard features range from SmartAccess, a keyless entry and start system, to an organic light-emitting diode (OLED) instrument display. Options include the Remote Touch controller, similar in function to a computer mouse, a heads-up display (HUD),[36] XM Satellite Radio, a 15-speaker 330-watt Mark Levinson Surround Sound audio system and a dual-screen Rear Seat Entertainment System (RSES).[33] Safety features range from ten airbags to Vehicle Stability Control (VSC), Hill Assist Control (HAC), Vehicle Dynamics Integrated Management (VDIM), Pre-Collision System (PCS), and backup camera plus Wide-View Side Monitor.[37]
The Lexus RX 450h, which went on sale in mid-2009, is equipped with a 3.5-liter 2GR-FXE V6 engine, now running on the Atkinson cycle, which produces 245 hp; by incorporating a more powerful inverter and electric motors, total horsepower reaches 295 hp.[33] Two additional systems are added to the RX 450h's Lexus Hybrid Drive powertrain, an exhaust-heat recovery system to reduce engine warm-up periods (optimizing engine start-stop times), and a water-cooled Exhaust Gas Recirculation (EGR) system to reduce engine pumping losses.[34] A new ECO mode helps the driver improve fuel economy by controlling air conditioning and throttle inputs, while a driver selectable EV drive mode allows for electric-only propulsion at low speeds.[38] Visually, the RX 450h receives a unique grille with modified front fascia, blue-tinted headlamps and tail lamps,[39] hybrid badging, different wheels, and optional LED headlamps.[33][40] In the US market the RX 450h went on sale in early June 2009.
In August 2010, Lexus began offering the RX 270 (AGL10), a front-wheel drive model with a 2.7 L 1AR-FE four-cylinder engine, in Japan,[41] China,[42] and Russia.[43] The RX 270 was a new entry-level offering for the RX lineup, produced with a lower base price and fewer emissions.[42]
Awards
J.D. Power and Associates presented the Cambridge South Plant where the RX is built the 2010 Gold Plant Quality award to the employees of the best automotive manufacturing facility in North & South America.
2009 Ward's Interior of the Year gave the 2010 RX interior the Design Harmony award.
J.D. Power and Associates named the Lexus RX the best entry luxury SUV in its 2001, 2004, and 2005 Initial Quality Surveys.[44][45]
Winner Australia's Best Luxury Four Wheel Drive in 2004 – Lexus RX 330.
R. L. Polk & Co., automotive marketing research firm, gave the RX series its Polk Automotive Loyalty Award in the Midsize Sport Utility Vehicle category in 2005 for customer retention.[46] The RX series received this award again for 2006.
The Lexus RX was named most appealing luxury SUV by J.D. Power and Associates in 1998 and 2004.[47]
Intellichoice named the Lexus RX the Best Overall Value in the SUV market over $30,000 in 2003, 2004, and 2005.[48][49]
Australia's Best Cars competition named the Lexus RX as Australia's Best Luxury Four Wheel Drive in 2003 and 2004.[50]
Kelley Blue Book gave the RX its Best to Hold Value Award in 1999, 2000, and 2001.[51]
Money magazine named the RX 300 the Best Deal on the Road in the SUV class in 1999.
The RX 300 was Motor Trend magazine's Sport/Utility of the Year for 1999.
The Lexus RX came 3rd in the Top Gear Satisfaction Survey 2005, beaten only by the

Lexus IS

, and the

Honda S2000

.
Sales figures
Sales data in United States for the Lexus RX are as follows, sourced from manufacturer yearly data:
Generation (chassis code)
Model no(s).
Calendar year
Total sales, U.S. (hybrid)
MCU10/MCU15
RX 300
2000
89,864[52]
2001
77,426[52]
2002
72,963[53]
2003
92,366[53]
MCU33/MCU38
RX 330
2004
106,531[54]
MCU33/MCU38/MHU33
RX 330/400h
2005
108,775[54] (20,674)[29]
MCU33/MCU38/MHU33/MHU38
2006
108,348[55] (20,161)[29]
GSU30/GSU35/MHU33/MHU38
RX 350/400h
2007
103,340[55] (17,291)[29]
2008
84,181[56] (15,200)[29]
GGL10/GGL15/GYL10/GYL15
RX 350/450h
2009
93,379[57] (14,464)[58]
References
External links