LEMKEN
Type
GmbH & Co. KG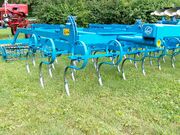 Lemken (own spelling LEMKEN GmbH & Co. KG ) is a company specialized in the product development, production and sales of specialized agricultural equipment. It was founded in 1780 as a blacksmith and has become an established leader in tillage, seed and crop protection developed. The organization's main site is the Lower Rhine Alps , about 50 miles north of Düsseldorf. 69% of sales are in the exported, Lemko is represented in 44 countries, including in 14 with its own sales organizations and offices.
History
The company is located in seven generations of family ownership in 2011 and generated sales of 266 million euros (compared to 2009: € 257 million & 2010 € 203 million). In 2005, the company RTS (Meppen) and Jacoby (Hetzerath) were taken over. These two companies also opened up the market area of plant protection equipment for Lemken.
Products
Model list
add details here
See also
References
External links
Community content is available under
CC-BY-SA
unless otherwise noted.