Jurassic World: Dominion Dominates Fandom Wikis - The Loop
Play Sound
Kubota Corporation, is a tractor and heavy equipment manufacturer based in Osaka, Japan in 1960. The company roots trace back to 1890, when it manufactured cast iron water pipes.
Divisions
The company produces many products including:
Vending machines
Pipe

Casting

Equipment for Water purification and Sewage Treatment

Air Conditioning

Equipment
History
Kubota Tractor Corporation
In 1969, Kubota began exporting its 21 horsepower L200 compact tractors to the United States. Jerry Lease skipped his graduation ceremony at BGSU to negotiate with the Japanese to bring Kubota to the US. Lease Farm Equipment was the first Kubota dealer. Because of the initial success in the American marketplace, the Kubota Tractor Corporation was formed in Compton, California in 1972. The U.S. Headquarters was latter moved to Torrance, California. Kubota also owns other similar tractor companies in many countries.
Kubota UK
Formed in 1979 and based at Thame, Oxfordshire, Kubota (U.K.) Limited is a wholly-owned subsidiary of the Kubota Corporation. In the UK Kubota are probably best Known for compact tractors, used in Horticulture and gardens and as suppliers of Mini excavators being one of the market leaders (not verified). Since the development of there first mini excavator in 1974, they being one of the earlier firms in the market in the UK. A lot of other big names having added badge engineered models to their range as the sector expanded rapidly and their big customers asking them to supply machines to fill a gap, in the range offered.
Kubota UK having introduced, in the UK market:
The first true four-wheel drive compact tractor.
The first four-wheel drive ride-on front rotary mower.
The first hydrostatic transmission systems for compact tractors and diesel ride-on mowers.
Kubota tractors
Main article: List of Kubota tractors
Kubota UK excavator model range
Main article:

List of Kubota construction machinery
the

Kubota U series

from U10-3 at 1.1 ton to U50-3 at 4.9 ton
the

Kubota KX series

from Micro KX008-4 at 900 Kg to the KX080-4 at 8 ton
Kubota Manufacturing of America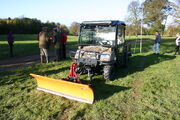 In 1988, Kubota opened its first manufacturing facility, Kubota Manufacturing of America, in Gainesville, Georgia (USA) for the production of front end loader & backhoe implements for Kubota tractors. Later, other products were added including an array of lawn and garden tractors and utility vehicles. KMA has 3 assembly lines; 1 for the G, GR, T, BX, ZD & ZG models, 1 for all mower decks and 1 for the RTV900, RTV1100 & all future UV models.
Kubota Industrial Equipment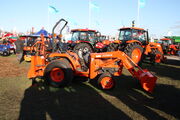 In 2006, the before mentioned front end loader & backhoe production was transferred from KMA to a new manufacturing facility, Kubota Industrial Equipment, near Jefferson, GA (USA). This facility also prepares/configures the larger (B, L & M-series) tractors from Japan for delivery to KTC's 1,000+ dealerships across America.
See also
Reference
Wikipedia
Kubota UK Web site
External links

Subsidaries web sites
Other web sites
Group

Kubota

subsidaries -

Kubota Tractor Co.

 

·

Kubota Engine America

 

·

Kubota UK

 

·

Kubota Industrial Equipment

 

·

Kubota Manufacturing of America

Construction

Tracked excavators

Backhoe loaders

B20 backhoe

 •

B21 backhoe

 •

B26 backhoe

 •

BX22 backhoe

 •

BX23 backhoe

 •

BX24 backhoe

 •

BX25 backhoe

 •

L35 backhoe

 •

L39 backhoe

 •

L45 backhoe

 •

L48 backhoe

 •

L5450 backhoe

 •

M59 backhoe

 •

R310 backhoe

 •

R410 backhoe

 •

R420 backhoe

Skid-steer loaders

SVL 75 skid steer

 •

SVL 90-2 skid steer

Tractors

Kubota Models

Numbered through B-Series

6383

 •

A-13

 •

A-14

 •

A-15

 •

A-16

 •

A-17

 •

A-19

 •

A-30

 •

A-175

 •

A-190

 •

A-195

 •

B1-14

 •

B1-15

 •

B1-16

 •

B1-17

 •

B-10

 •

B-10D

 •

B13

 •

B-40

 •

B52

 •

B-72

 •

B-92

 •

B225D

 •

B1200

 •

B1220

 •

B1400

 •

B1400 M

 •

B1402

 •

B1402E

 •

B1402-M

 •

B1410

 •

B1500

 •

B1501

 •

B1502

 •

B1502E

 •

B1502-M

 •

B1511

 •

B1550

 •

B1550

 •

B1550 HSD

 •

B1550 HSE

 •

B1600

 •

B1610

 •

B1620

 •

B1700

 •

B1702

 •

B1702DT

 •

B1702E

 •

B1702-M

 •

B1710

 •

B1750

 •

B1801

 •

B1802

 •

B1820

 •

B1820PS

 •

B1830

 •

B1902

 •

B1902E

 •

B1902-M

 •

B2000

 •

B2002

 •

B2100

 •

B2110

 •

B2150 HST

 •

B2150

 •

B2200

 •

B2201

 •

B2202

 •

B2230

 •

B2320

 •

B2320 DTN

 •

B2400

 •

B2400 HST

 •

B2402

 •

B2410

 •

B2420

 •

B2530

 •

B2600

 •

B2601

 •

B2602

 •

B2620

 •

B2630

 •

B2630 HSD

 •

B2710

 •

B2802

 •

B2910

 •

B2920

 •

B3000 HSDCC

 •

B3001DT

 •

B3030

 •

B3030 HSD

 •

B3030 HSDC

 •

B3200

 •

B3200 HSD

 •

B3203

 •

B3300SU

 •

B3500

 •

B3603

 •

B4200

 •

B4202

 •

B5000

 •

B5000 E

 •

B5001

 •

B5100

 •

B5100E

 •

B5200

 •

B5200E

 •

B6000

 •

B6000E

 •

B6001

 •

B6001E

 •

B6100

 •

B6100 HSD

 •

B6100 HSE

 •

B6200

 •

B6200 HSD

 •

B6200 HSE

 •

B6200 HST

 •

B7000

 •

B7000 E

 •

B7001

 •

B7001D

 •

B7001 E

 •

B7100

 •

B7100 HSD

 •

B7100 HSE

 •

B7100 Orchard

 •

B7200

 •

B7200 HSD

 •

B7200 HSE

 •

B7200 HST

 •

B7300

 •

B7400

 •

B7400 HST

 •

B7410

 •

B7500 DTN

 •

B7500 HST

 •

B7510

 •

B7510 HSD

 •

B7510 Narrow

 •

B7510 Turf Special

 •

B7610 HSD

 •

B7800

 •

B7800 HSD

 •

B8200

 •

B8200 HSD

 •

B8200 HSE

 •

B8200 HST

 •

B9200 HSD

 •

B9200 HSE

 •

Bb260

 •

BX1500

 •

BX1800

 •

BX1830

 •

BX1850

 •

BX1860

 •

BX2200

 •

BX2230

 •

BX2350

 •

BX2360

 •

BX2660

F-series through G-series

F15S

 •

F211R

 •

F260S

 •

F300S

 •

F312R

 •

F411R

 •

F415

 •

F450

 •

F540

 •

F600

 •

F615

 •

F640

 •

F700

 •

G2

 •

G18

 •

G21

 •

G23

 •

G23HD

 •

G26

 •

G1700

 •

G1800

 •

G1900

 •

G2000

 •

G2160

 •

G2460

 •

G3200

 •

G4200 HST

 •

G5200 HST

 •

G6200 HST

 •

GB13 Granbia-boy

 •

GB14 Granbia-boy

 •

GB14-PC

 •

GB15 Granbia-boy

 •

GB16 Granbia

 •

GB18 Granbia

 •

GB20

 •

GB100-PC Grandom

 •

GB110 Granbia-boy Jr.

 •

GB115 Granbia-boy

 •

GB130 Granbia-boy

 •

GB135 Granbia-boy

 •

GB140 Granbia-boy

 •

GB140-PC Granbia-boy

 •

GB145 Granbia-boy

 •

GB145-PC Granbia-boy

 •

GB150 Granbia-boy

 •

GB150-PC Granbia-boy

 •

GB155 Granbia-boy

 •

GB155 Granbia-boy

 •

GB155-PC Granbia-boy

 •

GB155-PC3N Granbia-boy

 •

GB160-PC Granbia-boy

 •

GB170 Granbia-boy

 •

GB170-PC Granbia-boy

 •

GB175 Granbia-boy

 •

GB175-PC Granbia-boy

 •

GB175-PC3N Granbia-boy

 •

GB180 Granbia-boy

 •

GB180-PC Granbia-boy

 •

GB200 Granbia-boy

 •

GB200 Granbia-boy

 •

GB200-PC Granbia-boy

 •

GL-19 Grandel

 •

GL-21

 •

GL-23 Grandel

 •

GL-25

 •

GL-26

 •

GL-27

 •

GL-29

 •

GL-32 Grandel

 •

GL-33

 •

GL-35

 •

GL-40

 •

GL-41

 •

GL-43

 •

GL-46

 •

GL-53

 •

GL-200 Grandel

 •

GL-201 Grandel

 •

GL-220

 •

GL-221 Grandel

 •

GL-240 Grandel

 •

GL-241 Grandel

 •

GL-260 Grandel

 •

GL-261 Granbia

 •

GL-268

 •

GL-277

 •

GL-280

 •

GL-281

 •

GL-300

 •

GL-301

 •

GL 320 Granbia

 •

GL-321 Granbia

 •

GL-337

 •

GL-338 Grandel

 •

GL-350

 •

GL367 Grandel

 •

GL-368

 •

GL-400

 •

GL-417 Granbia

 •

GL-418

 •

GL-430

 •

GL-467

 •

GL-470

 •

GL-500

 •

GL-530

 •

GL-600

 •

GM49 GrandMax

 •

GM56 GrandMax

 •

GM56Q

 •

GM60 GrandMax Limited

 •

GM64 GrandMax

 •

GM64-PC2 GrandMax

 •

GM73 GrandMax

 •

GM73Q

 •

GM73-PC GrandMax

 •

GM75 Super GrandMax

 •

GM75-PC Super GrandMax

 •

GM82 Super GrandMax

 •

GM90 Super GrandMax

 •

GM90-PC1 Super GrandMax

 •

GM90-PC2 Super GrandMax

 •

GM90Q

 •

GR16 Goody Rider

 •

GR1600

 •

GR1600-II

 •

GR2000

 •

GR2010

 •

GR2020

 •

GR2100

 •

GR2100-II

 •

GR2110

 •

GR2120

 •

GT-3

 •

GT-5

 •

GT-8 Greats

 •

GT19 Greats

 •

GT21 Greats

 •

GT21-PC Greats

 •

GT21HN Greats

 •

GT21HT Greats

 •

GT23 Greats

 •

GT23HN Greats

 •

GT23HT Greats

 •

GT25

 •

GT26 Greats

 •

GT27

 •

GT29

 •

GT30 Greats

 •

GT32

 •

GT33

 •

GT35

 •

GT40

 •

GT43

 •

GT46

 •

GT53

 •

GT950

J-series through K-series

JB11 BullStar

 •

JB11X BullStar Extra

 •

JB13 BullStar

 •

JB13-PC BullStar

 •

JB13X BullStar Extra

 •

JB13X-PC BullStar Extra

 •

JB14 BullStar

 •

JB14-PC BullStar

 •

JB15X BullStar Extra

 •

JB15X-PC BullStar Extra

 •

JB16 BullStar

 •

JB16-PC BullStar

 •

JB16D BullStar

 •

JB16D-PC BullStar

 •

JB17X BullStar Extra

 •

JB17X-PC BullStar Extra

 •

JB17XL BullStar Extra Limited

 •

JB18 BullStar

 •

JB18-PC BullStar

 •

JB18D BullStar

 •

JB18D-PC BullStar

 •

JB19X BullStar Extra

 •

JB19X-PC BullStar Extra

 •

K170

 •

KB16 KingBull

 •

KB17X KingBull Extra

 •

KB18 KingBull

 •

KB18-PC1 KingBull

 •

KB18-PC2 KingBull

 •

KB19X KingBull Extra

 •

KB19X-PC KingBull Extra

 •

KB20 KingBull

 •

KB20-PC1 KingBull

 •

KB20-PC2 KingBull

 •

KB20D-KingBull

 •

KB21X KingBull Extra

 •

KB21X-PC KingBull Extra

 •

KB23X KingBull Extra

 •

KB23X-PC KingBull Extra

 •

KB165 KingBull

 •

KB165K KingBull

 •

KB185 KingBull

 •

KB185-PC KingBull

 •

KB185K KingBull

 •

KB205 KingBull

 •

KB205-PC KingBull

 •

KB205K KingBull

 •

KB205Q-PC KingBull

 •

KB225 KingBull

 •

KB225-PC KingBull

 •

KB225Q-PC KingBull

 •

KG55 crawler

 •

KG65 crawler

 •

KG75 crawler

 •

KG100 crawler

 •

KJ11

 •

KL21 Kingwel

 •

KL23 Kingwel

 •

KL24 Kingwel

 •

KL24R Kingwel

 •

KL24RH Kingwel

 •

KL25 Kingwel

 •

KL25-PC Kingwel

 •

KL26-PC Kingwel

 •

KL26R-PC Kingwel

 •

KL27 Kingwel

 •

KL27R Kingwel

 •

KL27RH Kingwel

 •

KL28H Kingwel

 •

KL28-PC Kingwel

 •

KL28R-PC Kingwel

 •

KL30 Kingwel

 •

KL31 Kingwel

 •

KL31H Kingwel

 •

KL31-PC Kingwel

 •

KL31R Kingwel

 •

KL31RH Kingwel

 •

KL31R-PC Kingwel

 •

KL33 Kingwel

 •

KL33-PC Kingwel

 •

KL34H Kingwel

 •

KL34R Kingwel

 •

KL34RH Kingwel

 •

KL34R-PC Kingwel

 •

KL34RH-PC Kingwel

 •

KL36 Kingwel

 •

KL38H Kingwel

 •

KL40Z Zero Kingwel

 •

KL40ZH Zero Kingwel

 •

KL40ZH-PC Zero Kingwel

 •

KL41 Kingwel

 •

KL41-PC Kingwel

 •

KL41H Kingwel

 •

KL43 Kingwel

 •

KL44Z Zero Kingwel

 •

KL44ZH Zero Kingwel

 •

KL44ZH-PC Zero Kingwel

 •

KL46H Kingwel

 •

KL48ZH Zero Kingwel

 •

KL48ZH-PC Zero Kingwel

 •

KL50-PC Kingwel

 •

KL50H Kingwel

 •

KL53ZH Zero Kingwel

 •

KL53ZH-PC Zero Kingwel

 •

KL58ZH Zero Kingwel

 •

KL58ZH-PC Zero Kingwel

 •

KL210 Kingwel

 •

KL210H Kingwel

 •

KL225 Kingwel

 •

KL230 Kingwel

 •

KL230H Kingwel

 •

KL245 Kingwel

 •

KL245H Kingwel

 •

KL250 Kingwel

 •

KL250H Kingwel

 •

KL265 Kingwel

 •

KL265H Kingwel

 •

KL265K Kingwel

 •

KL270 Kingwel

 •

KL270H Kingwel

 •

KL270-PC2 Kingwel

 •

KL280H Kingwel

 •

KL285 Kingwel

 •

KL285-PC Kingwel

 •

KL285H Kingwel

 •

KL300 Kingwel

 •

KL310H Kingwel

 •

KL315 Kingwel

 •

KL315H Kingwel

 •

KL315K Kingwel

 •

KL330 Kingwel

 •

KL330-PC Kingwel

 •

KL335TW Kingwel

 •

KL340H Kingwel

 •

KL345 Beltion

 •

KL345-PC Beltion

 •

KL345H-PC Beltion

 •

KL345HQ-PC Beltion

 •

KL360 Kingwel Beltion

 •

KL380 Kingwel Beltion

 •

KL385 Kingwel Beltion

 •

KL410 Kingwel Beltion

 •

KL410-PC Kingwel Beltion

 •

KL415 Kingwel Beltion

 •

KL415HQ-PC Kingwel Beltion

 •

KL430 Kingwel Beltion

 •

KL460 Kingwel Beltion

 •

KL465H Kingwel Beltion

 •

KL465HD Kingwel Beltion

 •

KL500 Kingwel

 •

KL500 Kingwel Beltion

 •

KL500-PC Kingwel Beltion

 •

KL505H Kingwel Beltion

 •

KL505HQ-PC Kingwel Beltion

 •

KL555H Kingwel Beltion

 •

KL2450 Kingwel50

 •

KL2450H Kingwel50

 •

KL2750 Kingwel50

 •

KL2750H Kingwel50

 •

KL2850-PC Kingwel50

 •

KL3150 Kingwel50

 •

KL3150H Kingwel50

 •

KL3450 Kingwel50

 •

KL3450-PC Kingwel50

 •

KL3450H Kingwel50

 •

KL3450H-PC Kingwel50

 •

KL3950 Kingwel50 Beltion

 •

KL3950H Kingwel50 Beltion

 •

KL4350 Kingwel50 Beltion

 •

KL4350-PC Kingwel50 Beltion

 •

KL4350H Kingwel50 Beltion

 •

KL4350H-PC Kingwel50 Beltion

 •

KL4750H Kingwel50 Beltion

 •

KL5150H Kingwel50 Beltion

 •

KL5150H-PC Kingwel50 Beltion

 •

KL5550H Kingwel50 Beltion

 •

KM100D crawler

 •

KPS-14

 •

KT20 Kingeye

 •

KT20-PC Kingeye

 •

KT22 Kingeye

 •

KT24 Kingeye

 •

KT24-PC Kingeye

 •

KT27 Kingeye

 •

KT27-PC Kingeye

 •

KT30 Kingeye

 •

KT210 Kingeye

 •

KT210-PC Kingeye

 •

KT215 Kingeye Max

 •

KT215-PC Kingeye Max

 •

KT230 Kingeye

 •

KT230-PC Kingeye

 •

KT235 Kingeye Max

 •

KT235-PC Kingeye Max

 •

KT250 Kingeye

 •

KT250-PC Kingeye

 •

KT255 Kingeye Max

 •

KT255-PC Kingeye Max

 •

KT280 Kingeye

 •

KT280-PC Kingeye

 •

KT285 Kingeye Max

 •

KT285-PC Kingeye Max

 •

KT300 Kingeye

 •

KT305 Kingeye Max

 •

KTE 230

L-series

L1-18

 •

L1-18D

 •

L1-20D

 •

L1-22

 •

L1-22D

 •

L1-24

 •

L1-24D

 •

L1-26

 •

L1-26D

 •

L1-28

 •

L1-28D

 •

L1-33

 •

L1-33D

 •

L1-38

 •

L1-38D

 •

L1-43

 •

L1-43D

 •

L1-45

 •

L1-45D

 •

L1-185

 •

L1-185

 •

L1-195

 •

L1-205

 •

L1-215

 •

L1-225

 •

L1-235

 •

L1-245

 •

L1-255

 •

L1-265

 •

L1-275

 •

L1-285

 •

L1-295

 •

L1-315

 •

L1-325

 •

L1-345

 •

L1-385

 •

L1-435

 •

L1-455

 •

L1-R18

 •

L1-R20

 •

L1-R22

 •

L1-R24

 •

L1-R26

 •

L1-R28

 •

L1-R33

 •

L1-R43

 •

L1-R195

 •

L1-R215

 •

L1-R235

 •

L1-R255

 •

L1-R275

 •

L1-R285

 •

L1-R295

 •

L1-R315

 •

L1-R345

 •

L1-R435

 •

L1-R455

 •

L13G

 •

L15

 •

L33 Grandel

 •

L44SU

 •

L48

 •

L120

 •

L140

 •

L170

 •

L175

 •

L185

 •

L185DT

 •

L185FP

 •

L200

 •

L210

 •

L220

 •

L225

 •

L235

 •

L240

 •

L245

 •

L245DT

 •

L260

 •

L270

 •

L275

 •

L280

 •

L285

 •

L295

 •

L295 II

 •

L305

 •

L315D

 •

L345D

 •

L345D-PC

 •

L345DT

 •

L350

 •

L405

 •

L405 orchard

 •

L430M

 •

L430MH

 •

L465D

 •

L500

 •

L500M

 •

L1500

 •

L1500

 •

L1500DT

 •

L1501

 •

L1501 DT

 •

L1511

 •

L1511 DT

 •

L1801

 •

L1801DT

 •

L1802

 •

L1802DT

 •

L1802DT-M

 •

L2000

 •

L2000DT

 •

L2002

 •

L2002DT

 •

L2002DT-M

 •

L2002-M

 •

L2002-M

 •

L2050

 •

L2200

 •

L2201

 •

L2201DT

 •

L2201G Special

 •

L2201GAC

 •

L2201 Special

 •

L2202

 •

L2202

 •

L2202DT

 •

L2202DT-M

 •

L2202-M

 •

L2350

 •

L2250

 •

L2400

 •

L2402

 •

L2402DT

 •

L2402DT-M

 •

L2402-M

 •

L2500

 •

L2500 DT

 •

L2550

 •

L2550 GST

 •

L2600

 •

L2600DT

 •

L2601

 •

L2601DT

 •

L2602

 •

L2602DT

 •

L2602DT-M

 •

L2605

 •

L2800

 •

L2800 XtraPower

 •

L2802

 •

L2802

 •

L2802 M

 •

L2808

 •

L2850

 •

L2850 GST

 •

L2900 DT

 •

L3000

 •

L3000DT

 •

L3001

 •

L3001DT

 •

L3008

 •

L3010

 •

L3010 HST

 •

L3130

 •

L3200

 •

L3202

 •

L3202DT-M

 •

L3203

 •

L3240

 •

L3250

 •

L3250

 •

L3300

 •

L3350

 •

L3400

 •

L3400 HD

 •

L3400 XtraPower

 •

L3408

 •

L3410

 •

L3410 HST

 •

L3430

 •

L3500

 •

L3540

 •

L3600

 •

L3602DT

 •

L3608

 •

L3650

 •

L3650

 •

L3700SU

 •

L3710

 •

L3710 HST

 •

L3750

 •

L3800

 •

L3830

 •

L3940

 •

L4100

 •

L4150

 •

L4150

 •

L4150 DT N

 •

L4200

 •

L4200 DT

 •

L4202

 •

L4202DT

 •

L4212

 •

L4240

 •

L4300 DT

 •

L4305V

 •

L4310

 •

L4310 HST

 •

L4330

 •

L4350

 •

L4400

 •

L4400 HD

 •

L4400 XtraPower

 •

L4508

 •

L4600

 •

L4610

 •

L4630

 •

L4708

 •

L4740

 •

L4850

 •

L5030

 •

L5040

 •

L5240

 •

L5740

M-series

M1-46

 •

M1-55

 •

M1-65

 •

M1-75

 •

M1-85

 •

M1-100

 •

M1-115

 •

M30 series

 •

M85D Grandom

 •

M90 Grandom

 •

M90-PC Grandom

 •

M90A Grandom a

 •

M95D Grandom

 •

M95S

 •

M95X

 •

M96S

 •

M96S Mudder

 •

M-100

 •

M100-PC Grandom

 •

M100A Grandom a

 •

M100GX

 •

M100X

 •

M105D Grandom

 •

M105D Grandom Power Crawler

 •

M105S

 •

M105X

 •

M108S

 •

M108W Grandom World

 •

M108X

 •

M-110

 •

M110A Grandom a

 • [Kubota M110GX

MD-series through X-series

MD87

 •

MD97

 •

ME5700

 •

ME8200

 •

ME9000

 •

MD117

 •

MK-60 crawler

 •

MK-60S crawler

 •

MK-80-SK crawler

 •

MX95

 •

MX105

 •

MX125

 •

MX4700

 •

MX5000

 •

MX5100

 •

MX5100

 •

MZ50 SynerZ

 •

MZ55 SynerZ

 •

MZ60 SynerZ

 •

MZ65 SynerZ

 •

MZ65-PC SynerZ

 •

MZ65D SynerZ

 •

MZ65D-PC SynerZ

 •

MZ70 SynerZ

 •

MZ75 SynerZ

 •

MZ75-PC SynerZ

 •

MZ75D SynerZ

 •

MZ75D-PC SynerZ

 •

MZ505 SynerZ

 •

MZ553 SynerZ

 •

MZ555 SynerZ

 •

MZ555-PC SynerZ

 •

MZ603 SynerZ

 •

MZ605 SynerZ

 •

MZ653 SynerZ

 •

MZ655 SynerZ

 •

MZ655-PC SynerZ

 •

MZ703 SynerZ

 •

MZ705 SynerZ

 •

MZ755 SynerZ

 •

MZ755-PC SynerZ

 •

MZ763 SynerZ

 •

MZ853 SynerZ

 •

MZ953 SynerZ

 •

R400

 •

RY70

 •

SMZ76 Super SynerZ

 •

SMZ76-PC Super SynerZ

 •

SMZ85 Super SynerZ

 •

SMZ85-PC Super SynerZ

 •

SMZ95 Super SynerZ

 •

SMZ95-PC Super SynerZ PowerCrawler

 •

SMZ805 Super SynerZ

 •

SMZ805-PC Super SynerZ

 •

SMZ875 Super SynerZ

 •

SMZ875-PC Super SynerZ

 •

SMZ955 Super SynerZ

 •

SMZ955-PC Super SynerZ

 •

ST 30

 •

Sta-30

 •

Sta-35

 •

STV32

 •

STV36

 •

STV40

 •

Super 110D

 •

Super 131

 •

Super 131D

 •

T15

 •

T22 (GREATS)

 •

T170DX HST

 •

T220 (GREATS)

 •

T245D

 •

T245D BullStar Extra Limited

 •

T245D-PC

 •

T245D-PC BullStar Extra Limited

 •

T265D

 •

T265D BullStar Extra Limited

 •

T265D-PC

 •

T1400 HST

 •

T1460

 •

T1560

 •

T1570

 •

T1600 HST

 •

T1670

 •

T1670J

 •

T1700X HST

 •

T1760

 •

T1770

 •

T1780

 •

T1870

 •

T1880

 •

T2080

 •

T2380

 •

Talent 25

 •

TG1860

 •

TG1860G

 •

X-20

 •

X-20H

 •

X-24 (Saturn)

 •

X-24D

 •

X-24H

 •

XB-1

Z-series

ZB-1

 •

ZB1-14

 •

ZB1200

 •

ZB1400

 •

ZB1402-M

 •

ZB1500

 •

ZB1500

 •

ZB1502

 •

ZB1502M

 •

ZB1600

 •

ZB1600

 •

ZB1702

 •

ZB1800

 •

ZL-285

 •

ZL1-18

 •

ZL1-18D

 •

ZL1-20

 •

ZL1-22

 •

ZL1-24

 •

ZL1-24

 •

ZL1-24D

 •

ZL1-26

 •

ZL1-33

 •

ZL1-38

 •

ZL1-43

 •

ZL1-185

 •

ZL1-195

 •

ZL1-205

 •

ZL1-225

 •

ZL1-245

 •

ZL1-265

 •

ZL1-275

 •

ZL1-285

 •

ZL1-295

 •

ZL1-345

 •

ZL1500

 •

ZL1501

 •

ZL1802

 •

ZL1802

 •

ZL1802DT

 •

ZL2000

 •

ZL2002DT

 •

ZL2002DT-M

 •

ZL2201DT

 •

ZL2202

 •

ZL2202-M

 •

ZL2202DT-M

 •

ZL2402DT

 •

ZL2601

 •

ZL2602

 •

ZL2602DT

 •

ZL3001

 •

ZL3202DT

 •

ZL3202DT-M

 •

ZL3203DT-M

 •

ZL4202DT

Half-Track Tractors

GB14-PC

 •

GB100-PC Grandom

 •

GB140-PC Granbia-boy

 •

GB145-PC Granbia-boy

 •

GB150-PC Granbia-boy

 •

GB155-PC Granbia-boy

 •

GB160-PC Granbia-boy

 •

GB170-PC Granbia-boy

 •

GB175-PC Granbia-boy

 •

GB175-PC3N Granbia-boy

 •

GB180-PC Granbia-boy

 •

GB200-PC Granbia-boy

 •

GM64-PC2 GrandMax

 •

GM73-PC GrandMax

 •

GM75-PC Super GrandMax

 •

GM90-PC1 Super GrandMax

 •

GM90-PC2 Super GrandMax

 •

GT21-PC Greats

 •

JB13-PC BullStar

 •

JB13X-PC BullStar Extra

 •

JB14-PC BullStar

 •

JB15X-PC BullStar Extra

 •

JB16-PC BullStar

 •

JB16D-PC BullStar

 •

JB17X-PC BullStar Extra

 •

JB18-PC BullStar

 •

JB18D-PC BullStar

 •

JB19X-PC BullStar Extra

 •

KB18-PC1 KingBull

 •

KB18-PC2 KingBull

 •

KB19X-PC KingBull Extra

 •

KB20-PC1 KingBull

 •

KB20-PC2 KingBull

 •

KB21X-PC KingBull Extra

 •

KB23X-PC KingBull Extra

 •

KB185-PC KingBull

 •

KB205-PC KingBull

 •

KB205Q-PC KingBull

 •

KB225-PC KingBull

 •

KB225Q-PC KingBull

 •

KL25-PC Kingwel

 •

KL26-PC Kingwel

 •

KL26R-PC Kingwel

 •

KL28-PC Kingwel

 •

KL28R-PC Kingwel

 •

KL31-PC Kingwel

 •

KL31R-PC Kingwel

 •

KL33-PC Kingwel

 •

KL34R-PC Kingwel

 •

KL34RH-PC Kingwel

 •

KL40ZH-PC Zero Kingwel

 •

KL41-PC Kingwel

 •

KL44ZH-PC Zero Kingwel

 •

KL48ZH-PC Zero Kingwel

 •

KL50-PC Kingwel

 •

KL53ZH-PC Zero Kingwel

 •

KL58ZH-PC Zero Kingwel

 •

KL270-PC2 Kingwel

 •

KL285-PC Kingwel

 •

KL330-PC Kingwel

 •

KL345-PC Beltion

 •

KL345H-PC Beltion

 •

KL345HQ-PC Beltion

 •

KL410-PC Kingwel Beltion

 •

KL415HQ-PC Kingwel Beltion

 •

KL500-PC Kingwel Beltion

 •

KL505HQ-PC Kingwel Beltion

 •

KL2850-PC Kingwel50

 •

KL3450-PC Kingwel50

 •

KL3450H-PC Kingwel50

 •

KL4350-PC Kingwel50 Beltion

 •

KL4350H-PC Kingwel50 Beltion

 •

KL5150H-PC Kingwel50 Beltion

 •

KT20-PC Kingeye

 •

KT24-PC Kingeye

 •

KT27-PC Kingeye

 •

KT210-PC Kingeye

 •

KT215-PC Kingeye Max

 •

KT230-PC Kingeye

 •

KT235-PC Kingeye Max

 •

KT250-PC Kingeye

 •

KT255-PC Kingeye Max

 •

KT280-PC Kingeye

 •

KT285-PC Kingeye Max

 •

L345D-PC

 •

M90-PC Grandom

 •

M100-PC Grandom

 •

M105D Grandom Power Crawler

 •

M125D Grandom Power Crawler

 •

M125H - PC

 •

M126X-PC

 •

M8540 Power Crawler Narrow

 •

MZ65-PC SynerZ

 •

MZ65D-PC SynerZ

 •

MZ75-PC SynerZ

 •

MZ75D-PC SynerZ

 •

MZ555-PC SynerZ

 •

MZ655-PC SynerZ

 •

MZ755-PC SynerZ

 •

SMZ76-PC Super SynerZ

 •

SMZ85-PC Super SynerZ

 •

SMZ95-PC Super SynerZ PowerCrawler

 •

SMZ805-PC Super SynerZ

 •

SMZ875-PC Super SynerZ

 •

SMZ955-PC Super SynerZ

 •

T245D-PC

 •

T245D-PC BullStar Extra Limited

 •

T265D-PC

Crawler Tractors

KG55 crawler

 •

KG65 crawler

 •

KG75 crawler

 •

KG100 crawler

 •

KM100D crawler

 •

MK-80-SK crawler

Special Purpose Tractors

B3300SU

 •

B7510 Narrow

 •

B7510 Turf Special

 •

L44SU

 •

L3700SU

 •

L4150 DT N

 •

L4305V

 •

M96S Mudder

 •

M4030SU

 •

M4800SU

 •

M4900 F

 •

M4900SU

 •

M5030SU Low Profile

 •

M5030V

 •

M5640SU

 •

M5700 Narrow

 •

M6040 Narrow

 •

M6040SU

 •

M7030F

 •

M7030F DT

 •

M7030N

 •

M7030SU Low Profile

 •

M7040 Narrow

 •

M7040SU

 •

M8200 Narrow

 •

M8200 vineyard

 •

M8540 Power Crawler Narrow

 •

M9000 Low Profile

 •

M9000 Mudder

 •

M9540 Low Profile

Aste Models

A-13

 •

A-14

 •

A-15

 •

A-16

 •

A-17

 •

A-19

 •

A-30

 •

A-155

 •

A-175

 •

A-195

BulAce Models

XB-1

 •

XB-1 High Clearance

 •

XB-20D

Bulltra Models

B-10

 •

B1-14

 •

B1-15

 •

B1-16

 •

B1-17

 •

B1-17D

 •

ZB-10

 •

ZB-15

 •

ZB1-14

 •

ZB1-15

 •

ZB1-16

 •

ZB1-17

Saturn Models
Sunshine Models

B1600

 •

L1-18

 •

L1-20

 •

L1-22

 •

L1-22D

 •

L1-24

 •

L1-26

 •

L1-28

 •

L1-33

 •

L1-33R

 •

L1-45

 •

L1-185

 •

L1-195

 •

L1-205

 •

L1-215

 •

L1-225

 •

L1-235

 •

L1-245

 •

L1-255

 •

L1-265

 •

L1-275

 •

L1-285

 •

L1-295

 •

L1-315

 •

L1-325

 •

L1-385

 •

L1-435

 •

L1-455

 •

L1-R18

 •

L1-R20

 •

L1-R22

 •

L1-R24

 •

L1-R26

 •

L1-R28

 •

L1-R33

 •

ZL1-18

 •

ZL1-18D

 •

ZL1-20

 •

ZL1-20D

 •

ZL1-22

 •

ZL1-24

 •

ZL1-24D

 •

ZL1-26

 •

ZL1-33

 •

ZL1-38

 •

ZL1-43

 •

ZL1-45

 •

ZL1-185

 •

ZL1-195

 •

ZL1-205

 •

ZL1-225

 •

ZL1-245

 •

ZL1-265

 •

ZL1-275

 •

ZL1-285

 •

ZL1-295

 •

ZL1-345

Garden machinery

Groundcare

mowers

Utility vehicles

ATV's
Early Makes - pre 1940s

1940s to 1980s

Modern post 1980s

Independents
North America

Europe

India & Pakistan

Middle East
(Turkey, Iran,
Iraq, Syria etc...)

Far East
(Australasia, China,
Japan, Korea, Thailand,
Vietnam etc...)

South America
(Argentina, Brazil,
Uruguay etc)

Africa

Asia
(Russia, Tajikstan,
Uzbekistan, Ukraine)

Specialist types of tractor

Notable People - associated with the tractor industry

Inventors