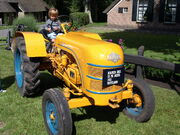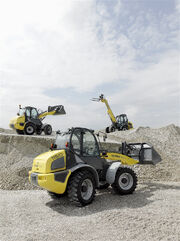 Kramer Werke GmbH is a manufacturer of compact construction machines, located in Pfullendorf (Baden-Württemberg) Germany.
In 1925 the Kramer brothers started to develop and produce mowing machines and Tractors in Gutmadingen (Germany). These were the first ones built in Germany and a revolution in agricultural work. The company headquarters was moved to Überlingen (Bodensee) in 1952.
In the time from 1957 to 1958, a special department for industrial and construction machines was set up. It caused a sensation, when Kramer introduced in 1968 the first German wheeled loader with four-wheel drive and equal sized tires. A lot four-wheel steered machines followed this example.
In 1973 a great change happened, when the company decided to close down the business field "traktor" and focussed on construction machines. In 1987 the focus was adjusted to the four-wheel steering. This development was the basis for the construction of the first Teleloader.[1]
Recent changes
Edit
In 2001 the merger between Kramer-Werke GmbH and Neuson Baumaschinen GmbH took place. Within this year, the company was renamed to Neuson Kramer Baumaschinen GmbH.
In April 5, 2007 the company began to build a new 30 billion Euro facility in Pfullendorf. The new production site has an are of about 16 hectare and the facility itself offer 160.000 square meters of production space. The annual production capacity rises from 1000 to 6000 machines.
Neuson Kramer Baumaschinen GmbH was finally renamed in 2008 to Kramer Werke GmbH, and became a brand of parent company Wacker Neuson SE.
Product range
Edit
Early models
Edit
Wheeled loaders
Modern products
Edit
See KramerAllrad
References / sources
Edit
Based on a wikipedia translation of the German article
Literature
Edit
External links
Edit

| | |
| --- | --- |
| | Wikibooks has a book on the topic of |
Early Makes - pre 1940s

1940s to 1980s

Modern post 1980s

Independents
North America

Europe

India & Pakistan

Middle East
(Turkey, Iran,
Iraq, Syria etc...)

Far East
(Australasia, China,
Japan, Korea, Thailand,
Vietnam etc...)

South America
(Argentina, Brazil,
Uruguay etc)

Africa

Asia
(Russia, Tajikstan,
Uzbekistan, Ukraine)

Specialist types of tractor

Notable People - associated with the tractor industry

Inventors