The Komatsu D575A Superdozer is the largest bulldozer currently in production.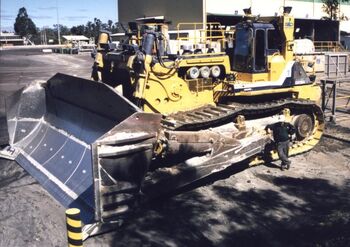 It is built by Komatsu Ltd. of Tokyo, Japan at their Osaka plant. The D-575A is used primarily as a coal mining dozer in strip mining pits in North America & Australasia. Its size and power allow it to move more coal than other mining dozers and even the drag lines commonly used in strip mines.
Specification
The power required to move the 152.6 tonne (336,420 lb) machine comes from the Komatsu SA12V170E diesel engine producing 858 kW (1,150 hp). It has a ground contact area of 9.4342 m² (101.55 ft²) and exerts an average pressure of 159 kPa (23 lbf/in²) on the ground it sits on.
The dozer features a 69 cubic metre (90 yd³) blade capacity with a blade height of 3.64 m (11 ft 11 in) and width of 7.4 m (24 ft 3 in). The dozer itself is a total of 4.88 m (16 ft) tall and 11.72 m (38 ft 5 in) in length with a ground clearance of 745 mm (2 ft 5 in).[1]
==Applications
These dozers operate primarily in strip mines in West Virginia, mostly operating on Massey Energy sites in Appalachia and to date, 17 D575A's in service in the West Virginia Coal Fields. There is one super ripper that operates in Las Vegas, and another in the South Island of New Zealand operating on the Stockton mine.
See also
References
↑

Earthmovers Magazine, October 2008, page 17 article by Keith Haddock
External links
List under construction - Please add any missing models

Brands/Divisions/Former Divisions
Excavator Models

Komatsu PC200

 

·

Komatsu PC300

 

·

Komatsu PC400

 

·

Komatsu PC450

 

·

Komatsu PC600

 

·

Komatsu PC650

 

·

Komatsu PC750

 

·

Komatsu PC1000

 

·

Komatsu PC1100

Crawler Tractors / Bulldozers
Dump Trucks
Wheeled loaders
Mining Machinery

Komatsu 930E 

·

Komatsu D575 

·

Komatsu PC1250

-7 

·

Komatsu-Demag PC3000

 

·

Materials handling
Specials

See also

List of Komatsu models