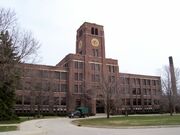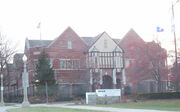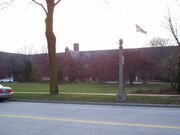 The Kohler Company is a manufacturing company in Kohler, Wisconsin best known for its plumbing products. Kohler also manufactures furniture, cabinetry, tile, engines, and generators.
History
Kohler was founded in 1873 by Austrian immigrant John Michael Kohler with the purchase of the Sheboygan Union Iron and Steel Foundry. Early products included cast iron and steel farm implements, castings for furniture factories, and ornamental iron pieces including cemetery crosses and settees. A breakthrough came in 1883 when John Michael applied enamel to a cast iron horse trough to create the company's first bathtub. The company has been primarily in the plumbing business ever since, known for plumbing fixtures. In 1888 the then Kohler Water Works developed the original trademarked Bubbler. They became popular, and other companies developed similar products under the generic term "drinking fountain." The colloquial word Bubbler is still used in several regions of the United States.
The Kohler group acquired in 2005 SDMO Industries, a manufacturer of power generators, along with SOREEL (electrical engineering) and BES (maintenance of gensets) from the French Meunier Holding.
Corporate management
Former Wisconsin Governor Walter J. Kohler, Sr. was President of Kohler Company and his son former Wisconsin Governor Walter J. Kohler, Jr. served for many years in senior management. Today, the president of Kohler is Herbert V. Kohler, Jr. (born February 20, 1939), grandson of the founder.
In 1998, Kohler made a plan to buy back any outstanding shares not owned by the family. All family members had to exchange their common shares for shares with limited rights, those that could not be sold. Since Kohler is not a publicly traded company, the number of shares floating were minimal. Kohler offered $55,400 per share, but some shareholders challenged this valuation and sued.
The IRS also challenged this valuation by prosecuting the estate of Frederick Kohler, who had recently died holding 975 shares. Kohler won the lawsuit against the IRS.[1]
Products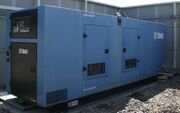 Kohler's bath and kitchen fixtures are available in American hardware and home improvement stores. Kohler still makes traditional cast iron bathtubs, one of the few United States manufacturers to do so. Besides residential products, Kohler manufactures a commercial line of bathroom fixtures. The company also does artistic custom work, such as hand-painted sinks and toilets.
Kohler also makes a wide range of small industrial engines. Traditionally, the company manufactured gasoline engines, however after purchasing Lombardini company (Italy), it extended its range and now offers diesel engines up to 65HP. In 2007, Kohler created a joint venture in China called Kohler-YinXiang Ltd., based in Chongquing, China, to manufacture small gasoline engines, and intends to begin importing more of their engines, rather than building them in the USA.[2][3]
Kohler engines power a range of devices from water pumps to off-road vehicles. The Global Power group manufactures generators ranging in size from 8,500 watt to 2.8 megawatts. Kohler was the first company to offer residential back-up generators to consumers, starting in 1920.[4]
More recently, the company has been expanding in the areas of furniture, cabinetry, and tile in the consumer market, and engines and generators for industry. The Kohler Interiors division of the company comprises Baker Furniture, McGuire Furniture, Kallista and Ann Sacks Tile.
Kohler displays many of its products at the 'Kohler Design Center' in the village of Kohler.
References
External links