Kia Motors
기아자동차


"The Power to Surprise"
Type
Public
Founded
June 9, 1944
Headquarters
Seoul, South Korea
Number of locations
Main Plant Locations: Hwaseong Plant, Hwaseong, South Korea; Sohari Plant, Gwangmyeong, South Korea; Kwang-Ju Plant, Gwangju, South Korea; Seosan Plant, Seosan, South Korea; Žilina Plant, Žilina, Slovakia; Yangcheng Plant, Jiangsu, China; Chu Lai Plant, Quang Nam, Vietnam; West Point Plant, Georgia, United States
Area served
International
Key people
Young-Jong Seo: CEO and President[1]
Industry
Automobile manufacturer
Products
Automobiles
Revenue (turnover)
South Korean Won23.26 trillion (2010)
($21.261 billion USD)
Net income
₩2.254 trillion (2010)
($2.06 billion USD)
Total assets
₩18.625 trillion (2010)
($17 billion USD)
Owner(s)
Hyundai Kia Automotive Group (34.58%[2])
Employees
42,000 (as of November 2009)
Website
kia.com
Kia Motors (Korean: 기아자동차, IPA: [ki.a]) is South Korea's second largest automobile manufacturer, having sold over 1.4 million cars in 2010[3].
The word Kia derives from Korean words meaning "to arise to the world from Asia."
With its headquarters in Seoul, the company is partly owned by the Hyundai Kia Automotive Group. Since August 21, 2009, Hyoung-Keun (Hank) Lee leads the company's global operations from the headquarters in Seoul.[4] North American and European arms are operated by Kia Motors America and Kia Motors Europe respectively.
Since 2005, Kia has focused on the European market and has identified design as its "core future growth engine"—leading to the hiring of Peter Schreyer in 2006 as Chief Design Officer[5] and his subsequent creation of a new corporate grille known as the 'Tiger Nose'.[6][7]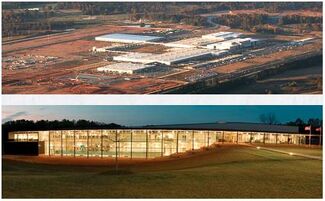 According to Kia Motors, the name "Kia" derives from the Sino-Korean words ki ("to come out") and a (which stands for Asia), it is roughly translated as "arise or come up out of Asia" or "rising out of Asia".[8][9]
More literally, Kia is a Persian name meaning king, protector, and defender, which may also to attribute homage to over 2500 year legacy of Persian monarchy and civilization at the cultural crossroads of the Silk Road that historically connected East and West. These attributes are reinforced by Kia's naming of some models, and its defense division.
South Korea's oldest car company, Kia was founded on June 9, 1944 as a manufacturer of steel tubing and bicycle parts by hand — and has operated as one of the country's Chaebols since. In 1952, Kia changed its name from Kyungsung Precision Industry,[10] and later built motorcycles (starting in 1957), trucks (1962) and cars (1974). The company opened its first integrated automotive assembly plant in 1973, the Sohari Plant. Starting in 1986, in partnership with Ford, Kia produced several Mazda derived vehicles for both domestic sales in South Korea into other countries. These models include the Pride (based on the Mazda 121) and Avella, which were sold in North America and Australasia as the Ford Festiva and Ford Aspire.
In 1992, Kia Motors America was incorporated in the United States. The first Kia-branded vehicles in the United States were sold from four dealerships in Portland, Oregon in February 1994. Since then, Kia expanded methodically one region at a time. Dealers in 1994 sold the Sephia, and a few years later the United States line expanded with the addition of the Sportage.
However, Kia's bankruptcy in 1997, part of the Asian financial crisis, resulted in 51% of the company being acquired in 1998 by South Korean rival Hyundai Motor Company, outbidding Ford Motor Company which had owned an interest in Kia Motors since 1986.[11] Subsequently, however, Hyundai has divested some of its ownership of Kia Motors,[12] and currently Hyundai Motor Company owns less than 40% of the company.
In October 2006, Kia Motors America broke ground for a new manufacturing plant Kia Motors Manufacturing Georgia in West Point, Georgia, representing a $1 billion USD investment for the company.[13] Kia Motors Manufacturing Georgia opened in February, 2010. For 2009, KMA recorded its 15th consecutive year of increased U.S. market share.[14]
Design emphasis and Tiger Nose
Edit
Beginning in 2006 Kia identified design as its "core future growth engine" — leading to the 2006 hiring of Peter Schreyer as Chief Design Officer.[5] Schreyer had previously worked at Audi (designing the Audi TT) and Volkswagen and had won the Design Award of the Federal Republic of Germany.[15]
Schreyer has since been central to a complete restyling of Kia's lineup,[16] overseeing design activities at Kia's design centers in Frankfurt, Los Angeles, Tokyo and the Namyang Design Center in Korea.[17]
Schreyer indicated in a 2007 interview that Kia had a "neutral image" prior to his arrival.[18]
| | | |
| --- | --- | --- |
| " | "In the past, the Kia cars were very neutral. When you saw one on the road, you didn't really know if it was Korean or Japanese…I think it's very important that you are able to recognise a Kia at first sight." | " |
With the Kee concept vehicle, shown at the Frankfurt Motor Show in 2007,[7] Kia introduced a new corporate grille[7] to create a recognizable 'face' for the brand. Known as the Tiger Nose, Shreyer indicated he wanted "a powerful visual signal, a seal, an identifier. The front of a car needs this recognition, this expression. A car needs a face and I think the new Kia face is strong and distinctive. Visibility is vital and that face should immediately allow you to identify a Kia even from a distance."[7] Commenting on the new signature grille in 2009: "From now on, we'll have it on all our cars".[19]
Affiliations and subsidiaries
Edit
Kia Motors Corporation
Edit
Kia Motors Corporation (KMC) was founded in 1944, is Korea's oldest manufacturer of motor vehicles and is now a division of the Hyundai-Kia Automotive Group. Over 1.5 million vehicles a year are produced in 13 manufacturing and assembly operations in eight countries which are then sold and serviced through a network of distributors and dealers covering 172 countries. Kia today has over 42,000 employees worldwide and annual revenues of over US$14.6 billion. It is the major sponsor of the Australian Open and an official automotive partner of FIFA – the governing body of the FIFA World Cup. Kia Motors Corporation's brand slogan is "The Power to Surprise".
Kia Motors America
Edit
Kia Motors America (KMA) is the American sales, marketing and distribution arm of Kia Motors Corporation based in Seoul, South Korea. KMA offers a complete line of vehicles through more than 640 dealers throughout the United States. For 2008, KMA recorded its 14th consecutive year of increased U.S. market share. In August 2009, Kia was the 8th-best selling automotive brand in the United States, outselling makes like Chrysler and Mazda.
In November 2009, Kia started production at the first U.S. Kia Motors plant, Kia Motors Manufacturing Georgia in West Point. The facility is building the 2011 Kia Sorento crossover vehicle.
Kia Motors Europe
Edit
Kia Motors Europe (KME) is the European sales and marketing division of Kia Motors Corporation (KMC). In 2007 KME moved from its previous location at Hauptstrasse 185, Eschborn, Frankfurt to a new purpose built facility adjacent to the Messe in Frankfurt city centre.
From 1995 to 1999 Kia produced left and right hand drive versions of the Sportage SUV at the Karmann factory in Germany. From 1999 until production of the model ceased in 2003, all Sportage production reverted to South Korea.
Kia began importing cars to Europe in mid 1991, initially selling just the Pride mini-car. It initially proved popular with buyers but sales fell towards the end of the decade and the end of production was finally announced in May 2000, with its successor—the Rio—not going on sale for another year.
By the end of 1991, Kia had sold nearly 1,800 Prides in the United Kingdom. The first full year, 1992, saw that figure double, and in 1993 it increased again to nearly 5,500.
The European range expanded in 1994 when Kia began importing the larger Mentor, a range of medium sized hatchbacks and sedan which were marketed as cheap and well-equipped alternatives to the likes of the Ford Escort and Vauxhall/Opel Astra.
A facelift in 1999 saw the Mentor name retained for the saloon, but the hatchback was renamed Shuma. These models remained on sale until 2004, when the newer Cerato was launched and gave Kia one of its first serious competitors for mainstream brands.
The Sportage SUV range, first sold in 1995, has been popular across Europe, but since 2002 Kia has gained more sales in this market thanks to the launch of the larger Sorento.
Despite Kia's range increasing from one car as late as 1993 to three cars by the end of 1995, British sales actually decreased in that period, from nearly 5,500 in 1993 to less than 4,000 the following year. In 1998, Kia's future in Britain was thrown into serious doubt when it sold less than 3,000 of its whole range - the worst in any full year on the British market.
Kia did not enter Europe's large family car market until the launch of its Credos four-door sedan in 1999. This car was similar in size to the Ford Mondeo, but on its launch was actually cheaper to buy than the smaller Focus. It had a spacious interior, large boot, competitive asking price and high equipment levels, but it had little more appeal to sway buyers away from established European brands like Ford Motor Company, Vauxhall/Opel, Renault and Peugeot. Its successor, the Magentis, launched in 2001, was still nowhere near as popular as Kia might have hoped it would be.
Kia entered the MPV market in 1999 with the Sedona. On its launch, it was the cheapest full-size people carrier on sale in the United Kingdom.
With the range expanded by 1999, sales for that year reached almost 6,400 - more than double the previous year's total. That annual sales figure had almost been matched in 2000 by the end of May, reflecting Kia's growing popularity with British buyers.[20] By 2009, Kia was firmly established as a popular brand in Britain, when sales broke the 50,000 barrier for the first time and the brand now had a share of more than 2% in the new car market. The Picanto was the most popular single model with nearly 17,000 sales.[21]
Kia Defense
Edit
Kia Motors has specialized in the production of military vehicles with variants and other transportation equipment and by supplying them as a sole maker of military vehicles designated by the South Korean Government since 1976, when Kia Heavy Industry Co., Ltd was established. Kia is currently designing a Kaiser Jeep M715-type vehicle named the KM450 for the South Korean Army on license from the U.S. Government. KIA Defense produces six vehicles:
Passenger cars
Edit
Commercial vehicles
Edit
Concept cars
Edit
Electric vehicles
Edit
Kia plans mass-production of the Kia Sportage all-electric Crossover (CUV).
Also has unveiled the Kia Venga and Kia Pop city car with SK Energy's lithium-ion batteries.
Hybrid electric vehicles
Edit
Kia has unveiled world premiers in the 2008 Paris Motor Show:[22]
Previous models
Edit
Kia Brisa
Kia Pride
Kia Sephia
Kia Spectra
References
Edit
External links
Edit
Community content is available under
CC-BY-SA
unless otherwise noted.