Jurassic World: Dominion Dominates Fandom Wikis - The Loop
Play Sound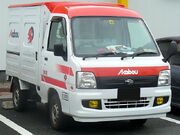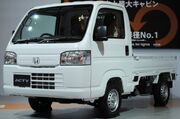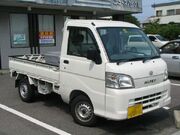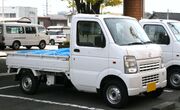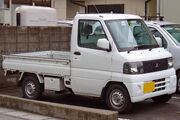 A Kei truck, or Japanese mini truck is a tiny but practical pickup truck available in RWD or 4WD version, built to satisfy the Japanese keijidōsha (軽自動車) statutory class of light vehicles. They are known as Keitora (軽トラ) in Japan alongside their van version twin, the microvan.
Design
The Kei truck class specifies a maximum size and displacement, greatly increased since legislation first enabled the type in 1949. The 1998 law admits a maximum length of 11 ft (3.4 m), a maximum width of 58 in (1.48 m) and a maximum height of 78 in (2.0 m) with a maximum displacement of 660 cc. They weigh about 1500 lbs (700 kg), and when ungoverned can reach up to 75 mph (120 km/h).
Typical manufacturers and model names include: Subaru Sambar, Suzuki Carry, Honda Acty, Mazda / Autozam Scrum, Mitsubishi Minicab, and Daihatsu Hijet.
The Kia Bongo is a similar vehicle of Korean origin. Daewoo and Asia(Kia) produced rebadged Suzuki Carry/Every and Daihatsu Hijet Van as Daewoo Labo/Damas, and Asia/Kia Towner.
Uses
Widely employed throughout Asia, used models have appeared in the US for off-road use typically by farmers and hunters. Japanese laws encourage surplussing vehicles after a relatively short life; consequently importers bring used Kei trucks into the US by the container load for sale at prices ranging from US$1,000 to US$12,000. They have fully enclosed cabs, seat belts, windshield wipers, AM radios, heaters, lights, and signals, and are claimed to run 40 miles (70 km) on one US gallon of gasoline. They generally have 6 ft (1.8 m) long pickup beds with fold-down sides; dump and scissor lift beds are also available as well as van bodies. The length limitation forces all of these models into a cab forward design.
While street legal in Japan, Kei trucks lack proof of conformance with US regulations. Nevertheless they are approved for use on local roads in several rural states, with a variety of limitations on their use. Many are also used as campus maintenance vehicles, rarely leaving campus confines. 2008 legislation in Oklahoma and Louisiana is the most liberal, prohibiting their use on interstate highways only [1].
See also
References
External links