Obi-Wan Finale - The Loop
Play Sound
Karsan (Turkish: Karsan Otomotiv Sanayii ve Ticaret A.Ş.) is a Turkish light commercial vehicles manufacturer.
Karsan was founded in 1966 in Bursa, Turkey, to produce light commercial vehicles. Koç Group assumed management control of the company between 1979-1998. Later on Kıraça Group took over the company in 1998 by acquiring the majority of the shares under the leadership of İnan Kıraç.
Karsan, owned by 100% Turkish capital, produces and sells Peugeot light commercial vehicles under a licensing agreement with Peugeot as well as Ducato minibus models for Tofaş - FIAT. In addition to these, Karsan produces and sells special vehicles such as ambulances, taxis, patrol vehicles and 4x4's.
In 1998, Karsan started building its new factory in Akçalar with an investment of 70 million USD, in order to take advantage of the LCV market potential and renew its technology. Production began in its new factory in October 1999. Majority of the investment that raised the annual capacity to 25,000 units in two shifts was financed through the company's own resources. In 2001, an additional 2 million USD expanded the capacity of the paint shop to 40,000 vehicles in two shifts. Thus, with minor additional investments the total factory capacity can be brought up from 25,000 to 40,000 on demand. The new factory, situated on a total of 200.000 m² of land with 71,000 m² covered area, is 30 kilometers from the center of Bursa. This factory, designed to produce any type of vehicle from cars to trucks, is equipped with the latest technology and production lines, and can produce any combination of vehicles with minimum adjustments.
Karsan also has cooperations with Hyundai for light trucks manufacture, with Renault Trucks for long-distance trailer-trucks and with BredaMenarinibus for bus manufacture.[1]
Karsan's V-1 is one of three finalists (alongside the Ford Transit Connect and Nissan NV200) for New York City's Taxi of Tomorrow. The winning model will be announced in early 2011 and will be awarded a 10-year contract to serve the city exclusively.[2]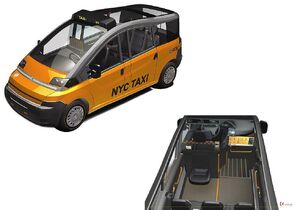 At the end of 2010, the J9 Premier minibus was replaced with the Karsan J10, available in three body versions- with 14, 17 or 20 seats, and powered by a Euro 4 common rail 2,3 liter diesel engine of Iveco origin.[3] At the end of 2013, the J10 minibus has been replaced by the Karsan Jest.[4]
List of vehicles
Current
BredaMenarinibus Vivacity (2010–present)
BredaMenarinibus Avancity (2010–present)
Citroën Berlingo (2008–present)
Fiat Ducato (2001–unknown)
Hyundai Truck (2007–present)

Hyundai H350

(2015–present)
Karsan Atak (2014–present)

Karsan Jest

(2013–present)
Karsan Star (2014–present)

Karsan V-1

(prototype) - A concept van proposed to be New York City's Taxi of Tomorrow
Peugeot Partner (1997–present)
Peugeot Boxer (2001–unknown)
Renault Megane IV Sedan (2022-to commence)
Former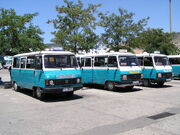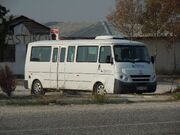 References
See also
List of Turkish companies
External links