Karosa is a bus manufacturer from Vysoké Mýto, Czech Republic, since 1999 it is a part of Irisbus Holding. Since 1997 started the production of modernized 800-series. In the same year the new 900-series were projected.
LC936XE Series
Edit
47-seat tourist bus LC936XE is based on the same urban bus version, however it got 295-horse power diesel engine, mechanical 8-step transmission electromagnetic brake "Telma", two edge doors, more comfortable chairs, pneumatically suspended driver's seat, regulated position of a steering wheel, air conditioning, ASR.
Its «very own» front cab design now is as simple as, in first samples of Renault FR1 bus.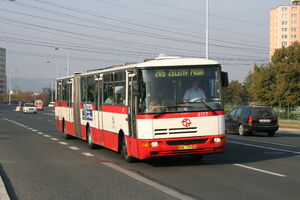 В931Е/В932Е Series
Edit
As a basis 3-door version of Karosa В931Е was taken. The model В931Е features a length of 11,345 milimeters a mass of 18 tons, 102passenger capacity, including places for 19-32 standees.
By the rear of the bus 6-cylinder Renault 256 horsepower diesel engine is installedit satisfies all the Euro 2 norms. There was also 3- or 4-step Voith or ZF transmission installed.
Model В932Е
Edit
Differs for others by the usage of 5-step "Praga", Czech-manufactured transmission.
Articulated model В941Е
Edit
Is based on both В931Е/В932Е Series. Its capacity is 113 passengers, it is equipped with French-manufactured 295 hp diesel engine, it also feature turbo-blow and 3-step transmission. Its length is 17.6 m, full mass is 26 tons.
С934Е, the intercity model
Edit
Similar to the В932Е, besides the installation of 2 sliding doors and a passenger space planned to accommodate 54 passengers.
References
Edit
Community content is available under
CC-BY-SA
unless otherwise noted.