The company of John Allen of Oxford Ltd was originally established in 1874 as the Oxfordshire Steam Ploughing Company. John Allen takes over the firm in 1897. The Firm became John Allen & (Sons) Ltd in 1925. The firm was noted for manufacturing scarifiers for steam rollers and also re built engines. They built a few steam engines themselves and also fair ground rides. The firm was later known for the Allen Scythe, and building drainage machinery, before being taken over by Grove of America after a JV. By 1984 Grove Cranes had closed the Allen division down, after merging it with other UK operations & transferring production to Sunderland.
Detailed history required - can you help with more information on this company ?
1874 Oxfordshire Steam Company founded
1897 John Allen takes over.
1925 Company renamed John Allen & (Sons) Ltd
1950's/60's Produced a range of mobile cranes and rope operated excavators under licence from The Michigan Corp. of America, using British power units.
1950's/60's Produced a range of endless chain and bucket trench excavators to Parsons design,using British made engines.
1950's/60's produced the Allen Tractor Operated Shovel (ATOS), a tractor driven trailed hydraulic backhoe.
 ? Form Joint Venture with Grove of America
1984 Grove closes the Allen division down. Production had previously transferred to Sunderland ( The Coles Cranes manufacturing facility also owned by Grove)
Product range
Edit
Preservation
Edit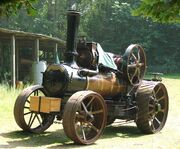 Examples of Allen Scarifier's on Steam rollers and a few Allen Scythes are on display at shows.
References / sources
Edit
External links
Edit
add relevant ext links to items featuring Allen of Oxford
Early Makes - pre 1940s

1940s to 1980s

Modern post 1980s

Independents
North America

Europe

India & Pakistan

Middle East
(Turkey, Iran,
Iraq, Syria etc...)

Far East
(Australasia, China,
Japan, Korea, Thailand,
Vietnam etc...)

South America
(Argentina, Brazil,
Uruguay etc)

Africa

Asia
(Russia, Tajikstan,
Uzbekistan, Ukraine)

Specialist types of tractor

Notable People - associated with the tractor industry

Inventors
Community content is available under
CC-BY-SA
unless otherwise noted.