Jurassic World: Dominion Dominates Fandom Wikis - The Loop
Play Sound
JOHN ALLEN & SONS LIMITED
of Hockmore Street, Cowley, Oxford (later rename Between Towns Road).
COMPANY HISTORY
1868 Company founded - presumably Oxfordshire Steam Ploughing Co
At some point Oxfordshire Steam Ploughing Co established works at Dorchester in Dorset - see Eddison Steam Rolling Co. The business spread to other locations.
1887 A manager, John Allen, was brought to Oxford from the Dorchester works.
1897 John Allen bought the company for which he was manager; he concentrated the business on steam road-rolling rather than cultivation, which was a more lucrative business.
1904 ALLEN, John, The Elms, Offaly, Oxford. Cars: 10-h.p. Daimler, 16-h.p. de Dietrich. Has driven 30,000 miles. Hobby: Mechanics. Is proprietor of the Oxfordshire Steam Ploughing Co., and was for four years Chairman of the National Traction-engine Owners' Association. His eldest son, who is now thirteen, has driven the Daimler car since he was eleven-and-a-half years old. Clubs: Constitutional, Oxford Automobile, A.C.G. B. & I. (Founder member). [1]
1915 Private company. Perhaps Oxford Steam Plough Co
1924 Name changed - presumably John Allen and Sons (Oxford) Ltd. Offered the Allen road scarifier.
1948 Captain James John Cullimore Allen, governing director, was awarded OBE
1961 Agricultural mechanical, electrical and general engineers and public works contractors. 300 employees. 
(From the Graces Guide webpages)
The company of John Allen of Oxford Ltd was originally established in 1874 as the Oxfordshire Steam Ploughing Company. John Allen takes over the firm in 1897. The Firm became John Allen & (Sons) Ltd in 1925. The firm was noted for manufacturing scarifiers for steam rollers and also re built engines. They built a few steam engines themselves and also fair ground rides. The firm was later known for the Allen Scythe, and building drainage machinery, before being taken over by Grove of America after a JV. By 1984 Grove Cranes had closed the Allen division down, after merging it with other UK operations & transferring production to Sunderland.
Development and later History
Timeline
1874 Oxfordshire Steam Company founded
1897 John Allen takes over.
1925 Company renamed John Allen & (Sons) Ltd
1950's/60's Produced a range of mobile cranes and rope operated excavators under licence from The Michigan Corp. of America, using British power units.
1950's/60's Produced a range of endless chain and bucket trench excavators to Parsons design,using British made engines.
1950's/60's produced the Allen Tractor Operated Shovel (ATOS), a tractor driven trailed hydraulic backhoe.
? Form Joint Venture with Grove of America
1984 Grove closes the Allen division down. Production had previously transferred to Sunderland ( The Coles Cranes manufacturing facility also owned by Grove)
Product range
Boilers

Land Drainage machinery

Allen Grader - trailed grader

Rope operated excavators

Mobile cranes

Allen T6 Crane 3/8 cu. yd. truck-mount universal excavator /6ton crane with Leyland 350 or Dorman engine.

Allen T10 Crane

1/2 cu. yd. truck-mount universal excavator /10 ton crane with Gardner 5LW and 4Lw engines.

Allen H2564 Crane

- Grove designed 25 ton Hydraulic mobile crane.Photo

A.T.O.S hydraulic excavator

Tractor-drawn and PTO, driven hydraulic backhoe.

Bucket and chain trenchers

Allen 16/60

crawler mounted, Gardner powered chain and bucket trencher.

Allen 14/30

crawler mounted Gardner or Dorman powered.

Allen 12/21

crawler mounted Gardner or Dorman powered.
Preservation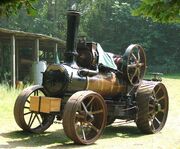 Examples of Allen Scarifier's on Steam rollers and a few Allen Scythes are on display at shows.
ALLEN Of Oxford Original Model Range Photo Gallery
See also
References / sources
External links
add relevant ext links to items featuring Allen of Oxford
https://www.gracesguide.co.uk/ 
Early Makes - pre 1940s

1940s to 1980s

Modern post 1980s

Independents
North America

Europe

India & Pakistan

Middle East
(Turkey, Iran,
Iraq, Syria etc...)

Far East
(Australasia, China,
Japan, Korea, Thailand,
Vietnam etc...)

South America
(Argentina, Brazil,
Uruguay etc)

Africa

Asia
(Russia, Tajikstan,
Uzbekistan, Ukraine)

Specialist types of tractor

Notable People - associated with the tractor industry

Inventors