JinBei (金杯) is a car brand name of Brilliance Jinbei Automobile Co., Ltd.[1], in Shenyang, Liaoning, China, it is a subsidiary of Brilliance China Auto (Huachen).
Products
Shenyang Jinbei produces the Jinbei Haise, also known as the "Haishi", the Jinbei's version of Toyota Hiace, and also produces the Granvia, locally called the Grace (Jinbei Granse). Current production of Jinbei is about 80,000 units per year.
Chinese-built models are exported to numerous countries, one of them is Chile, that started to receive them in 2008.
There are also Jinbei trucks (also known as JBC), SUVs, and pick-ups.[2] They are made by Shenyang Jinbei Vehicle Manufacturing Co., Ltd., a subsidiary of Brilliance Auto.[3]
Models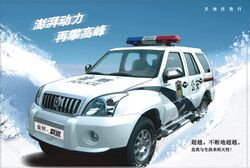 Production outside China
Units for the African market are manufactured by the Bavarian Auto Manufacturing Company, a subsidiary of BMW, in the 6th of October City. Available model is the Jinbei Cargo Van[4] (de) which is available as an ambulance or police car also. It is assembled in the 1999 and 2003 generation versions.
Another manufacturer of Jinbei vehicles is IKK Ichigan, Inc.[5][6] in Manila, Philippines which offeres the assembled models Jinbei 2 Ton, Jinbei 3 Ton and Jinbei 3 Ton. The Haise and Granse models are imported by the company and are not listed in its official product lineup.
References
See also
External links