The JCB Fastrac Revolution of the 1990s.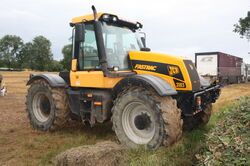 History
The late 1980's lead to the Design of the 'Fast Tractor' range this was the result of a major R&D project to build a new Modern Tractor. The tractor was launched at the 1990 Smithfield Show. The tractor was named as the JCB Fastrac and went into full production at the JCB Landpower Factory at Cheadle, Staffordshire in May 1991. The prototype having being tested in October 1987 after a year of design work. The original Fastrac range cover the 120 hp to 160 hp size.
NEW MODEL for 2008
The range has evolved over the year and 2008 see the introduction of the new high spec 7000 series, with models from 178 hp to 230 hp. powered by Cummins QSB 6-cylinder engines of 6.7 ltr capacity. They are the result of a £10 million R&D project, and feature new JCB axles and a JCB 24-speed, 4 range Semi-powershift gear box.
Model Range
Fastrac Range
JCB Fastrac Tractor Models

| Model | Year(s) Produced | Horsepower | Engine Type | Misc Notes | Photo |
| --- | --- | --- | --- | --- | --- |
| JCB Fastrac 130 | | | | | |
| JCB Fastrac 130 Turbo 50 | | | | | |
| JCB Fastrac 130 Turbo 65 | | | | | |
| JCB Fastrac 135 | | | | | |
| JCB Fastrac 135-40 | | | | | |
| JCB Fastrac 135-65 | | | | | |
| JCB Fastrac 145 | | 145 hp (108 kW) | | | |
| JCB Fastrac 150 | | | | | |
| JCB Fastrac 150-65 | | | | | |
| JCB Fastrac 150 Turbo 65 | | | | | |
| JCB Fastrac 155 | | | | | |
| JCB Fastrac 155-30 | | 150 hp (110 kW) | Perkins | | |
| JCB Fastrac 155-65 | | | | | |
| JCB Fastrac 175-40 | | 175 hp (130 kW) | Perkins | | |
| JCB Fastrac 185 | | | | | |
| JCB Fastrac 185-30 | | 170 hp (130 kW) | Cummins | | |
| JCB Fastrac 185-40 | | 191 hp (142 kW) | Cummins | | |
| JCB Fastrac 185-65 | | | | | |
| JCB Fastrac 1115 | | | | | |
| JCB Fastrac 1115S | | 115 hp (86 kW) | Perkins | | |
| JCB Fastrac 1125 | | | | | |
| JCB Fastrac 1135 | | 135 hp (101 kW) | Perkins | | |
| JCB Fastrac 2115 | | 115 hp (86 kW) | | | |
| JCB Fastrac 2125 | | 125 hp (93 kW) | | | |
| JCB Fastrac 2135 | | 135 hp (101 kW) | | | |
| JCB Fastrac 2140 | | 142 hp (106 kW) | Cummins | | |
| JCB Fastrac 2150 | | 150 hp (110 kW) | | | |
| JCB Fastrac 2155 | | 160 hp (120 kW) | Cummins | | |
| JCB Fastrac 2170 | | 165 hp (123 kW) | Cummins | | |
| JCB Fastrac 3155 | | 155 hp (116 kW) | | | |
| JCB Fastrac 3170 | | 170 hp (130 kW) | Cummins | | |
| JCB Fastrac 3185 | | 185 hp (138 kW) | | | |
| JCB Fastrac 3190 | | 193 hp (144 kW) | Cummins | | |
| JCB Fastrac 3200 | | 195 hp (145 kW) | Cummins | | |
| JCB Fastrac 3200 Xtra | | 195 hp (145 kW) | Cummins | | |
| JCB Fastrac 3220 | | 220 hp (160 kW) | Cummins | | |
| JCB Fastrac 3220 Plus | | 220 hp (160 kW) | | | |
| JCB Fastrac 3230 | | 220 hp (160 kW) | Cummins | | |
| JCB Fastrac 3230 Xtra | | 220 hp (160 kW) | Cummins | | |
| JCB Fastrac 7170 | | 170 hp (130 kW) | Cummins | | |
| JCB Fastrac 7200 | | 200 hp (150 kW) | Cummins | | |
| JCB Fastrac 7230 | | 230 hp (170 kW) | Cummins | | |
| JCB Fastrac 7270 | | 260 hp (190 kW) | Cummins | | |
| JCB Fastrac 7270 P-Tronic | | 260 hp (190 kW) | Cummins | | |
| JCB Fastrac 8250 | | 280 hp (210 kW) | Cummins | Fitted with a CVT transmission made by Fendt | |
| JCB Fastrac 8280 | | 279 hp (208 kW) | AGCO SISU Power | | |
| JCB Fastrac 8310 | | 306 hp (228 kW) | AGCO SISU Power | | |
JCB HST Tractor range
JCB has introduced a range of Badge engineered small and medium models built by Daedong for some markets
See also
References / sources
External links
JCB Model range

Early Machines
Backhoe Loaders
Loading Shovel
(Wheeled loaders)

JCB Major Loader - JCB Master Loader - JCB Load-Over - JCB Loadall 65 - JCB Loadall 75 - JCB 2S(1964) - JCB 2DS(1971) - JCB 3CS(1963) - JCB 3DS(1967) - JCB 3S(1971) - JCB 4L(1960) - JCB 4S(1962) - JCB 4SII(1964)

JCB 700

(1970) -

JCB 702

(1968) -

JCB 704

(1968) -

JCB 900

(1968) -

JCB 902

(1971) -

JCB 907

(1968) -

JCB 1000

(1968) -

JCB 1250

(1970) -

JCB 1750

(1968) -

JCB 3000

(1968)

JCB 400

-

JCB 403

-

JCB 406

(1987) -

JCB 407

-

JCB 410

(1981) MKII 1982 MKIII 1987 -

JCB 412

(1985) MKII 1987 -

JCB 413

(1973) -

JCB 415

(1985) MKII 1987 -

JCB 416

-

JCB 418

(1973) -

JCB 420

(1983) -

JCB 423

(1975) MKII 1984 -

JCB 425

(1987) -

JCB 428

(1975) MKII 1984 -

JCB 428C

(1981) MKII 1984 -

JCB 430

(1983)

JCB 2CXL

(1992) -

JCB 2CX Loader

(1993) -

JCB 2CX Airmaster

1994 -

JCB 2CX Farmmaster

1994 -

JCB 2CX Utility

1994 -

JCB 2CX Airmaster

2006 -

JCB 2CX Farmmaster

2006 -

JCB 2CX Utility

2006 -

JCB 3CXL

2010

Material Handlers
Dumper trucks
Excavators (360)

JCB 5

-

JCB 6

-

JCB 6C

-

JCB 7

-

JCB 805

-

JCB 807

-

JCB JS range

Compact machinery

JCB Robot

-

JCB 1CX

-

JCB Tracked Dumper

-

JCB Hydrodig

Compactors / Rollers
Tractors

Fastrac concept

 •

Fastrac 130

 •

Fastrac 130 Turbo 50

 •

Fastrac 130 Turbo 65

 •

Fastrac 135

 •

Fastrac 135-40

 •

Fastrac 135-65

 •

Fastrac 145

 •

Fastrac 150

 •

Fastrac 150-65

 •

Fastrac 150 Turbo 65

 •

Fastrac 155

 •

Fastrac 155-30

 •

Fastrac 155-65

 •

Fastrac 175-40

 •

Fastrac 185

 •

Fastrac 185-30

 •

Fastrac 185-40

 •

Fastrac 185-65

 •

Fastrac 1115

 •

Fastrac 1115S

 •

Fastrac 1125

 •

Fastrac 1135

 •

Fastrac 2115

 •

Fastrac 2125

 •

Fastrac 2135

 •

Fastrac 2140

 •

Fastrac 2150

 •

Fastrac 2155

 •

Fastrac 2170

 •

Fastrac 3155

 •

Fastrac 3170

 •

Fastrac 3185

 •

Fastrac 3190

 •

Fastrac 3200

 •

Fastrac 3200 Titanium

 •

Fastrac 3200 Xtra

 •

Fastrac 3220

 •

Fastrac 3220 Plus

 •

Fastrac 3230

 •

Fastrac 3230 Xtra

 •

Fastrac 4160

 •

Fastrac 4190

 •

Fastrac 4220

 •

Fastrac 7170

 •

Fastrac 7200

 •

Fastrac 7230

 •

Fastrac 7270

 •

Fastrac 7270 P-Tronic

 •

Fastrac 8250

 •

Fastrac 8280

 •

Fastrac 8290

 •

Fastrac 8310

 •

Fastrac 8330

 •

Fastrac Jubilee Edition

 •

323HST

 •

327HST

 •

331HST

 •

335HST

 •

354 Turbo

 •

360 Turbo

Attachments

&
Ancillary equipment

JCB Attachments

-

JCB Generators

-

JCB Grabs

-

JCB Power packs

-

JCB Security

-

JCB Shears

Ground care
Special projects
Military vehicles
Early Makes - pre 1940s

1940s to 1980s

Modern post 1980s

Independents
North America

Europe

India & Pakistan

Middle East
(Turkey, Iran,
Iraq, Syria etc...)

Far East
(Australasia, China,
Japan, Korea, Thailand,
Vietnam etc...)

South America
(Argentina, Brazil,
Uruguay etc)

Africa

Asia
(Russia, Tajikstan,
Uzbekistan, Ukraine)

Specialist types of tractor

Notable People - associated with the tractor industry

Inventors