Iveco Bus (formerly Irisbus) is a bus manufacturer, with headquarters in Lyon, that belongs to the industrial group CNH Global through its subsidiary Iveco,[1] based in Turin (Italy). Iveco-bus is now only a brand division of IVECO[2][3][4] which is a company incorporated under Italian law and listed on Borsa Italiana.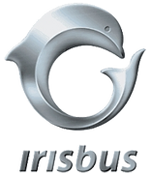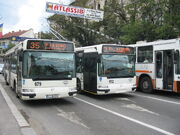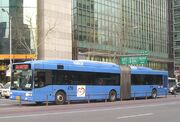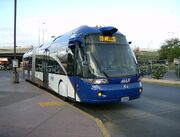 Iveco Bus was formed through the merger of the bus and coach divisions of Fiat Industrial, Iveco and Renault in January 1999, with Ikarus Bus added in late 1999. The Ikarus Bus division was sold off in 2006 to Hungary's Műszertechnika group.
From 2003 to 2010, Irisbus was 100%-owned by Fiat Group's Iveco, and the company was named Irisbus Iveco.[5] Now since 2013, Irisbus has been 100% owned by CNH Industrial's Iveco.
The company is based in Lyon, France with offices in Turin, Italy, Watford and Mainz. Buses are developed in one of two R&D centers, one in Italy and one in Switzerland. The engine which powers Irisbus Buses was developed in Italy by Fiat Powertrain Technologies, Turin, Italy.
The Irisbus name was retired and now the division is a branch of Iveco, rebranded as Iveco Bus in May 2013, after a reorganization plan.[6] All new buses are sold under the IVECO brand, as are all the other vehicles produced by the group.
Factories
Edit
The main assembly plants are located in:
Other factories to supply engines and parts are scattered across the world (most of these are IVECO factories)
Happy - minibus
Midway - midibus
Midys - midibus
Midirider
Euromidi
Citybus
Recreo - line/school bus
Crossway - line/school bus
Urbanway - transit bus
Arway - line
Evadys H - tour coach
Evadys HD - tour coach
Magelys - tour coach
Civis - trolleybus (for alternative urban transport)
Cristalis - trolleybus (for alternative urban transport)
Hynovis, hybrid bus.[7][8]Template:Cbignore
Scolabus 25 (School Bus) (UK)
Discontinued
Edit
References
Edit
External links
Edit
Current models:
Past models:
Current models:
Former models:
Italian vehicle and cycle
manufacturers
Defunct manufacturers
Automotive design
Components
Other
Active manufacturers
Defunct manufacturers
Foreign companies
with operations
Components
Related topics
Community content is available under
CC-BY-SA
unless otherwise noted.