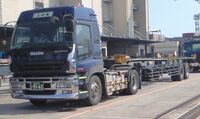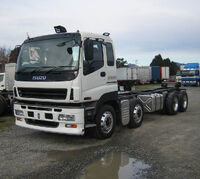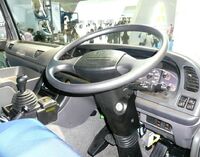 The Isuzu Giga & Isuzu C/E-Series Mark II (kana:いすゞ・ギガ) is a line of heavy-duty commercial vehicle by Isuzu. The range was primarily available in other big-size trucks. and previous truck name is 'Isuzu Heavy-Duty Truck'.
Most big-size models of the truck are distinguishable by a front 'Giga' and 'CXZ' badge, but the common Isuzu badge is usually used on the rear.
In Japan, Asia-Pacific, Mid-East, Africa, South America, its principal competitors are Mitsubishi Fuso Super Great, Nissan Diesel/UD's Quon and Big Thumb, and Hino Profia.
Outside Japan the truck series are in "C" and "E", for Comfort and Economic respectively. (Isuzu E-Series for other uses by Ford E-Series).
Lineup
CVR (4X2)
CXM (6X2)
CYM (6X2) GVW 20t
CYL (6X2) GVW 20t
CXG (6X2 Front 2 axles)
CXE (6X2 Front 2 axles)
CYG (6X2 Front 2 axles) GVW 20t
CYE (6X2 Front 2 axles) GVW 20t
CXZ (6X4)
CYZ (6X4) GVW 20t
CYY (6X4) GVW 20t
CVZ (Low-floor 6X4) GVW 18t
CXZ-J (Low-floor 6X4)
CYZ-J (Low-floor 6X4) GVW 20t
CYY-J (Low-floor 6X4) GVW 20t
CXH (Low-floor 8X4)
CYH (Low-floor 8X4) GVW 20t
CYJ (Low-floor 8X4) GVW 20t
Semi-tractor
EXR (4X2)
EXD (4X2)
EXZ (6X4)
EXY (6X4)
See also
External links

Isuzu

Commercial Vehicles

Domestic Japan
Outside Japan
United States
| | |
| --- | --- |
| | This truck-related article is a stub. You can help Tractor & Construction Plant Wiki by expanding it. |