For Ford F-series pickup trucks, see Ford F-series.
The Isuzu Forward & Isuzu F-Series (kana:いすゞ・フォワード) is a line of medium-duty commercial vehicles built by Isuzu. All F-series trucks are cab over designs and the cabin comes fully built from the factory. Most models come with a diesel engine; but, some markets get CNG derivatives as well. The F-series is available a variety of cab styles, engines, 4WD or 2WD depending on the market it is sold. Most trucks are assembled in Japan; however, they are locally assembled from CKD kits in some countries.
Most mid-size and big-size models of the truck are distinguishable by a front 'Forward' badge; but the common Isuzu badge is usually used on the rear.
In United States, its principal competitors are Bering MD, Chevrolet W-Series and GMC W-Series (both built by Isuzu), Mitsubishi Fuso FK and the UD 2000/2300. In Japan, its main competitors are Mitsubishi Fuso Fighter, Nissan Diesel/UD Condor, Hino Ranger.
For the Chilean and Peruvian markets, the trucks were shipped from Japan as CKD kits to Huechuraba, Chile, where up to 2 a day can be assembled by a team of 13 workers. They are badged as Chevrolets. On June 10th, 2008, GM Chile announced its 20,000th Isuzu truck assembled in its Huechuraba plant (including N and F series)[1].
Current Lineup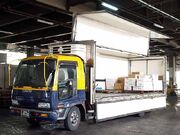 Japan
FRR
FSR
FTR
FVR
FVM
FVZ
FSS
FTS
Australia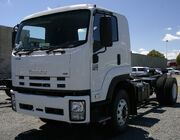 Isuzu is the market leader in Australia and makes unique models to that market. It includes Crew cabs of popular models with options like 4X4 and PTO. Australia also receives slightly larger versions codenamed FX-series.
FRD
FSR
FSD
FTR
FVR
FVD
FVM
FVL
FVZ
GVD
FSS
FTS
FXR
FXD
FXZ
FXY
FXL
GXD
Discontinued models
FRD
FSD
FRS
GSR
JCS (SKD assembled in India by Hindustan)
See also
References
External links


Community content is available under
CC-BY-SA
unless otherwise noted.