Isuzu Elf / Isuzu N-Series
Manufacturer
Isuzu
Also called

Isuzu N-Series (USA, Canada, Mexico)
Isuzu Grafter (United Kingdom)
Isuzu Lingqingka (China)
Isuzu Reward (various markets)
Chevrolet N-Series (Colombia, Egypt)[1]
Chevrolet W-Series
GMC Forward
GMC W-Series
Chevrolet NPR
HICOM Perkasa (Malaysia, 5th Gen)
BAW Fenix (RUS)
BAW Tonik (RUS)
BAW Qiling (PRC)
BAW Qílóng (PRC)
Hyundai Trex (RUS)
TagAZ Master (RUS)
Nissan Atlas (H-Series)


Xinkai Light Truck (PRC)

Production
1959-present
Assembly

Huechuraba, Chile
Chongqing, China (Qingling)
Bogotá, Colombia
Indonesia
Pekan, Malaysia (Isuzu HICOM)[2]
Petaling Jaya, Malaysia (Isuzu Malaysia)[3]
Lagos, Nigeria (GMNL)
Biñan, Philippines (IPC)
Alabuğa, Russia (Sollers-Isuzu)
Ulyanovsk, Russia (Sollers-Isuzu, since 2013)
Taipei, Taiwan (TIM)
Istanbul, Turkey (Anadolu Isuzu)
Janesville, Wisconsin, USA (1994-2009)[4]
Ho Chi Minh City, Vietnam (IVC)


Chandigarh, India (SML Isuzu)
Class
Truck
Body style(s)
Truck (standard cab, crew cab)
Transmission(s)
(w/diesel engine)
1988-98 Jatco JR403E 4 speed auto
1999+ Aisin AW450-43LE 4 speed auto
(w/gas engine)
GM Hydramatic 4L80-E 4 speed auto
5/6 speed manual
Related
Hyundai Trex (RUS)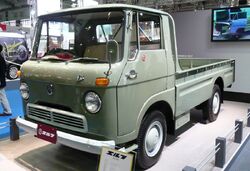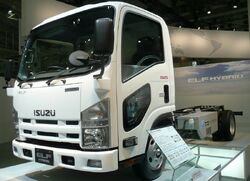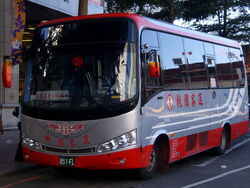 The Isuzu Elf (いすゞ・エルフ, Isuzu Erufu?) is a light duty truck produced by Isuzu. Outside Japan it is known as N-series.
The range was primarily available in Japan, Hong Kong and some other Asian countries, and since the late 1980s, also in the United States, Chile, Colombia (under the Chevrolet brand with the use in it trucks the legend "Tecnología Isuzu"/ with Isuzu Technology), and Peru (under the Chevrolet brand), besides others.
In Malaysia, the truck is manufactured by Heavy Industries Corporation of Malaysia (HICOM) under the name of HICOM Perkasa, but carrying the Isuzu N-Series Commando badge. Manufacturing began in 1958 with the first cars going to Asia. Australia was another important market for the Elf & N-Series - to the extent that it was manufactured there from the 1970s using many local components.
For the common Andinian market (including Chile and Peru), the assembling is developed in the GM-Colmotores assembling plant in Bogotá; and called N-Series, Colombia, with annual quantities already of 20.000 up to 60.000 units of this reputed model, since 1991, with an increasing number assembled because of the needs of the Colombian and others external markets for this light truck.
In many markets the Elf & N-Series was very expensive and was replaced by the Isuzu Truck when that model became available for worldwide market in the early 1980s. On June 10, 2008, GM Chile announced its 20,000th Isuzu truck assembled in its Huechuraba plant (including N and F series).[5]
In Indonesia, the Elf is not only used as trucks, but also converted into microbuses by the local body makers. The 4-wheel NHR55 and NKR55 are commonly used for travel bus, school bus, and employee bus.
In the United States, its principal competitors are Bering MS, Mitsubishi Fuso FE and the UD 1200/1300/1400. Japanese competitors are Mitsubishi Fuso Canter, Nissan Atlas, Toyota Dyna and Hino Dutro.
The Chassis was used for the WienerMobile.
Lineup models
Edit
Domestic Japan
Edit
NHR Standard Cab 2WD
NHS Standard Cab 4WD
NKR Standard Cab 2WD
NKS Standard Cab 4WD
NMR High Cab 2WD
NMS High Cab 4WD
NPR Wide Cab 2WD
NPS Wide Cab 4WD
Domestic Philippines
Edit
NHR Standard Cab (Mini 6-Stud)
NKR Standard Cab (Small 6-Stud)
NPR Wide Cab (5-Stud)
NQR Wide Cab (Medium 6-Stud)
US & Canada
Edit
NPR Diesel & Gas USA
NQR Diesel & Gas USA
NRR
ELF200 (NHR)
ELF300 (NKR)
ELF400 (NPR)
ELF500 (NQR)
ELF600 (NRR)
Indonesia
Edit
Elf NHR55 4-wheel
Elf NKR55 4-wheel (started from 2007, & in Russia too)
Elf NKR66 6-wheel (up to 2006)
Elf NKR71 6-wheel
Australia
Edit
NLR 200
NPR 200
NPR 275
NPR 300
NPR 300 CREW
NQR 450
FRR 500
References
Edit
External links
Edit


Community content is available under
CC-BY-SA
unless otherwise noted.