The Sandman Will Keep You Awake - The Loop
Play Sound
The Isuzu Ascender was a mid-size/full-size SUV built by General Motors for Isuzu. Introduced for the 2003 model year, the 7-passenger Ascender was a re-badged GMC Envoy. It replaced the Japanese built mid-size Isuzu Trooper. A shorter 5-passenger model was made available for the 2005 model year as a replacement for the Rodeo and the Axiom. A Displacement on Demand V8 was introduced in 2005. Isuzu once offered a wide line of trucks, cars, and SUVs but the Ascender was Isuzu's last and only passenger vehicle until the introduction of the also slow-selling Isuzu i-Series pickup trucks, which were also built by GM in North America. The Ascender was never sold in [Canadaas Isuzu had announced, at the time, its withdrawal from there.
The Ascender is the only one of the six mid-size SUVs that was not actually a GM branded product (Isuzu was partially owned by GM until spring 2006). The 7-passenger Ascender was dropped after the 2006 model year. Reviews warned of a thin dealer network for warranty repairs, and the Kelley Blue Book projected a relatively low resale value similar to the Trailblazer. However, Isuzu offers a seven-year/75,000-mile powertrain warranty, and substantial factory incentives.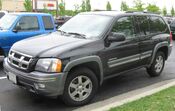 The Ascender ended production on June 6, 2008 as part of Isuzu's withdrawal from the United States market.[1] The Ascender (along with the related GMC Envoy) were both replaced by the 2010 GMC Terrain, based on the GM Theta platform.
Engines:
2003–2004

5300

5.3 L (323 in³) V8
2005–2007

5300

5.3 L (323 in³) V8 with

Displacement on Demand
References