Coordinates: 52°38′20″N 2°29′35″W / 52.639°N 2.493°W / 52.639; -2.493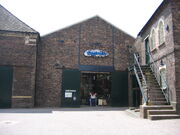 Ironbridge Gorge Museum Trust is an industrial heritage organisation which runs ten museums and manages 35 historic sites within the Ironbridge Gorge in Shropshire, England, widely considered as the birthplace of the Industrial Revolution.
Located at Ironbridge, Coalbrookdale and Broseley on the River Severn, the area is a World Heritage Site and an anchor point of the European Route of Industrial Heritage (ERIH).
The ten museum sites run by the Trust, collectively known as the Ironbridge Gorge Museums are:
Also associated with the ten Trust museums are the Maws Craft Centre at Jackfield and the Merrythought museum at Dale End.[1]
The Trust
Edit
Ironbridge Gorge Museum Trust was established in 1967 to preserve and interpret the birthplace of the Industrial Revolution in the Ironbridge Gorge. It is an independent educational charity.[2]
Its present CEO is Steve Miller, who took over from Glen Lawes in 2007. Previous CEOs have included Stuart Smith and Sir Neil Cossons, both well-respected experts on industrial history and archaeology.
The museum staff manage 35 historic sites within the Ironbridge Gorge World Heritage Site, including ten museums. The sites also include archaeological sites, two chapels, housing, two Quaker burial grounds, a research library, a tourist information centre, woodland, and two youth hostels.
For over 20 years the museum also had a wide-ranging and innovative archaeology unit[3] which undertook archaeological work within the Ironbridge Gorge and throughout the country. This was disbanded in 2009 along with the loss of many curatorial and other staff.
In recent years the academic and curatorial roles of the Trust have been reduced in favour of its role as a heritage tourism attraction.
Ironbridge Institute
Edit
The Trust also runs the Ironbridge Institute in Coalbrookdale, a centre offering postgraduate and professional courses in heritage, in partnership with the University of Birmingham.
References
Edit
External links
Edit

Community content is available under
CC-BY-SA
unless otherwise noted.