Iran Khodro Company, also known as IKCO, is the leading Iranian automaker with headquarters in Tehran.[2] The company's original name was Iran National. IKCO was founded in 1962 and it produced 688,000 passenger cars in 2009.[3] IKCO manufactures vehicles including sedans, trucks, minibuses and buses.[4]
History and development
Edit
It is the fastest growing automobile manufacturer ever recorded in history of this industry. Iran Khodro was founded by Ahmad Khayami with registered capital of 100,000,000 Rls. on 18 August 1962 Aliakbar Khayami, Ahmad Khayami, Mahmoud Khayami, Marzieh Khayami and Zahra Seyedy Dashty, in Ekbatan Street in Tehran.
Structure
Edit
Iran Khodro (IKCO) is a public joint stock company with the objective of creation and management of factories to manufacture various types of vehicles and parts as well as selling and exporting them. IKCO produces vehicles under 13 brand names.
Size and production
Edit
The company has become the largest vehicle manufacturer in the Middle East, Central Asia and North Africa.[5] In Iran, it is the largest vehicle manufacturing company, having an average share of 65 percent of domestic vehicle production.[6]
In 1997, IKCO broke its own production record by producing 111,111 units of various passenger cars and vans. By 2006 Iran Khodro was producing 550,000 vehicles (for the Iranian year 1384, starting on 21 March 2006).
The opening of the country's largest car assembly plant in Khorassan in July 2008 is expected to increase capacity with the ability to turn out 100,000 vehicles per annum by late 2009. However, it will not necessarily increase production.
Iran Khodro, the largest car manufacturer in the Middle East, produced 774,965 units of passenger cars and commercial vehicles in 2010 and aims to produce and market 850 thousand cars in 2011.[7]
Certifications
Edit
Iran Khodro has qualified for ISO 9001 from RW-TUV, Germany, as well as many other health, safety, and environment certificates including ISO 14001 and OHSAS 18001.[8] The company has also obtained TÜV, TSE, GOST and some other important standard certification for its different productions.
Products and relationships
Edit
For more than three decades, Iran Khodro produced the Paykan, a car developed from the Rootes Group's Rootes Arrow range, best known as the Hillman Hunter. Paykan saloon car production was discontinued in 2005, almost thirty years after the end of Arrow production (latterly as the Chrysler Hunter) in Britain. A pick-up version is still in production.[9] Bardo Pick-up,pick-up version of Paykan, will be replaced by a new pick-up from Samand family.[10]

The Iranian-designed IKCO Samand, replaces the dated Paykan as Iran's "national car", and features an Iranian designed hybrid dual-fuel engine in its Soren variant.[11]
The firm has a long-term relationship with European and Asian manufacturers including PSA Peugeot Citroën, manufacturing and assembling a number of models under license from these firms. In 2009, Peugeot 206, Peugeot Pars, Peugeot 405, Peugeot Roa, and Samand sedans were IKCO's export-bound cars sent to Azerbaijan, Iraq, Armenia, Uzbekistan, Turkmenistan, Syria and Afghanistan.[12]
Renault Pars Company is in charge of the engineering, quality control, parts supply, logistics, managing sales policies as well as marketing and customer services for Renault products in Iran and IKCO is one of its main shareholders that produces Tondar for the domestic market. Renault Pars is a joint venture, 51 percent of which belongs to Renault of France. Forty-nine percent of Renault Pars' shares is jointly held by Iran's Industrial Development and Renovation Organization, IKCO and SAIPA. The company was established in 2003.[13]
IKCO also manufactures trucks, buses and E-Class passenger cars under license from Mercedes-Benz. In a joint-venture with Daimler AG, Iran Khodro is soon to start production of sophisticated 900-class Mercedes-Benz engines; Daimler states that Iranian-made engines will be exported to Germany.[14][15]
Among Asian automotive manufacturers, IKCO is cooperating with Suzuki. Producing Suzuki Grand Vitara in IKCO's Site in Khorasan, IKCO will produce Suzuki Kizashi.[16]
Production Sites
Edit
IKCO has 12 production site around the globe, 6 Sites in within borders of Iran and 6 other are in IKCO's main export markets.
Domestic Plants:
| Plant | Production Capacity | Product | Location |
| --- | --- | --- | --- |
| Fars | 30000 | Pars Sedan (Peugeot 405 and samand to be produced later) | Shiraz |
| Mazandaran | 15000 | Samand Sarir | Babol |
| Semnan* | 100000 | Samand family | Semnan |
| Khorasan | 150000 | Suzuki Grand Vitara, Pars, Peugeot 405 | Mashhad |
| Tabriz | 120000 | Bardo Pick-up (just assemble) | Tabriz |
| IKCO (main plant) | 700000 | Roa, Peugeot 405, Peugeot 206 family, Peugeot 207i, Samand, Tondar 90, Soren family, | Tehran |
Foreign Sites:
Export markets
Edit
The company won the annual national prize for export activities in years 2006, 2007. Russia, Syria, Turkey, Iraq, Azerbaijan, Ukraine, Egypt, Algeria and Bulgaria are among the most important target markets for the group. Since Iran Khodro group new movement through international markets in year 2004, the company has exported more than 150,000 units of cars in different classes and models to other countries mainly in Middle East and CIS region.
Export opportunities are restricted to relatively low volumes with $60 million worth of cars exported in 2007.[17] By this Iran Khodro has ranked as 24th company among 100 top companies in Islamic world in year 2008. The Company has exported about 35,000 cars in year 2009. Iran Khodro is currently exporting its productions to almost 40 countries all around the world. The company plans to increase its annual exports to more than 600,000 cars by 2016.[4]
ISACO Kish (IKCO after Sales Services and Spare Parts Export Co) is one of Iran's best exporters according to IDRO.[18]
Passenger car range
Edit
Iran Khodro
Edit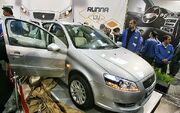 Mercedes Benz
Edit
Suzuki is a Compact SUV car that is produced by IKCO and is divided to different 4 tepees (In fact it's more than 4 tepees including the options):
1-2000 cc engine with 4-speed automatic gearbox
2-2000 cc engine with 5-speed manual gearbox
3-2400 cc engine with 5-speed automatic gearbox
4-2400 cc engine with 5-speed manual gearbox
EF Family Engines
Edit
Main article: IKCO EF Engines
IKCO is self-sufficient in mass powertrain production, without any foreign assistance.[29] IKCO plans to produce more than 300,000 EF7 and TU5 Iran-designed economy engines in 2010.[30]
Iran Khodro started to design a new range of engines for its products in 2007 in a joint with F.E.V of Germany. The first EF series engine officially shown to the public in 2008 is EF7 which is currently powering Samand LX car in Iran.
EF7 turbocharged engines were initially shown to the public in mid-2009 and will be installed on Soren ELX by last 2010. Other EF series engines named EF4 & EFD (Diesel) engines design are finished and they have been assembled to pass the last required tests to be installed on the specified cars of Iran Khodro. In November 2009, Iran Khodro unveiled its new "national diesel engine" with fuel consumption of 5 liters per 100 kilometers in combined cycle.[31] The engine has achieved emission standard of Euro 5, featuring a Diesel Particulate Filters (DPF) as well as a new Exhaust Gas Recirculation (EGR). The 1.5-liter turbodiesel uses advanced technology to deliver strong power and torque of 300Nm.[31] Iran Khodro has designed the EF4 & EFD itself in consultation with some expert engine designers.
Subsidiary Companies
Edit
Supplying Automotive Parts Company (SAPCO)
SAPCO had been established to manage the supplying chain of automotive parts in IKCO, with the main aim of being the best and most respected supplier of automotive parts and technical services which would enhance the efficiency of IKCO products.
IKCO Spare Parts and After-Sale Services Co. (ISACO)
IKCO Spare Parts and After-Sale Services Co. (ISACO) founded in 1977. ISACO is providing after-sale services and supplying spare parts for IKCO products throughout the country. ISACO Kish, is one the subordinate companies of ISACO which is assigned to supply after-sale services of IKCO vehicles in international markets.
Iran Khodro Power Train Co. (IPCO)
IPCO has been established in 1998. The main activity of this engineering services company is in the field of power train including design and development, testing, adjusting on the car, product engineering, and quality assurance processes in mass production and design production. This subsidiary of IKCO is competent in other fields like designing, installing and commissioning of testing equipments (hardware and software) of automotive parts, engines and vehicles as well.
This subsidiary of IKCO was found with name "Ghateh Sazan-e Mojarab" in 1997 with the aim of capacity building of designing and creating cutting-edge technology production lines for development projects of IKCO. Name of the company has been changed to TAM Co. in 1998. The company has designed and completed the projects of SAMAND production in Syria, Venezuela and Senegal without help of foreign companies and only relying on its knowledge and technology.
Samand Investment Co. was established as a Corporation in 2004 with the main purpose of identification of investment opportunities, analysis and evaluation of the stock market, effective presence in the stock market and creating income for shareholders.
Iran Khodro Rail transport Industries Company (IRICO)
Main article: IRICO (Iran)
IRICO has been established by Iran Khodro Investment Development Company in 2003 for manufacturing different types of rolling stocks. IRICO produces metro wagon, rail bus, light rail vehicle and monorail are among the products based on market demand.
Iran Khodro Diesel Company
Main article: Iran Khodro Diesel
Iran Khodro Diesel Company was established initially under the name of Khawar Industrial Group in early 1966. In 1999 Iran Khodro Company merged its bus and midi-bus production lines with Khawar Industrial Group truck production lines together and the new company Iran Khodro Diesel, public joint stock was born to manufacture different types of commercial vehicles for domestic and overseas markets. Iran Khodro Diesel Company exports its products to many countries like Armenia, Kazakhstan, Turkmenistan, Azerbaijan, Ukraine, the United Arab Emirates, the Kingdom of Saudi Arabia, Iraq, Jordan, Kuwait, Qatar, Yemen, Afghanistan, Syria, Algeria, Egypt, Libya, Sudan, Burundi, Burkina Faso, Ivory Coast, Senegal, Guinea, Gambia, Ghana and Venezuela, Egypt.
References
Edit
External links
Edit

Community content is available under
CC-BY-SA
unless otherwise noted.