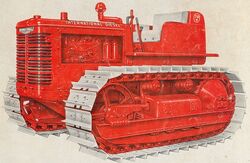 The original International T-9 gasoline and TD-9 diesel crawler tractors were built by the International Harvester company from 1940 to 1956.
Model history
For Company history, see International Harvester.
The International T-9 and TD-9 replaced the unstyled McCormick-Deering T-35 and TD-35. The new models continued the styling theme introduced in 1938 on the big TD-18 crawler. All of the new International crawlers had engine side screens with horizontal silver stripes, matching three silver grille bars dividing sections of red cross bars. The T-9 looked almost identical to the T-6, except scaled up. The main visual clue from a distance is the presence of two top track idlers on the T-9/TD-9 vs. one on the T-6/TD-6. Instead of the 6-cylinder gasoline engine of the T-35, the T-9 used a new 335 ci 4-cylinder gasoline engine, governed at 1400 rpm, with a 5-speed transmission. This engine and transmission were shared by the McCormick-Deering W-9/WD-9 series wheel tractors. In 1940 the T-9 competed with the Caterpillar R-4 and Cletrac BG-6 but was more powerful than both. International dropped the T-9 in 1956.
The TD-9 used a diesel version of the 335 ci 4-cylinder of the T-9 instead of the 414 ci diesel of the TD-35. When it introduced the TD-9, International was trying to compete with the Caterpillar D-4 and so it designed a very similar tractor. Both tractors were the same size and powered by 4-cylinder diesel engines running at 1,400 rpm with 5-speed transmissions. Caterpillar used its pony motor starting system while the International started on gasoline and then switched to diesel. The basic International was crank started with an electric starter optional. In 1940 the TD-9 had a slightly larger engine than the D-4, 335 ci vs. 312 ci, and developed slightly more power, 44 vs. 40 belt hp. The only other tractor in this class was the Cletrac BD-6, which developed 46 belt hp from a 298 ci 6-cylinder Hercules diesel running at 1,400 rpm. The Cletrac had only a 3-speed transmission. In 1947 Allis-Chalmers brought out its new HD-5, the most powerful tractor to date in this class with 48 belt hp. Caterpillar increased the engine size of the D-4 to 350 ci, boosting it to 48 belt hp also. International responded in 1951 with a small upgrade to the TD-9 that developed 47 belt hp. About the same time the tractor lost its engine side screens and silver bars in the grille. In 1955 Caterpillar went to 59 hp, Oliver to 57 hp, and Allis-Chalmers to 61 hp. Clearly the TD-9 was falling behind its competition so, in 1956, International brought out the revised International TD-9 Series 91 .
Timeline
1940 - International T-9 and TD-9 replaced the McCormick-Deering T-35/TD-35
1951 - TD-9 power increased slightly
1956 - TD-9 Series 91 with larger engine replaced the original TD-9
Model lineup
See the following articles for detailed specifications
Factory locations
Serial Numbers Information
Year
Serial no. run
start[1]
Serial no. run
End
Number Built
Notes
1940
TCB or TDCB501
2173
1673
Serial range includes T-9 and TD-9
1941
2174
4173
2000
Number built calculated
1942
4174
8663
4490
tcb7189t4n us7
1943
8664
11911
3248
1944
11912
18249
6338
1945
18250
23690
5441
1946
23691
26289
2599
1947
26290
29511
3222
1948
29512
32972
3461
1949
32973
36926
3954
1950
36927
40397
3471
1951
40398
44709
4312
1952
44710
47848
3139
1953
47849
52599
4751
1954
52600
56207
3608
1955
56208
58818
2611
1956
58819
60300
1482
Total built
59800[2]
Preservation
No information on any individual examples of these tractors in preservation is currently available on here.
Do you know of any examples to list ?
Gallery
Add extra photos here please.
See also
Collection related info
References / Sources
Please supply some relevant references or sources for information for verification of data.
External Links
Add any suitable (& Relevant) web links here
International Harvester France range
International Harvester Cub Cadet range
International B-2275
·
International B-2276
·
International 2300
·
International 2350
·
International 2400
·
International 2500
·
International 3400 Loader-Backhoe
·
International 3500 Loader-Backhoe
·
International 3414 Loader-Backhoe
·
International 3434 Loader-Backhoe
International Harvester Cub Cadet range
Note this box is under development and contains Null entries as place holders
Please add any models with new articles to this list
Early Makes - pre 1940s

1940s to 1980s

Modern post 1980s

Independents
North America

Europe

India & Pakistan

Middle East
(Turkey, Iran,
Iraq, Syria etc...)

Far East
(Australasia, China,
Japan, Korea, Thailand,
Vietnam etc...)

South America
(Argentina, Brazil,
Uruguay etc)

Africa

Asia
(Russia, Tajikstan,
Uzbekistan, Ukraine)

Specialist types of tractor

Notable People - associated with the tractor industry

Inventors