International Six-Speed Special



International 1928 Six-Speed Special stake at Hays Antique Truck Museum Old-vs-New show, Woodland, California, 2001

Model Details
Manufacturer
International Harvester Co.
Introduced date
1928
Discontinued date
1930
Preceding model
Special Delivery
Superseded by
B-2
Production locations
Springfield, Ohio
No built
35301 (1928-29)
Capacity tons/GVW/GCW
1-ton
Engine
Make
Waukesha
Model
XA L-head
Fuel
gasoline
Cooling
water
Cylinders
4
Displacement ci / L
173 ci
Power HP @ rpm
30 @ 2700
Transmission
Gearbox type
sliding gear
Gears (forward speeds)
3
Axles & drive
Wheels/drive
4x2
Rear Axle Make (Model)
Eaton 2-speed
Tires standard/optional
30x5 (32x6 in photo)
Other
Shipping weight
2513 lb
List price
$820 (1928)
The International Six-Speed Special was a 1-ton truck built by the International Harvester Corporation between 1928 and 1930 at the Springfield, Ohio plant in America.
Model history
International had not had a 1-ton truck in its line since the S of 1926. This gap was filled in 1928 with the "Six-Speed Special". The new truck was similar to the ¾-ton Special Delivery, but it had a bigger frame and larger tires. Its most notable feature was an Eaton 2-speed rear axle which, when combined with the 3-speed transmission, gave a total of 6 forward speeds and 2 in reverse. The Six-Speed Special was an instant hit and over 14,000 were built the first year, accounting for about a third of International's total production for the year. The Six-Speed Special was moved by the underpowered but economical Waukesha XA L-head 4-cylinder engine. In 1931 the B-2 replaced the Six-Speed Special.
Preservation
Add details of any surviving examples:
One known example is shown in photo above, with the engine shown below. (reg or serial number ?)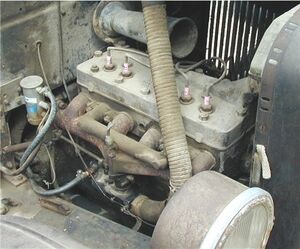 See also
References / sources
Crismon, Frederick W. (1995). International Trucks. Motorbooks International, Osceola, Wisconsin.
Mroz, Albert (1996). The Illustrated Encyclopedia of American Trucks and Commercial Vehicles. Krause Publications, Iola, Wisconsin.
Rice, Gini. Relics of the Road #3: Impressive International Trucks 1907-1947. Truck Tracks, Inc., Lake Oswego, Oregon.
External links
Models

IHC Auto Buggy · IHC Auto Wagon · International "letter" series 1915-23 · International "number" series 1921-23 · International "number" series 1924-27 · 10 series · 54-104C series · 100-500 series · 210-230 series · 400-900 series · 1000-1500 series · 3000 series · 4000 series · 5000 series · 5000i series · 8000 series · 8100-8200-8300 series · 9000i series · 9100-9200-9400 series · 9300 series · 9370 series · 9600-9700-9800 series COE · A series 1930-35 · A series 1957-58 · A series 1966 · A series heavy-duty 1932-41 · AC series · ACO Sightliner series · Auto Wagon · B series 1931-35 · B series 1959-62 · B series 1967 · BC series · C series 1934-37 · C series 1961-62 · C series 1968 · C/D/DB/DC 300-400 series · Cargostar series · Cargostar-B series · Citystar series · CO/DCO 400 series COE · CO/VCO/DCO series tilt-cab · CO-4000 series · CO-8190 fire engine · COF-5370 · COF5470-COF5870 series oil field trucks · CO-Loadstar series · CONCO series · CO-Transtar series · CXT · D series 1937-40 · D series 1965 · D series 1969-70 · DCF-400M mixer · DF-8008 oil field truck · Durastar series · E · Eagle 9900 · F-8500M mixer · Fageol Vans · FC series stripped chassis · Fleetstar series · Fleetstar-A series · FTCO fire engine · HS Series · K series · KB series · L series · L/LD 300-400 series · International LC series COE · LC/LCD 400 series COE · LC-195 Tiltocab COE · Loadstar series · Lonestar · M series · Metro series · Metroette series · Motor Home Chassis · MS series · MXT · One-Hundred series · Payhauler series · Paystar 5000 series · R series · R/RD 300-400 series · RC series COE · RC series Tiltocab COE · RC/RDC 400 series COE · RD-H series · RE series · RXT · S-series 1921-30 · S series 1956-57 · S1600-S2100 series · S2200-S2300-S2500-S2600 series · SC series COE · Schoolmaster series · Scout · Scout II · Scout Terra · Scout Traveler · Transtar 400 series · Transtar 400M mixer · Transtar 4270-4370 series · Transtar II series · Travelall · Travelette series · Unistar · V series · W series "Westcoaster" 1936-49 · W series 1930-35 · Wagonmaster · Workstar series · XL series ·