We're Getting Mutants in the MCU - The Loop
Play Sound
International MaxxPro MRAP

MaxxPro Dash
Type

MRAP Category 1 & 2

Service history
Used by
US Armed Forces
Polish Armed Forces
Greek Armed Forces
Hungarian Armed Forces
Wars
Iraq war–War in Afghanistan
Production history
Designer
International Truck/Plasan
Designed
2007
Manufacturer
International Truck
Produced
2007-Present
Number built
7192[1]
Specifications
Weight
CAT I:
28,000-29,500 lbs (12,7 - 13,4 t)
CAT II:
30,000-32,000 lbs (13,6 - 14,5 t) [2]
Length
21.17- 23.5 ft(6.5 - 7.2 m)
Width
8.25 ft(2.5 m)
Height
10 ft (3 m)
Crew
6-10

---

Engine
9.3L, 570 cubic inches

MaxxForce D9.3I6

I6[3]
330 hp @ 2,100 rpm; 375 hp in Plus and Dash variants
Power/weight
18.9 - 20 hp/US ton
Payload capacity
3,650-11,150 lbs (1,6 - 5 t)
Transmission
Allison 3000 5-speed automatic
Suspension
4x4, wheeled Semi-elliptical leaf springs
Ground clearance
14" (0.35 m)
The International MaxxPro MRAP is an armored fighting vehicle designed by American company Navistar International's subsidiary Navistar Defense along with the Israeli Plasan Sasa, who designed and manufactures the vehicle's armor.[4] The vehicle was designed to take part in the US Military's Mine Resistant Ambush Protected vehicle program, led by the US Marine Corps, as well as a similar Army-led program, the Medium Mine Protected Vehicle.[5]
MRAPs are categorized as category 1 or category 2, depending on usage and passenger compartment space, and Navistar produces the MaxxPro in both sizes, although the vast majority of those sold have been category 1 MRAPs. The MaxxPro Plus model comes with dual rear wheels for increased load carrying capacity, such as an ambulance or Explosively formed penetrator (ERP) protected variant. The latest model produced is the MaxxPro Dash, which is a smaller and lighter category 1 model. Both the Plus and Dash models use the MaxxForce 10 engine with 375 hp, in place of the DT 530 with 330 hp, used in the original base model produced.
Operators
Initially just two vehicles were delivered for testing at the Aberdeen Proving Ground in March 2007.
Following testing, a first order for 1,200 MRAP Category 1 MaxxPro vehicles was placed by the US Marine Corps Systems Command on May 31, 2007 for delivery by February 2008.[6] However, as the U.S. Army Research and Development laboratory is overseeing the entire MRAP program, it is unclear which branches of the US Armed Services will be receiving the vehicles, and in what numbers.[7] The contract was worth over $623 million, making it then the biggest MRAP contract to date. The US Marine Corps plans to replace all HMMWVs "outside the wire" in Iraq with MRAP vehicles.[8]
A further order for 16 Category 2 versions (dubbed MaxxPro XL) was placed on June 19, 2007 for delivery by September 2007.[9]
An additional 755 Category 1 MaxxPros were ordered on July 20, 2007, also for delivery by February 2008, and a third order for a further 1,000 vehicles was announced on October 18, 2007.[10][11]
In the final order of 2007 a further 1,500 Category 1 MaxxPros were ordered bringing the total to 4,471.[12] Of total MRAP orders to the end of 2007, 45% are MaxxPros (66% of Category 1 MRAPs).
In the first order of 2008, 743 Category I MaxxPros were ordered. The MaxxPro was by now the only Category I MRAP still receiving fresh orders.[13]
Design
The MaxxPro utilizes a crew capsule with a V-shaped hull, mounted on an International WorkStar 7000 chassis. The V-hull deflects the blast of a land mine or improvised explosive device (IED) away from the vehicle to protect its occupants. Because the chassis is mounted outside the armored crew capsule, there are concerns that it will likely be destroyed in the event of an ambush, leaving the soldiers inside stranded.[5] However, according to Navistar spokesperson Roy Wiley, the MaxxPro "did extremely well during the tests, and we are extremely pleased." [7] This design may prove as effective as the Krauss-Maffei Wegmann ATF Dingo that uses a similar design, one which mounts an armored capsule to a Unimog chassis. This design has survived a 7 kg (15 lb) land mine blast with no injuries.[14]
According to IMG, the vehicle is designed with operational readiness in mind and utilizes standardized, easily available parts, to ensure rapid repair and maintenance.[15] The armored body is bolted together instead of welded, as in other MRAPs. This facilitates repair in the field and is a contributing factor to Navistar's greater production capacity for the MaxxPro.[16]
MaxxPro Plus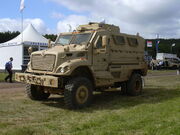 On June 16, 2008 Navistar debuted a new version called MaxxPro Plus. MaxxPro Plus has increased engine power and payload, as well as Frag Kit 6 enhancements for increased explosively formed penetrator protection.[17]
MaxxPro Dash
On September 4, 2008 the U.S. Marine Corp. awarded Navistar a $752 million contract to develop and produce a lighter, smaller, and more mobile MaxxPro variant that is less prone to the rollover problems that have plagued MRAP vehicles. MaxxPro Dash has a smaller turning radius and higher torque to weight ratio. Production of the MaxxPro Dash will begin in October 2008 with delivery of 822 units to be completed by February 2009.[18][19]
MRV
There is also an MRAP recovery variant; 250 have been ordered. These are well suited to recovering other vehicles which have been damaged by IEDs.[20]
See also
MRAP

U.S. Military Mine Resistant Ambush Protected Vehicle Program
References

External links
Modern wheeled infantry fighting vehicles and personnel carriers

4 × 4

ACMAT • AGF Serval • Agrale Marrua • AMZ Dzik • AMZ Tur • AMZ Żubr • ATF Dingo • Austin Champ • AXE • Badger ILAV • BPM-97 • BOV • Bushmaster • Casspir • Cheetah MMPV • Cobra • Commando • Chaimite • Condor • Cougar H • Duro III • Dozor-B • Eagle • Enok • F2 • Fahd • FNSS Pars • Fennek • FTTS • FMC XR311 • G-Class • Golan • Grizzly • Humvee • Honker • Iveco LMV • Kaya • Komatsu LAV • Land Rover Perentie • Land Rover Wolf • LOV-1 • M1117 Guardian • Mamba • Marine Multi-purpose Vehicle • Marauder (Mine Protected Vehicle) • Matador (mine protected vehicle) • Maverick (Internal Security Vehicle) • Marksman • Mine Protected Combat Vehicle - MPCV • M-ATV • MaxxPro • Millenworks Light Utility Vehicle • Mungo ESK • MWMIK • MXT-MV • MX-1 Kalakian • MX-8 Barako • NIMR • Ocelot • OKA • Peugeot P4 • Pinzgauer • PVP • Piranha • Puma • Reva • RG-12 • RG-31 Nyala • RG-32 Scout • RG Outrider • RG-33 • RG-34 Iguana • RG-35 • S600 • Sand Cat • Santana Anibal • Saxon • Simba • Sherpa 2 • Storm • T-98 Kombat • Tiuna • Tempest MPV • Type 6614 • GAZ-2975 (Tigr) • UR-416 • URO VAMTAC • VAB • VBL • VPK-3927 Volk • VXB • Vodnik • Willys FAMAE Corvo • Wolf

6 × 6

ACMAT • Al-Faris 8-400 • Alvis Saracen • Arma • Patria AMV • AMX 10 RC • Armoured Multirole Carrier • AVGP Grizzly • BAE Caiman • Buffalo H • Ceradyne Bull • Cougar HE • Duro III • EE-9 Cascavel • EE-11 Urutu • ERC 90 Sagaie • F2 • FNSS Pars • Fuchs • Grizzly HPV • KTO Irbis • Land Rover Perentie • Mastiff PPV • MTVR • NIMR • Pandur 6x6 • Patria Pasi • Pindad Panser • Pasi • Pegaso BMR • Pegaso VEC-M1 • Pinzgauer • Piranha • Puma • Ratel • RG-33 • RG-35 • Shoet • TATRAPAN • WZ551 Type 92 • VBTP-MR • VAB • LKOV Valuk • Rheinmetall YAK

8 × 8

Al-Fahd • Arma • Patria AMV • ASLAV • AV-81 Terrex • Bison • Boxer MRAV • BTR-3 • BTR-4 • BTR-80 • BTR-90 • BTR-94 • Centauro VBC • CM-32 • Coyote • FNSS Pars • KTO Rosomak • KTO Ryś • Lazar BVT • LAV-25 • LAV III • SEP • Luchs • LVS • NZLAV • Pandur II 8x8 • Piranha • Rooikat • Saur 1 • Stryker • OT-64 SKOT • Tatra T815 • Type 96 • VBCI • VBTP-MR

10 × 10
This template is from wikipedia and needs a rewrite.
It is to demonstrate a "complex" navebox using sub groups to allow expansion

Military vehicles
Commercial Vehicles

Diesel Engines

Current

V6/V8

MaxxForce 5

 •

MaxxForce 7

Inline-6

MaxxForce DT

 •

MaxxForce 9

 •

MaxxForce 10

 •

MaxxForce 11

 •

MaxxForce 13

Historical

V8

DV

 •

IDI

 •

T444E

 •

VT365

 •

Ford PowerStroke

Inline-6

Other

Tractor

Delivery Van

Retail Vehicles