We're Getting Mutants in the MCU - The Loop
Play Sound
International KBR-12



International 1947½ KBR-12 tractor

Manufacturer
International Harvester Co.
Introduced date
mid-1947
Discontinued date
1949
Preceding model

K-12

Production locations
Fort Wayne, Indiana
No built
1138 (1947-48)
Capacity tons/GVW/GCW
4-6 ton, 28500 lb GVW, 55000 lb GCW
Engine
Make
Continental
Model
R-6586
Fuel
gasoline
Cooling
water
Cylinders
6
Displacement ci / L
587 ci
Power HP @ rpm
200 @ 2600
Transmission
Gearbox make (model)
Fuller 5C650
Gears (forward speeds)
15 (5-speed x optional 3-speed auxiliary)
Axles & drive
Wheels/drive
4x2
Rear Axle Make (Model)
Timken S200P double-reduction
Tires standard/optional
11.00-20 12-ply dual rear / 11.00-24 12-ply dual rear (11.00-22 12-ply in photo)
Other
Shipping weight
10560 lb
List price
$7340 (1947)
By the mid 1940s International needed a more powerful gasoline highway tractor to compete with big-engined models from Mack, Brockway, and other truck makers. The 648 ci engine used in the old A-8 series had been dropped in 1942, leaving International with no big engine of its own. Therefore the company purchased 200-hp 587 ci 6-cylinder engines from Continental for the KR-12 model introduced very late in 1946. The KR-12 was effectively a big-engined KR-11, using the same frame, cab, hood, fenders, front axle, and rear axle but with a stronger Fuller 5-speed transmission. These engine and transmission changes and larger standard tires increased the chassis weight by 1,850 lb and raised the price by nearly $2,300. Production records cited by Crismon (1995) do not list any KR-12s built in 1946 but trucks registered as 46's have appeared at antique truck shows.  International's publication "Beginning Serial Number List Motor Trucks 1928 1966" shows no production of KR-12's in 1946, but does show 1947 KR-12 production beginning with serial number 643.  Since IH serial numbers always started with 501 for new models, it appears that the 142 KR-12's made in 1946 simply weren't entered in the serial number listing that year.  Interestingly, the Wisconsin Historical Society copy of "Beginning Serial Number List Motor Trucks 1928 1966" has a hand written entry in 1946 for the KBR-12 and KBS-12, indicating the correct "501" starting serial numbers for each series that year.
The mid-1947 upgraded KBR-12 continued with the same basic 28500 lb GVW rating and 55000 lb GCW rating as the KR-12. In 1948 International advertised GVW ratings up to 35,100 lb and GCW ratings up to 66,000 lb for ideal conditions. In 1949 the basic GVW rating went up to 31,500 lb. Also in 1949, the KBR-12 with its Timken U200 double-reduction rear axle was joined by the KB-12, with a Timken R100 hypoid single-reduction axle, and the KBS-12, with a Timken U300 2-speed axle. A few KBD-12 trucks may have been built with Cummins 6-cylinder diesel engines.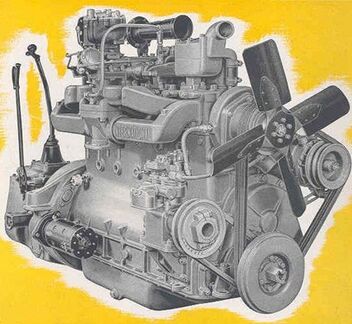 See also
References / sources
Crismon, Frederick W. (1995). International Trucks. Motorbooks International, Osceola, Wisconsin.
Mroz, Albert (1996). The Illustrated Encyclopedia of American Trucks and Commercial Vehicles. Krause Publications, Iola, Wisconsin.
External links
Models

IHC Auto Buggy · IHC Auto Wagon · International "letter" series 1915-23 · International "number" series 1921-23 · International "number" series 1924-27 · 10 series · 54-104C series · 100-500 series · 210-230 series · 400-900 series · 1000-1500 series · 3000 series · 4000 series · 5000 series · 5000i series · 8000 series · 8100-8200-8300 series · 9000i series · 9100-9200-9400 series · 9300 series · 9370 series · 9600-9700-9800 series COE · A series 1930-35 · A series 1957-58 · A series 1966 · A series heavy-duty 1932-41 · AC series · ACO Sightliner series · Auto Wagon · B series 1931-35 · B series 1959-62 · B series 1967 · BC series · C series 1934-37 · C series 1961-62 · C series 1968 · C/D/DB/DC 300-400 series · Cargostar series · Cargostar-B series · Citystar series · CO/DCO 400 series COE · CO/VCO/DCO series tilt-cab · CO-4000 series · CO-8190 fire engine · COF-5370 · COF5470-COF5870 series oil field trucks · CO-Loadstar series · CONCO series · CO-Transtar series · CXT · D series 1937-40 · D series 1965 · D series 1969-70 · DCF-400M mixer · DF-8008 oil field truck · Durastar series · E · Eagle 9900 · F-8500M mixer · Fageol Vans · FC series stripped chassis · Fleetstar series · Fleetstar-A series · FTCO fire engine · HS Series · K series · KB series · L series · L/LD 300-400 series · International LC series COE · LC/LCD 400 series COE · LC-195 Tiltocab COE · Loadstar series · Lonestar · M series · Metro series · Metroette series · Motor Home Chassis · MS series · MXT · One-Hundred series · Payhauler series · Paystar 5000 series · R series · R/RD 300-400 series · RC series COE · RC series Tiltocab COE · RC/RDC 400 series COE · RD-H series · RE series · RXT · S-series 1921-30 · S series 1956-57 · S1600-S2100 series · S2200-S2300-S2500-S2600 series · SC series COE · Schoolmaster series · Scout · Scout II · Scout Terra · Scout Traveler · Transtar 400 series · Transtar 400M mixer · Transtar 4270-4370 series · Transtar II series · Travelall · Travelette series · Unistar · V series · W series "Westcoaster" 1936-49 · W series 1930-35 · Wagonmaster · Workstar series · XL series ·