International Harvester Travelall
Manufacturer
International Harvester
Production
1953-1975
Class
Full-size SUV
Body style(s)
2-door wagon/SUV
3-door wagon/SUV
4-door wagon/SUV
Layout
Front engine, rear-wheel drive / four-wheel drive
Engine(s)
258 cu in (4.2 L) I6[1]
304 cu in (5.0 L) V8
345 cu in (5.7 L) V8
392 cu in (6.4 L) V8
Transmission(s)
3-speed manual
4-speed manual
5-speed manual
Wheelbase
119.0 in (3,020 mm)
Length
203.9 in (5,180 mm)
Width
77.6 in (1,970 mm)
Height
1010: 66.5 in (1,690 mm)
1110: 68.9 in (1,750 mm)
Curb weight
1010: 4,251 lb (1,928 kg)
1110: 4,231 lb (1,919 kg)
The Travelall was an early full-size truck-based wagon / SUV. It was similar in concept to the Chevrolet Suburban, and made by International Harvester from 1953 until 1975.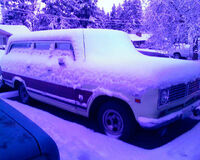 Background
International Harvester introduced a new line of trucks, the R Series, in 1953. Included was the 115-inch-wheelbase Travelall, a panel truck equipped with side windows and either two or three rows of passenger seats. Side-opening "barn" style cargo doors were standard, with a tailgate available as an option.
A Travelall name badge was mounted on the front cowl directly below the International name badge. A few L-Series trucks were also produced with windows and seats in 1952, but whether the Travelall name was used that year is unknown. Prior to 1952, International station wagon type vehicles were mainly woodies, having wooden bodies produced by outside companies. A few K-Series panels in the latter 1940s were built with windows and seats and used by airlines to move people at airports. The Travelall name continued to be used for station wagon versions of the succeeding S-line, A-line, and B-line pickup trucks.

First generation (1953-1957)
The 1953 through 1957 Travelalls (R and S-series) had two passenger doors. The S-series was available as the S-110 or heavier duty S-120, which was also available with four-wheel drive. All shared the same 115 inches (2,921 mm) wheelbase and 131 hp (98 kW) inline-six engine.[2] Access to the rear seats in the two-door Travelalls was gained by flipping up the passenger side of the front seat. Four-wheel drive was available as an option on Travelalls beginning in 1956.
Second generation (1958-1960)
Introduced in 1957 for the 1958 model year, the A-series (for "Anniversary", marking fifty years of International Harvester truck production) offered a 2nd passenger side door for improved access to the rear seats. Models A-100, 110, and 120 came with 113 to 154 hp (84 to 115 kW) six-cylinder engines, with four-wheel drive optional on the A-120.[3] The design changes paralleled those of the A-series pickups. The lightly modified B-series appeared in 1959 and ran just through 1960.
Third generation (1961-1968)
In April 1961 the Travelall underwent the same changes as the pickup range upon which it was based. The new C-series Travelall benefitted from a whole new chassis with all new independent front torsion bar suspension.[4] Aside from the lower body, the most obvious visual difference were that the twin headlights were now mounted side-by-side, and a new grille of a concave egg-crate design. The wheelbase for the C-100/C-110 Travelall went up to 119 inches,[5] as the front wheels were mounted further forward. This adjustment increased the front clearance angle in spite of the lower body.[6]
This series was available either with a flip-down tailgate or two doors. The fold down gate had a window which wound down electrically. Development continued in a gradual fashion, becoming the D-series in 1965. A steady stream of new grilles and headlight treatments set the model years apart until a more thorough makeover took place in 1969. Until this model change, the Travelall had been considered merely a version of the related pickup truck; after the facelift the Travelall became a separate series.

Fourth generation (1969-1975)
Fourth generation
Manufacturer
International Harvester
Class

Full-size SUV

Engine(s)

AMC 232 cu in (3.8 L) inline-six[7]
AMC 401 cu in (6.6 L) V8
International Harvester 304 cu in (5.0 L) V8
International Harvester 345 cu in (5.7 L) V8


International Harvester 392 cu in (6.4 L) V8
Transmission(s)
3-speed manual
4-speed manual
5-speed manual
5-speed overdrive manual
3-speed automatic
Wheelbase
119 in (3,022.6 mm)
Length
203.9 in (5,179.1 mm)
Width
77.6 in (1,971.0 mm)
Height
1010: 66.5 in (1,690 mm)
1110: 68.9 in (1,750 mm)
Curb weight
1010: 4,251 lb (1,928 kg)
1110: 4,231 lb (1,919 kg)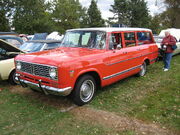 The Travelall (along with the 1000 D-series pickups on which it was based) was last redesigned in the first half of 1969 with a more modern look which echoed that of the smaller Scout. Available engine options for the 1000, 1100, and 1200 D-series Travelalls ranged from the unusual 232 ci AMC inline-six via three IHC V8s (of 304, 345, and 392 cubic inches) and four-wheel drive was optional on the 1100 and 1200s.[7] Power outputs ranged from 145 to 253 hp (108 to 189 kW). In 1973 and 1974, due to a short supply of IHC's own V8s, AMC's 401 cubic inch V8 was available as an option called the V-400. The slow-selling six-cylinder was dropped for 1972, and by 1975 only IHC's own V8s were still available, with outputs down to 141–172 hp (105–128 kW).[8] A Bendix anti-lock brake system called Adaptive Braking System, operating only on the rear wheels, was available on later Travelalls and pickups (introduced in late 1971).[9] Due to the expense of the novel system, it was a rarely selected option.
In spite of very high owner loyalty and satisfaction,[10] sales steadily declined and production of passenger pickups and Travelalls ended entirely in May, 1975; production of the Scout continued until 1980. The company exists today as Navistar International, and continues to make medium and large trucks. A two barrel carburetor version of the AMC 401 V8 (called the V-400 by IHC) was used in 1974 when International's own 392 was in short supply.

Variants
Travelalls were also produced with raised roofs and extended wheelbases for applications such as school buses, ambulances and airport limos. Many of these modifications were performed by the Springfield Equipment Company and were marketed by International.
Wagonmaster
In 1973 and 1974 a modified Travelall was marketed as the International Harvester Wagonmaster. The roof over the cargo section was removed to make a short pickup type bed. The target market for the Wagonmaster were people who pulled fifth wheel RV trailers. The exposed cargo area provided the space needed to mount the fifth wheel for the trailer. The Wagonmaster was very much like the Chevrolet Avalanche produced in the early and mid 2000's.
Appearances in Media
In the films Grumpy Old Men and Grumpier Old Men, Max Goldman drives a camouflage-painted Travelall.

In the novel Lucifer's Hammer by Larry Niven the character Harvey Randall drives a Travelall.

References
External links
This template is from wikipedia and needs a rewrite.
It is to demonstrate a "complex" navebox using sub groups to allow expansion

Military vehicles
Commercial Vehicles

Diesel Engines

Current

V6/V8

MaxxForce 5

 •

MaxxForce 7

Inline-6

MaxxForce DT

 •

MaxxForce 9

 •

MaxxForce 10

 •

MaxxForce 11

 •

MaxxForce 13

Historical

V8

DV

 •

IDI

 •

T444E

 •

VT365

 •

Ford PowerStroke

Inline-6

Other

Tractor

Delivery Van

Retail Vehicles
Models

IHC Auto Buggy · IHC Auto Wagon · International "letter" series 1915-23 · International "number" series 1921-23 · International "number" series 1924-27 · 10 series · 54-104C series · 100-500 series · 210-230 series · 400-900 series · 1000-1500 series · 3000 series · 4000 series · 5000 series · 5000i series · 8000 series · 8100-8200-8300 series · 9000i series · 9100-9200-9400 series · 9300 series · 9370 series · 9600-9700-9800 series COE · A series 1930-35 · A series 1957-58 · A series 1966 · A series heavy-duty 1932-41 · AC series · ACO Sightliner series · Auto Wagon · B series 1931-35 · B series 1959-62 · B series 1967 · BC series · C series 1934-37 · C series 1961-62 · C series 1968 · C/D/DB/DC 300-400 series · Cargostar series · Cargostar-B series · Citystar series · CO/DCO 400 series COE · CO/VCO/DCO series tilt-cab · CO-4000 series · CO-8190 fire engine · COF-5370 · COF5470-COF5870 series oil field trucks · CO-Loadstar series · CONCO series · CO-Transtar series · CXT · D series 1937-40 · D series 1965 · D series 1969-70 · DCF-400M mixer · DF-8008 oil field truck · Durastar series · E · Eagle 9900 · F-8500M mixer · Fageol Vans · FC series stripped chassis · Fleetstar series · Fleetstar-A series · FTCO fire engine · HS Series · K series · KB series · L series · L/LD 300-400 series · International LC series COE · LC/LCD 400 series COE · LC-195 Tiltocab COE · Loadstar series · Lonestar · M series · Metro series · Metroette series · Motor Home Chassis · MS series · MXT · One-Hundred series · Payhauler series · Paystar 5000 series · R series · R/RD 300-400 series · RC series COE · RC series Tiltocab COE · RC/RDC 400 series COE · RD-H series · RE series · RXT · S-series 1921-30 · S series 1956-57 · S1600-S2100 series · S2200-S2300-S2500-S2600 series · SC series COE · Schoolmaster series · Scout · Scout II · Scout Terra · Scout Traveler · Transtar 400 series · Transtar 400M mixer · Transtar 4270-4370 series · Transtar II series · Travelall · Travelette series · Unistar · V series · W series "Westcoaster" 1936-49 · W series 1930-35 · Wagonmaster · Workstar series · XL series ·