The International S-Series "Schoolmaster" was a Type C (conventional) bus chassis manufactured by International Harvester, which became Navistar during its production run. It was introduced in 1979 as the replacement for the Loadstar bus chassis; it was used for both school bus and commercial bus applications. In 1989, it was replaced by the International 3800; both chassis were offered that year. The Schoolmaster was the last bus chassis designed by International Harvester.
Design History
Edit
The Schoolmaster used powertrains and components from the S-Series medium-duty trucks. Two models were available: the S-1700 and the heavier-duty S-1800.
The Schoolmaster changed relatively little over its production run. Many of these changes reflected the change from International Harvester to Navistar. In 1987, an updated International logo was added to the grille and the steering wheel. Also, in an industry first, all gasoline engines were dropped from the S-Series bus chassis powertrain lineup. In 1989, Navistar heavily upgraded the S-Series trucks, which had become the 4000-Series. The bus chassis was redesigned from the firewall forward and the entire dashboard was replaced. The new-generation bus chassis was called the 3800, which was produced into 2004. As such, the 3800 was the final S-Series variant to conclude production.
Alongside the conventional, International also offered a stripped chassis for Type D (transit style) school bus manufacturers. The 1853-FC (FC=Forward Control) was powered only by diesel engines. In 1989, the 1853FC was replaced by the 3900, which Navistar used until 2010.
International S-Series "Schoolmaster" Model Designations
Model Names
S1700
S1800
1853-FC
S1723
S1753
S1823
S1853
Fuel Type
Gasoline
Diesel
Gasoline
Diesel
Diesel
Years Produced
1979-1986
1979-1989
1979-1981
1979-1989
1981-1989
Body manufacturers
Edit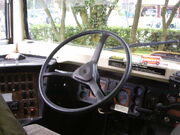 For its production run, the S-Series was used by many manufacturers of Type C school buses in North America.
Manufacturer
Model Name
Production
Notes
Blue Bird Corporation
Conventional
1979-1989
Carpenter Body Works
Classic
Cavalier
1979-1989
The Cavalier was a transit-style bus that used the 1853FC chassis from 1983-1988
Gillig Corporation
1979-1981
The last Gillig Type C bus was built in 1981; very few were produced.
New Bus Company
1988-89
Superior Coach Company
Pioneer
1979-1985
Superior ended production of Type C buses in 1985 to concentrate on Type A buses (see Mid Bus)
Thomas Built Buses, Inc.
Conventional
1979-1989
Ward Body Works
Volunteer
President
1979-1989

Non-school bus versions of the Volunteer built after 1980 were sold under the AmTran name.
The President was a transit-style school bus that used the 1853FC chassis from 1981-1986.

Wayne Corporation
Lifeguard
1979-1989
Gasoline
International Harvester 345 cubic-inch V8 (1979-1986)
International Harvester 392 cubic-inch V8 (1979-1986)
International Harvester MV-404 6.6 liter V8 (1979-1981)
International Harvester MV-446 7.3 liter V8 (1979-1981) (gasoline ancestor of the International Harvester IDI engine)
Diesel
V8

International Harvester 9 L (551 cu in) V8 (1979-1987)

D-150/170/190 (September 1978-December 1979)
9.0L (January 1980-1987)

International Harvester IDI 6.9 L (420 cu in) (1983-1987)
International Harvester IDI 7.3 L (444 cu in) (1986-1989)
Caterpillar 3208 10.4 L (636 cu in) (1979-1981)
Inline-6
References
Edit
Type A
(Cutaway Van)

Type B
(Integrated)

Historical

| | |
| --- | --- |
| General Motors Corporation | |

Type C
(Conventional)

Type D
(Transit-style)

Current

Historical

Blue Bird Corporation

Crown Supercoach • Crown Supercoach Series II

General Motors Corporation

International Harvester/Navistar

Other Chassis Manufacturers
This template is from wikipedia and needs a rewrite.
It is to demonstrate a "complex" navebox using sub groups to allow expansion

Military vehicles
Commercial Vehicles

Diesel Engines

Other

Tractor

Delivery Van

Retail Vehicles
Community content is available under
CC-BY-SA
unless otherwise noted.