The Sandman Will Keep You Awake - The Loop
Play Sound
"KB3", "KB5", "KB7" redirect here.
The K and KB trucks were produced by the International Harvester Company, the first being the K introduced in the mid 1940. In total there were 42 models, 142 different wheelbase lengths and load ratings ranging from 1/2 ton to 90,000 lbs.[1] They are best known for their durability, prewar design in a postwar era, and low price. The followup to the K, the KB, was introduced in 1947, with the characteristic difference being a widened lower grill appearing like "wings". Between 1947 and 1949 122,000 KB-1 and KB-2 trucks were sold.[2]
K Series
Models
The K models progress from 1 to 8 based upon the load capacity (K1 = half ton, K2 = 3/4 ton, K3 = 1 ton, etc).
Light duty
Few differences exist between K-1 and K-2 models as they share most of their mechanical and chassis components. The rear axles in these two models is supported by a single roller bearing. Their differences in load rating are due to the K-2's stronger suspension.
The K-3 has a heavier frame, larger brakes, and rear axles supported by two roller bearings on a free floating rear end.
Heavy duty
KB model numbers ranged up to the KB-14.
Styling
The style of the truck involved headlamps that were integrated into the fenders. The hood opens alligator style. Heavy duty models (K6 and above) carried over the D-series cab and high crowned fenders.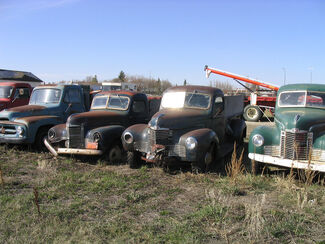 KB Series
The KB series added wings on the sides of the grill, a wrap-around chrome piece on the front hood, a hood ornament and chrome lettering indicating the model designation below the International nameplate on each side of the hood.
External Links
References
↑

International Truck Color History: Tom Brownell and Patrick W. Ertel 1997
This template is from wikipedia and needs a rewrite.
It is to demonstrate a "complex" navebox using sub groups to allow expansion

Military vehicles
Commercial Vehicles

Diesel Engines

Current

V6/V8

MaxxForce 5

 •

MaxxForce 7

Inline-6

MaxxForce DT

 •

MaxxForce 9

 •

MaxxForce 10

 •

MaxxForce 11

 •

MaxxForce 13

Historical

V8

DV

 •

IDI

 •

T444E

 •

VT365

 •

Ford PowerStroke

Inline-6

Other

Tractor

Delivery Van

Retail Vehicles
Models

IHC Auto Buggy · IHC Auto Wagon · International "letter" series 1915-23 · International "number" series 1921-23 · International "number" series 1924-27 · 10 series · 54-104C series · 100-500 series · 210-230 series · 400-900 series · 1000-1500 series · 3000 series · 4000 series · 5000 series · 5000i series · 8000 series · 8100-8200-8300 series · 9000i series · 9100-9200-9400 series · 9300 series · 9370 series · 9600-9700-9800 series COE · A series 1930-35 · A series 1957-58 · A series 1966 · A series heavy-duty 1932-41 · AC series · ACO Sightliner series · Auto Wagon · B series 1931-35 · B series 1959-62 · B series 1967 · BC series · C series 1934-37 · C series 1961-62 · C series 1968 · C/D/DB/DC 300-400 series · Cargostar series · Cargostar-B series · Citystar series · CO/DCO 400 series COE · CO/VCO/DCO series tilt-cab · CO-4000 series · CO-8190 fire engine · COF-5370 · COF5470-COF5870 series oil field trucks · CO-Loadstar series · CONCO series · CO-Transtar series · CXT · D series 1937-40 · D series 1965 · D series 1969-70 · DCF-400M mixer · DF-8008 oil field truck · Durastar series · E · Eagle 9900 · F-8500M mixer · Fageol Vans · FC series stripped chassis · Fleetstar series · Fleetstar-A series · FTCO fire engine · HS Series · K series · KB series · L series · L/LD 300-400 series · International LC series COE · LC/LCD 400 series COE · LC-195 Tiltocab COE · Loadstar series · Lonestar · M series · Metro series · Metroette series · Motor Home Chassis · MS series · MXT · One-Hundred series · Payhauler series · Paystar 5000 series · R series · R/RD 300-400 series · RC series COE · RC series Tiltocab COE · RC/RDC 400 series COE · RD-H series · RE series · RXT · S-series 1921-30 · S series 1956-57 · S1600-S2100 series · S2200-S2300-S2500-S2600 series · SC series COE · Schoolmaster series · Scout · Scout II · Scout Terra · Scout Traveler · Transtar 400 series · Transtar 400M mixer · Transtar 4270-4370 series · Transtar II series · Travelall · Travelette series · Unistar · V series · W series "Westcoaster" 1936-49 · W series 1930-35 · Wagonmaster · Workstar series · XL series ·