The International DuraStar, originally introduced as the International 4000 Series, is a medium-duty truck produced by Navistar International. First produced in 2002, it is the successor to the 4000 Series of the 1990s.
It is available in three variants, which are built on the same chassis. They differ in engines, drivetrains, brakes, and cargo capacity. It is a popular commercial platform used in a wide variety of applications, such as emergency services, towing, flatbed truck and as a cargo box truck. Variants of the Durastar are commonly used as a platform for both school buses and commercial buses.
Current variants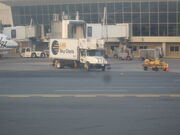 Truck
4100
The 4100 model has a wheelbase from 140" to 217", is powered by an International VT 365 and utilizes hydraulic brakes. It comes with an Allison 1000 HS/RDS 6-speed automatic transmission or a Fuller 6-speed manual. Its front axle capacity is 7,300 lb (3,310 kg). Rear axle capacity is 10,500 lb (4,760 kg). standard, 12,200 lb (5,530 kg) optional.[1]
4300
The 4300 model has a wheelbase from 128" to 254", is powered by an International DT466 and utilizes either hydraulic or air brakes. It comes with Fuller 6 or 7-speed manual transmissions or Allison 2000 and 3000 Series automatic transmissions. Its front axle capacity is 8000-14000 lb. Rear axle capacity is 12,200-23,000 lb.[2]
4400
The 4400 model has a wheelbase from 140" to 254", is powered by an International DT570 / Maxxforce 9 and utilizes air brakes. Transmissions include Fuller 6, 7, and 10-speed manuals along with Allison Vocational 3000 & 3500 Series automatics. Its front axle capacity is 8,000-14,000 lb. Rear single axle capacity is 13,500-26,000 lb.[3]
The 4400 is also available as a tractor.[4]
Sub-variants
The 4300 and 4400 are also available in Lo-Profile configurations, with a lower platform for easier cab and loadbed access. They differ in axle capacity as follows: [5][6]
4300LP
Front- 8,000 - 9,000 lb (4,100 kg).
Rear- 12,200 - 19,000 lb (8,600 kg).
4400LP
Front- 8,000 - 19,000 lb (8,600 kg).
Rear- 13,500 - 19,000 lb (8,600 kg).
Bus
Main article: International 3300
Like the 4000-series before it, the DuraStar serves as a popular platform for bus manufacturers.
3200
The 3200 is sold with a cab, as it is designed for cutaway-cab applications for

second-stage manufacturers

. Available with the Maxxforce7 engine.
3300
The 3300 is sold as a cowled chassis, intended primarily for conventional-type (Type C) school buses. Available with Maxxforce7 and MaxxforceDT engines.
Powertrain
International Durastar Engines
Engine Name
Engine Type
Horsepower
Torque
Availability
MaxxForce 7


VT365

6.0L V8 (VT365)
6.4L V8 (MaxxForce 7)
200-230HP
560 ft-lbf to 620 ft-lbf
3200, 3300, 4100, 4300

MaxxForce DT/DT466

7.6L inline-6
210-255 hp
560 ft-lbf to 660 ft-lbf
3300, 4300, 4400
MaxxForce 9
9.3L inline-6
225-300hp
620 ft-lbf to 860 ft-lbf
4400
Hybrid trucks
In 2007, Navistar's International Truck and Engine Corporation became the first company to enter hybrid commercial truck production, with the International DuraStar Hybrid diesel-electric truck. International Truck and Engine teamed with the Hybrid Truck Users Forum (HTUF), a consortium of utility industry customers, Eaton Corporation, the US Federal Government and the Calstart organization to assist with the cost of bringing the technology to market. It also provides direct customer feedback and support. [7]
See also

External links
References
This template is from wikipedia and needs a rewrite.
It is to demonstrate a "complex" navebox using sub groups to allow expansion

Military vehicles
Commercial Vehicles

Diesel Engines

Current

V6/V8

MaxxForce 5

 •

MaxxForce 7

Inline-6

MaxxForce DT

 •

MaxxForce 9

 •

MaxxForce 10

 •

MaxxForce 11

 •

MaxxForce 13

Historical

V8

DV

 •

IDI

 •

T444E

 •

VT365

 •

Ford PowerStroke

Inline-6

Other

Tractor

Delivery Van

Retail Vehicles
Models

IHC Auto Buggy · IHC Auto Wagon · International "letter" series 1915-23 · International "number" series 1921-23 · International "number" series 1924-27 · 10 series · 54-104C series · 100-500 series · 210-230 series · 400-900 series · 1000-1500 series · 3000 series · 4000 series · 5000 series · 5000i series · 8000 series · 8100-8200-8300 series · 9000i series · 9100-9200-9400 series · 9300 series · 9370 series · 9600-9700-9800 series COE · A series 1930-35 · A series 1957-58 · A series 1966 · A series heavy-duty 1932-41 · AC series · ACO Sightliner series · Auto Wagon · B series 1931-35 · B series 1959-62 · B series 1967 · BC series · C series 1934-37 · C series 1961-62 · C series 1968 · C/D/DB/DC 300-400 series · Cargostar series · Cargostar-B series · Citystar series · CO/DCO 400 series COE · CO/VCO/DCO series tilt-cab · CO-4000 series · CO-8190 fire engine · COF-5370 · COF5470-COF5870 series oil field trucks · CO-Loadstar series · CONCO series · CO-Transtar series · CXT · D series 1937-40 · D series 1965 · D series 1969-70 · DCF-400M mixer · DF-8008 oil field truck · Durastar series · E · Eagle 9900 · F-8500M mixer · Fageol Vans · FC series stripped chassis · Fleetstar series · Fleetstar-A series · FTCO fire engine · HS Series · K series · KB series · L series · L/LD 300-400 series · International LC series COE · LC/LCD 400 series COE · LC-195 Tiltocab COE · Loadstar series · Lonestar · M series · Metro series · Metroette series · Motor Home Chassis · MS series · MXT · One-Hundred series · Payhauler series · Paystar 5000 series · R series · R/RD 300-400 series · RC series COE · RC series Tiltocab COE · RC/RDC 400 series COE · RD-H series · RE series · RXT · S-series 1921-30 · S series 1956-57 · S1600-S2100 series · S2200-S2300-S2500-S2600 series · SC series COE · Schoolmaster series · Scout · Scout II · Scout Terra · Scout Traveler · Transtar 400 series · Transtar 400M mixer · Transtar 4270-4370 series · Transtar II series · Travelall · Travelette series · Unistar · V series · W series "Westcoaster" 1936-49 · W series 1930-35 · Wagonmaster · Workstar series · XL series ·