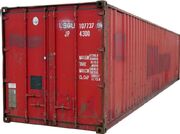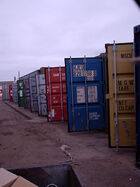 An intermodal container (also container, freight container, ISO container , shipping container, hi-cube container, box, conex box and sea can) is a standardized reusable steel box used for the safe, efficient and secure storage and movement of materials and products within a global containerized intermodal freight transport system. Lengths of containers, which each have a unique ISO 6346 reporting mark, vary from 8-foot (2.438 m) to 56-foot (17.07 m) and heights from 8-foot (2.438 m) to 9 feet 6 inches (2.9 m). There are approximately seventeen million intermodal containers in the world of varying types to suit different cargoes.[1] Aggregate container capacity is often expressed in twenty-foot equivalent units (TEU / teu) which is a unit of capacity equal to one standard 20 ft × 8 ft (6.10 m × 2.44 m) (length × width) container.
For air freight the alternative and lighter IATA-defined Unit Load Device is used. Non-container methods of transport include bulk cargo, break bulk cargo and tankers/oil tankers used for liquids.
Main article: Containerization
The standardised steel shipping container has its origins in the 1950's when commercial shipping operators and the US military started developing such units.
ISO Standards for containers were published between 1968 and 1970.
The International Convention for Safe Containers is a 1972 regulation by the Inter-governmental Maritime Consultative Organization on the safe handling and transport of containers. It decrees that every container travelling internationally is supplied with a "CSC-Plate".[2][3]
Description
Edit
A typical container has doors fitted at one end, and is constructed of corrugated weathering steel.[4] Containers were originally 8 feet (2.44 m) wide by 8 feet (2.44 m) high, and either a nominal 20 feet (6.1 m) or 40 feet (12.19 m) long. They could be stacked up to seven units high. At each of the eight corners are castings with openings for twistlock fasteners.
Taller units have been introduced, including 'hi-cube' or 'high-cube' units at 9 feet 6 inches (2.9 m) and 10 feet 6 inches (3.2 m) high.[5] The United States often uses longer units at 48 ft (14.63 m) and 53 ft (16.15 m). Some rare European containers are often about 2 inches (5 cm) wider at 2.5 m (8 ft 2.4 in) to accommodate Euro-pallets.[6] Australian RACE containers are also slightly wider to accommodate Australia Standard Pallets.
Swap body units use many of the same mounting fixings as Intermodal containers, but have folding legs under their frame so that they can be moved between trucks without using a crane. They are generally lighter in weight.[7][8]
Each container is allocated a standardized ISO 6346 reporting mark (ownership code), four characters long ending in either U, J or Z, followed by six numbers and a check digit.[9] The containers flex during transport.[10]
Container capacity is often expressed in twenty-foot equivalent units (TEU, or sometimes teu). An equivalent unit is a measure of containerized cargo capacity equal to one standard 20 ft × 8 ft (6.10 m × 2.44 m) (length × width) container. As this is an approximate measure, the height of the box is not considered; for example, the 9 ft 6 in (2.9 m) high cube and the 4-foot-3-inch (1.3 m) half height 20-foot (6.1 m) containers are also called one TEU. Similarly, the 45 ft (13.72 m) containers are also commonly designated as two TEU, although they are 45 and not 40 feet (12.19 m) long. Two TEU are equivalent to one forty-foot equivalent unit (FEU).[11]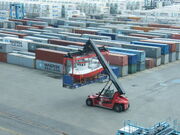 Variations on the standard container exist for use with different cargoes including Refrigerated container units for perishable goods, tanks in a frame for bulk liquids, open top units for top loading and collapsible versions. Containerised coal carriers, and 'bin-liners' (containers designed for the efficient road/rail transportation of rubbish from cities to recycling and dump sites) are used in Europe.
Container types:[12]
Collapsible ISO
Flushfolding flat-rack containers for heavy and bulky semi-finished goods, out of gauge cargo
General purpose dry van for boxes, cartons, cases, sacks, bales, pallets, drums in standard, high or half height
High cube palletwide containers for europallet compatibility
Refrigerated containers for perishable goods
Open top bulktainers for bulk minerals, heavy machinery
Open side for loading oversize pallet
Platform or bolster for barrels and drums, crates, cable drums, out of gauge cargo, machinery, and processed timber
Rolling floor for difficult to handle cargo
Tank containers for bulk liquids and dangerous goods
Ventilated containers for organic products requiring ventilation
Handling and transport
Edit
Main article: Intermodal freight transport
Containers can be transported by container ship, semi-trailer truck and freight trains as part of a single journey without unpacking and they are transferred between modes by container cranes at container terminals. Units can be secured during handling and in transit using "twistlock" points located at each corner of the container. Every container has a unique BIC code painted on the outside for identification and tracking, and is capable of carrying up to 20–25 tonnes. Costs for transport are calculated in twenty-foot equivalent units (TEU).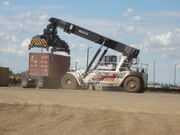 When carried by rail, containers may be carried on flatcars or well cars. The latter are specially designed for container transport, and can accommodate double-stacked containers. However the loading gauge of a rail system may restrict the modes and types of container shipment. The smaller loading gauges often found in European railroads will only accommodate single-stacked containers. In some countries, such as the United Kingdom, there are sections of the rail network which high-cube containers cannot pass through, or can pass through only on well cars. On the other hand, Indian Railways runs double-stacked containers on flatcars under 25 kV overhead electrical wires. In order to do this, the wire must be at least 7.45 metres (24 ft 5 in) above the track, but IR is able to do so because of its large loading gauge and the extra stability provided by its 1,676 mm (5 ft 6 in) broad gauge track. China Railways also runs double-stacked containers under overhead wires, but must use well cars to do so since the wires are only 6.6 metres (21 ft 8 in) above the track and 1,435 mm (4 ft 81⁄2 in) (standard gauge) does not provide adequate stability to run double-stacked containers on flat cars .[13]
Securing loads in intermodal containers
Edit
Main article: Load securing
There are many established methods and materials available to stabilize and secure cargo in intermodal containers. Conventional restraint methods and materials such as steel strapping and wood blocking & bracing have been around for decades and are still widely used. Polyester strapping and lashing, synthetic webbings are also common today. Dunnage Bags, also known as "air bags" are used to help keep unit loads in place.
Non-shipping uses
Edit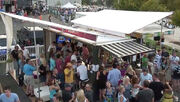 Containers have been used for other purposes at the end of their voyaging life, in the interest of saving energy and resources. A container has 8,000 lb (3,629 kg) of steel which takes 8,000 kWh (28,800 MJ) of energy to melt down. Repurposing used shipping containers is increasingly a real solution to both social and ecological problems. Shipping container architecture is employing used shipping containers as the main framing of modular home designs, where the steel may be an integrated part of the design, or be camouflaged into a very traditional looking home. Companies such as SGBlocks [14] convert old containers to 'Safe Green Building Blocks' for future uses in housing, for remote areas, student housing, temporary housing and even entire city blocks.
References
Edit
International Standards
ASTM D5728-00 Standard Practices for Securement of Cargo in Intermodal and Unimodal Surface Transport
ISO 9897:1997 Freight containers – Container equipment data exchange (CEDEX) – General communication codes
ISO 14829:2002 Freight containers – Straddle carriers for freight container handling – Calculation of stability
ISO 17363:2007 Supply chain applications of RFID – Freight containers
ISO/PAS 17712:2006 Freight containers – Mechanical seals
ISO 18185-2:2007 Freight containers – Electronic seals
ISO/TS 10891:2009 Freight containers – Radio frequency identification (RFID) – Licence plate tag
Further reading
Edit
International Organization for Standardization (ISO), Freight containers, Volume 34 of ISO standards handbook, International Organization for Standardization, 4th edition, 2006. ISBN 92-67-10426-8
Levinson, Marc, The box : how the shipping container made the world smaller and the world economy bigger, Princeton, N.J. : Princeton University Press, 2006. ISBN 0-691-12324-1
Donovan, Arthur & Bonney, Joseph "The Box That Changed The World", East Windsor, New Jersey, Commonwealth Business Media, 2006 ISBN 978-1-891131-95-0
External links
Edit

Community content is available under
CC-BY-SA
unless otherwise noted.