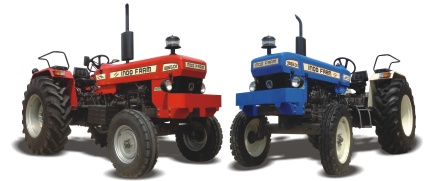 Indo Farm Industries Ltd, formerly Indo Farm Tractors & Motors Ltd (ITML), is a tractor manufacturer in Baddi, Himachal Pradesh, India. It was established in 1994[1] by R.S.Khadwalia, and has worked with Ursus since 2000, and Universal UTB for technology and engines. In 2005, Indo Farm announced that they would be establishing an assembly plant in Poland.[2]
Indo Farm tractors are currently only sold in India and Nepal,[3] but has plans to expand into Europe.[4]
Indo Farm began importing engines from Ursus in Poland in 2000, and received the technology from them. In 2003, the importation of engines stopped as Indo Farm began building licensed Ursus engines themselves. In 2006, Indo Farm began exporting engines and components back to Poland.[5]
In 2006, Indo Farm manufactured around 6,000 tractors, and plans to double production.[6] In 2013, a new styling of tractors was introduced, as well as the new brand Indo Power.
Indo Farm also manufactures cranes.
References
Edit
External links
Edit
Early Makes - pre 1940s

1940s to 1980s

Modern post 1980s

Independents
North America

Europe

India & Pakistan

Middle East
(Turkey, Iran,
Iraq, Syria etc...)

Far East
(Australasia, China,
Japan, Korea, Thailand,
Vietnam etc...)

South America
(Argentina, Brazil,
Uruguay etc)

Africa

Asia
(Russia, Tajikstan,
Uzbekistan, Ukraine)

Specialist types of tractor

Notable People - associated with the tractor industry

Inventors