We're Getting Mutants in the MCU - The Loop
Play Sound
Industrija Masina i Traktora (Industry of Machinery and Tractors) (IMT)
Type
joint-stock company
Founded
1947, Belgrade, SFR Yugoslavia
Founder(s)
Government of SFR Yugoslavia and independent tradespeople
Headquarters
Belgrade, Serbia
Industry
Agriculture
Products
Agricultural machinery, Tractors
Production output

▼

467 vehicles (2013)
Revenue (turnover)

▼

EUR -68,892 thousand (2014)[1]
Operating income
EUR 4,937 million (2014)
Net income

▼

EUR -5,531 million (2014)
Total assets

▬

EUR 8,617 million (2014)
Total equity

▼

EUR 2,760 million (2014)
Owner(s)
Workers (95.05%) Beoagencija (2.45%), OTP Bank Serbia (1.07), Agrooprema (0.53%), IMR (0.35%), Serbian development fond (0.35%), Others (0.20%)[2]
Subsidiaries

IMT Remontni centar
IMT Commerce doo

Website
imt.co.rs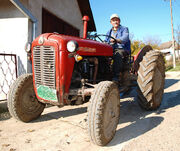 Industriya Masina I.Traktoru (Industry of Machinery and Tractors) or IMT (Serbian: IMT - Industrija mašina I traktora a.d. Beograd/ИМТ - Индустрија машина и трактора а.д. Београд) is a producer of tractors and agricultural machinery, situated near Belgrade, Serbia.
History
The IMT factory was founded in 1947 as the Central Foundry. In 1949, a new company, the Metal Institute, was formed by amalgamating the Central Foundry and four other local companies. The Metal Institute became the Industry of Machinery and Tractors (IMT) in 1954. The following year, research was conducted on different types of tractors and the Massey Ferguson license was chosen.[3]
In 1955, IMT became a licensee of Massey Ferguson and began building tractors for export under the Massey Ferguson brand. In 1959, the factory was reconstructed and production capacities for 4,000 tractors a year were built. The factory started production of a tractor of their own design in 1964.
In the 1970s, IMT began looking abroad to expand its sales. Tractors were built for export to India where they were sold as the TAFE 533. (TAFE is the Massey Ferguson licensee in India). In 1975, IMT announced a joint venture with Brasitalia in Brazil to build the IMT 585 84 hp (63 kW) tractor, but it never went into production there. In 1988, IMT recorded its largest annual production in history - 42,000 tractors and 35,000 machines.[3] The 1980s also saw tractors exported under the IMT brand to the USA by importer Robison & Woods Tractor.
Between 1990 and 2000, changing economic circumstances led to significant changes in production. A long-term cooperation was established with the Perkins company, and the first engines complying to the EU 2000/25/EC standards were built in 2005.[3] Another model was built for sale in India, the TAFE 9040.

In 2008, the Serbian Privatization Agency launched a tender process for the sale of IMT.[4] A joint venture was established with IMR (Rakovica) in 2009[5], and it was also announced that year that IMT was considering a partnership with the Russian MTZ. An agreement was struck in 2010 with the Polish Pol-Mot to build orchard tractors for them.
In 2012, IMT introduced a new "S" series of tractors.[6] Offer of the new generation of tractors together with purchasing power demanded custimisation of tractor accessory. Mostly new models have join of traditional and modern look, thanks to the Belgrade professional schools, Faculties of Design and IMT design studio.
In 2013, Orient Automotive Industries (Pvt) Ltd, part of the Omni Group, began to assemble IMT & IMR tractors in Pakistan under the Bull Power IMT brand.
In July 2013, IMT exported tractors in Kazakhstan, ex-Yugoslavia markets, Ecuador and African market. The model which has been exported in Kazakhstan was labeled Baikonur IMT (derives from Baikonur Cosmodrome) and consisted of the models 539, 549, 555.11. They are assembled by AralAzovAgroMash (АралАзовАгроМаш), a joint venture between IMT and AgroHoldingBaykonyr (АгроХолдингБайконыр)[7]
In 2014, it was proposed that IMT and IMR merge in order to survive, but nothing has come from it. Both companies are managed by the same director.
In april of 2018 IMT was purchased by TAFE out of bankrupcy.First joint venture IMT-Tafe tractors were shown on 2018 Novi Sad agri fair with plans to produce 1000 anually with the production starting in 2019.
Popular products in the World and Yugoslavia
The most popular models of IMT tractors have been the IMT 533 (with 35 hp (26 kW)) and IMT 539 40 hp (30 kW). These tractors become popular in Yugoslavia because they were easy to maintain, easy to handle, and very maneuverable. Popularity is resulted by spreading of mechanization and (that time) modern technology on rural parts of country. Later model was produced in 1965. It was IMT 555. Reliable of these three types is in characteristics of the engine. These engine could stand for 4,000 working hours to the general repair.
IMT 5200-5360 models were among the ten biggest tractors on the world market in 80's and 90's. These series were contemporary for that period. Characteristics of these series were: ≈500 hp (370 kW), V12 diesel FAP and Mercedes-Benz engine, 4WD, 4X4 chassis, synchro gearbox shifter (16 forward and 4 reverse), 16 t (35,274 lb), hydrostatic power steering, dual clutch, 3 seats adjustable, complete safety programs for passengers and driver, big space for smaller items and air brakes. Additional accessories of 5200-5360 models were: manual A/C, cigarette lighter and ashtray, manual sun or moon roof and car radio/cassette recorder.
Other historical models worth to mention of this company are:[8] 528, 530-539P, 542-549 (standard and De luxe versions), 550-558, 560-569, 570-579, 585-589, 590-597, 5100, 5135-5136, 5170, 5210, 5220, 5270 and 5500.
Quality and certificates
See also:

European emission standards
New series of tractors have EC standards. EC stand for European emission standards for engines used in new non-road mobile machinery. IMT products have Stage II and IIIA (model IMT 555.11).[9]
Products
Tractors
Massey Ferguson
Built for other companies
Tractor Models built by IMT for other companies
Model
Year(s) Produced
Horsepower
Engine Type
Misc Notes
Photo
Marshall 132
38 hp (28 kW)
Perkins
same as IMT 539
Nuffield 126
106 hp (79 kW)
IMR
same as

IMT 5106

Pol-Mot 5014 I
same as IMT 556
RATAR 90
1970-78
90 hp (67 kW)
Perkins
14 Oktobar
RATAR 90DV
1970-78
90 hp (67 kW)
Perkins
14 Oktobar
RATAR 90DVC
1970-78
90 hp (67 kW)
Perkins
14 Oktobar

TAFE 533

1970s
TAFE 9040
91 hp (68 kW)
Perkins
Ursus 5014A
2015-
47 hp (35 kW)
IMR
vineyard
New series of tractors and offerings
Series 2000, are equipped with: polyester engine cover, synchronized gear shifter, 2WD, adjustable steering by height, synchronized gear shifter, engines with EC Stage II standard, easy handling and maintenance. Series 2000, in accessory part refers to A/C, 4WD, heating and hydraulic power steering regulation of position and draft.
In 2012, at the Agriculture Fair in Novi Sad, IMT presented a new generation of tractors with mark "S" (539 S, 549 S, 550 S and 555 S). Standard equipment offered: better anti acoustic and rust protection, modern design of cabin, synchronized gear shifter with 10 speeds (forward) and 2 speeds (reverse), polyester engine cover, EC IIIA standard, 4 WD, hydraulic power steering regulation of position and draft. They has been adjusted for attachment and work with implements of large width, mounted or semi-mounted. Accessories for these series includes: A/C, A/C powered by solar panels, car radio (with/without hands-free), seat heating and heating+ventilation (HV).
In IMT at 2013 was announced reproduction of older version of IMT 5360 with the government's incentives. These type includes the same standard equipment and accessory as series "S".
Other
Besides tractors, IMT also produces a number of agricultural machinery. Ploughs, trailers, maize planters, seed drills, cultivators and loader fortklifts.[10]
See also
Gallery
References
External links
Early Makes - pre 1940s

1940s to 1980s

Modern post 1980s

Independents
North America

Europe

India & Pakistan

Middle East
(Turkey, Iran,
Iraq, Syria etc...)

Far East
(Australasia, China,
Japan, Korea, Thailand,
Vietnam etc...)

South America
(Argentina, Brazil,
Uruguay etc)

Africa

Asia
(Russia, Tajikstan,
Uzbekistan, Ukraine)

Specialist types of tractor

Notable People - associated with the tractor industry

Inventors
Manufacturers

Other

Belgrade International Motor Show