IC Bus (formerly IC Corporation)[1] is a builder of school buses in the United States. Founded in 2002, the company traces its roots back to Ward Body Works, which was established in 1933. IC produces bus bodies on an International chassis, as it is a wholly owned subsidiary of Navistar International Corporation. IC is an acronym for Integrated Coach, which alludes to the fact that the body, chassis, and engine are all built within the same corporate structure.
D. H. "Dave" Ward founded Ward in Conway, Arkansas, USA in 1933 when he "lowered the roof of a wooden bus for Mr. Carl Brady of the Southside Schools". Southside Schools were located about 15 miles north of Conway. In the 1930s, Ward Body Works produced its first all-metal body bus. In the 1960s, Ward School Bus Manufacturing, Inc. was responsible for many notable innovations including use of computers in manufacturing (using IBM 360s), safety advances, and manufacturing process improvements. In the 1970s, Ward opened a manufacturing facility in Beaver Falls, Pennsylvania, but this plant was closed in 1975. In 1979, Ward Industries filed for chapter 11 bankruptcy. Arkansas Governor Clinton was instrumental in putting together a group that bought the assets of Ward Industries. In 1980, the American Transportation Corporation was formed. In 1981, American Transportation Corporation began doing business as AmTran Corporation. However, the buses were still marketed as Wards throughout the 1980s, until 1992.
In 1983, the Harmon brothers purchased controlling interest of AmTran. In 1991 Navistar purchased stock of American Transportation Corporation. The era of mergers and acquisitions among chassis and bus body manufacturers was thus begun. Navistar International purchased one-third interest in AmTran Corporation. The action was initiated by Jerry Williams, AmTran's CEO. Navistar also obtained an option to allow them to buy remaining two-thirds stock by April 1995. Navistar exercised the option on remaining American Transportation Corporation stock and completed the purchase in 1995.
In 1999, AmTran announced plans to build a new facility in Tulsa, Oklahoma that would employ 1200 people. The conventional buses would be built at the new facility, but the Conway, Arkansas facility would continue to produce the rear engine and front engine models.
In 2000, AmTran introduced the IC, a fully integrated conventional school bus. The first models were badged "AmTran", although within a short time, the buses were badged "International" with the company taking on the identity "International Truck and Bus" from late 2000 to 2001 model years.
For 2002, the company's name changed yet again to IC Corporation and the new conventional bus was re-introduced as the IC CE.
On January 11, 2008, IC Corporation announced a layoff of about 300 employees at the Conway, Arkansas Bus Plant. [2] This was just under the maximum number of employees that could be laid off in Conway without the company violating the WARN Act, which requires employers to give 60 days notice of a mass layoff or plant closing. In addition to the layoffs, the company also announced a 50 percent reduction in bus production at the Conway plant. IC Corp officials cited a lack of new orders as the reason for the layoffs. However,the company recently announced increased production at the plant in Tulsa, Oklahoma. This has stoked fears in Conway that the company is planning to shut down the plant in the near future and move all production to the newer, and non-union, Tulsa plant.
Current products
Edit
IC's current school bus models include a redesigned CE, a conventional bus, as well as the "BE" small bus, the Type-D "RE" rear-engine bus, and the Type-D "FE" front-engine bus. The new commercial line consists of the "BE", plus four recently introduced models: the low-floor "LC" series, the medium-duty "HC" series, the front-engine "FC" series, and the rear-engine "RC" series. All IC buses are powered by either the VT365 V8, the DT466 straight-6, or the DT570 straight-6.
For 2008, the VT365 was replaced by a larger engine known as the Maxxforce 7, which is also the basis for the new 6.4 Liter Powerstroke Diesel used in the 2008 Ford Super Duty pickup trucks. The DT466 was renamed the Maxxforce DT. The DT570, only used in the RC commercial bus, was renamed the Maxxforce 9.
IC buses carry a three-digit model number in addition to the two-letter model name. The suffix "200" indicates that the bus is powered by the VT365 or Maxxforce 7(2008+) engine, or (before 2005) the T444E engine, whereas the "300" designation means that the bus is powered by a DT466, Maxxforce DT(2008+). CE models (and RE models before 2009 model year) are available in 200 and 300 variants, whereas the FE and 2009+ RE are available only in 300 configuration and the BE is available in 200 configuration only.
School buses
Edit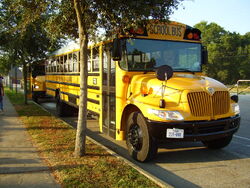 BE200 - Type C small conventional school bus
CE200/CE300 - Type C full-size conventional school bus
FE300 - Type D full-size front engine school bus
RE200/RE300 - Type D full-size rear engine school bus
Forward Advantage Prototype
Edit
The IC FE Forward Advantage was a school bus prototype built by IC in 2008 as a testbed of a "flat-floor" design in the stepwell due to the compact design of the Caterpillar C7 engine. It also included some front-end styling modifications influenced by the severe-service line of International trucks. As Caterpillar has withdrawn from producing diesel engines for the school bus market, the Forward Advantage will not see production in its current form since its design was tailored to the Caterpillar engine.
Hybrid diesel-electric buses
Edit
A hybrid electric school bus is currently being worked on for production and 11 have already been delivered to schools across the United States. The buses provide about 40% better mpg but cost about two and a half times more than a standard diesel bus ($210,000 versus $80,000). Mass production is likely but depends on the reactions of the schools currently using the buses and if demand is high enough.[3]
Enova Systems [4] has entered into a long-term supply agreement with IC Bus[5] that guarantees that Enova's proprietary Post Transmission Parallel Hybrid Electric drive system will be used in IC Bus' hybrid electric school buses. The hybrid school bus project features Enova's charge depleting (or "plug-in") or charge sustaining systems. The drivetrain is powered by Valence Technology lithium iron phosphate battery modules.
IC Bus has delivered a charge depleting bus to the New Britain Public Schools. [6]
Commercial buses
Edit
LC - low floor commercial bus
HC - medium duty commercial bus
FC - front engine commercial transit bus
RC - rear engine commercial transit bus
Historical products
Edit
AmTran (American Transportation Corporation)
Edit
Main article: AmTran

In 1991, Navistar initiated its acquisition of AmTran. A year later, the Ward brand name was phased out as part of a new marketing scheme. In terms of product, AmTran retained the Vanguard and the Volunteer lines. The recently-introduced Senator was given a facelift and re-introduced as the Genesis. The Patriot was not carried over partly due to slow sales and also because of its GM-sourced chassis; the Coachette Type B had been dropped in the 1980s.
Limited Chassis Availability
As AmTran was now a part of Navistar, the International-chassis buses were marketed more aggressively than their other products. In 1992, General Motors dropped its B-series chassis (as part of a deal with Blue Bird); although the Ford B700 was an option, it was rarely ordered and it was phased out after 1998. The slow-selling Vanguard was dropped at the end of 1996 so AmTran could concentrate on its full-size buses.
Introductions and Changes

1996
After not producing a rear engine Type D school bus since the early 1970s, AmTran introduced the AmTran RE in 1996; it was branded an AmTran, not Genesis.
The Genesis was updated, moving the entry door closer to the front bumper; its roof decals were switched to the AmTran brand from Genesis.
1997
The Volunteer was re-branded the CS after receiving a new front body design that replaced the Ward control panels, windshield, and entry door.
1998
The Genesis was renamed the AmTran FE after a front-end redesign; the grille shrunk in size and the quad headlights were replaced with ones shared with the CS and RE.
2000
The CS received an updated hood design (still based on the Navistar 3800) and was renamed the AmTran IC.
The RE received a redesigned dashboard and interior control panels for improved ergonomics.
Product Lineup
Model Name
Years Produced
Chassis
Notes
AmTran Type A (cutaway van) Buses
Vanguard
1992-96
Chevrolet Van
GMC Vandura
Available only with dual rear wheels.
AmTran Type C (conventional) Buses
Volunteer/CS
1992-2002
Ford B-700/B-800 (1992-1998)
International 3800 (1992-2002)
The Volunteer was re-named the CS after a 1997 redesign
Due to low demand, Ford was dropped as a chassis supplier after 1998
IC
2000-2002
International 3800
The IC sported a hood design unique to AmTran.
The IC evolved into today's IC CE line.
AmTran Type D (transit-style) Buses
Genesis/FE
1992-1997 (Genesis)
1998-2002 (AmTran FE)
International 3900
AmTran introduced the Genesis as a facelift of the Ward Senator; in 1998, the Genesis received further design modifications and was re-branded the AmTran FE.
RE
1996-2002
International 3000
AmTran products continue to be supported by IC Corporation's network of dealers across America, which are comprised mostly of International Truck and Engine Corporation dealers.
Ward Body Works
Edit
Main article: Ward Body Works
Ward Body Works
Fate
Chapter 11 Bankruptcy
Successor
American Transportation Corporation (AmTran)
Founded
1933
Founder(s)
D.H. Ward
Defunct
1979
Ward brand operated by successor AmTran from 1980-1992.
Headquarters

Conway, Arkansas

Number of locations
2
(Conway, Arkansas and Beaver Falls, Pennsylvania)
Area served
North America
Industry
Transportation
Products
School Buses
Commercial Buses
Ward Type A (cutaway van) Buses
Model Name
Chassis
Notes
Vanguard/Minuteman
• Chevrolet Van/GMC Vandura
• Dodge Ram Van
• Ford E-Series
In 1990, a few Vanguards were produced on the heavier-duty Chevrolet P30 chassis.
Ward Type B (integrated) Buses
Model Name
Chassis
Notes
Coachette
Chevrolet P30
similar to Blue Bird Mini Bird
Patriot
General Motors
similar to Thomas Vista
Ward Type C (conventional) Buses
Model Name
Chassis
Notes
Volunteer
• Chevrolet/GMC B-series (1966-1991)
• Ford B700
• International Harvester Loadstar (1962-1978)
• International Harvester S-Series (1979-89)
• Navistar International 3800 (1989-92)
The Volunteer was retained as part of the AmTran lineup until the end of 1997.
Ward Type D (transit-style) Buses
Model Name
Chassis
Notes
President
• International Harvester
• General Motors S-7
• "Asia Smith" chassis
The President was Ward's Type D line until the end of 1989, when it was replaced by the Senator.
Competitor against the Blue Bird All American FE and the Thomas Saf-T-Liner EF.
Senator
Navistar International 3900
The Senator replaced the President as Ward's Type D line in 1990.
Competed mainly against the Blue Bird TC/2000 and Wayne Lifestar.
Facelifted and re-branded as the AmTran Genesis.
In 1976, Ward built a prototype Type D transit school and commercial bus on an International Harvester chassis with front-wheel drive and tandem rear tag axles. It did not enter production.
See also
Edit
References
Edit
External links
Edit
Active Manufacturers
Full-Size and Small Buses
Small Buses Only
Defunct Manufacturers (Including date of closure or last school bus manufacture)
Community content is available under
CC-BY-SA
unless otherwise noted.