Jurassic World: Dominion Dominates Fandom Wikis - The Loop
Play Sound
IBH-Holding
Founded
1975
Founder(s)
Horst-Dieter Esch
Defunct
1983
Headquarters

Mainz

, Germany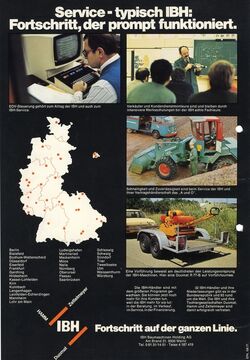 IBH-Holding was a German construction group based in Mainz, Germany, who, after a period of very high growth rates, went bankrupt on November 4, 1983.
The company was founded by Horst-Dieter Esch. By purchasing a series of medium-sized construction equipment manufacturers beginning in 1975, in a short time he created the IBH group. The acquired companies were mostly in distressed situations, and the purchase prices were correspondingly low. Towards the end, he employed more than 10,000 employees in the group, and it had achieved a turnover of over 2.0 billion DM. As a financial partner for its expansive activity, he joined up with General Motors, the Saudi Sheikh Saleh A. Kamel, and the banking house Schroder, Münchmeyer, Hengst & Co. (SMH) as the operative bank.
A fundamental reorganization and rapid integration of the possible synergistic effects were rarely realized. The company developed a rapidly growing financial need, which could finally no longer be covered. The indebtedness amounted to about one billion DM when the company collapsed. As a result, the SMH ran bank into trouble. It was rescued by a joint action of the German banking industry, followed by a majority takeover by British bank Lloyds. Horst-Dieter Esch was convicted in 1984 by the Koblenz court for fraud and sentenced to six and a half years imprisonment and a 90,000 DM fine.
Foundation
Employed at Blackwood-Hodge in the UK as Sales Manager Europe in 1973, Esch speculated there on credit-financed stocks of his employer Blackwood-Hodge, earning a gain of $ 1 million.
In July 1975, he founded with his profit, IBH holding, an purchased ailing medium-sized construction equipment manufacturer acquired and funded the purchase with bank loans from the private bank Schröder, Münchmeyer, Stallion & Co. (SMH). The purchase prices were low because of the bad situation of the companies, often it came to the symbol price of 1 DM. IBH's concept was to purchase of competitors in order to increase market power over market shares . The first company purchased was in August 1975, Zettelmeyer, which he was able to acquire with the help of a state guarantee of Rhineland-Palatinate in the amount of 8.5 million DM. It was followed in 1976 by Duomat, Maschinenfabrik Hamm AG in January 1978, HELA Hermann Lanz in 1978, the British Hymac Ltd. in 1978, and in early 1979 IBH acquired three French companies: Dureppe, Maco-Meudon and Pingon.
Expansion Phase
In October 1979, Esch came into contact with Ferdinand-Josef Graf von Galen, the 40% co-owner of SMH Bank. It financed the company's acquisitions of IBH Holding, which in April 1980 was the concrete pump and asphalt machinery manufacturer Wibau Maschinenfabrik Hartmann AG (WIBAU), which owned 83.33% of the SMH Bank. IBH took over this share, in exchange for which SMH acquired a 7.4% interest in IBH. From now on SMH acted as the authoritative house bank. In the case of WIBAU, the merger was allowed only by a ministerial approval because of antitrust concerns.
With a group turnover of DM 783.6 million and 7180 employees, IBH in 1980 was one of the ten largest construction machinery companies in the world. IBH also acquired Hanomag in February 1980, making it the world's third largest after Caterpillar and Komatsu, with sales of DM 2.5 billion and 15,000 employees. Also in 1980, IBH took a about a 13% stake in US-based Pettibone.[1] By the takeover of the Terex division (construction machinery activities of General Motors ) in January 1981, IBH finally moved up in the top group.[2] This gave control to: British Powell Duffryn (former Hymac owner)(1978, 23.1%), General Motors (January 1981, exchanging shares for the Terex, 13.6%) and Deutsche Babcock AG (July 1982, 10.1 %) and the Saudi Sheikh Saleh Abdullah Kamel, so that in 1982 Esch held only 9% of his group.[3][4]
Group companies
The IBH-Group consisted of the following firms:
1980 IBH Annual Report
See also
References / sources
External links
| | |
| --- | --- |
| | Add any external links that directly relate to this articles subject and have more info or have related images. Other general external links can be added to the web Site Links list. |
Template:IBH group