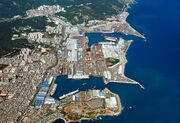 Hyundai Heavy Industries Co., Ltd. (HHI) is the world's largest shipbuilding company,[1][2] headquartered in Ulsan, South Korea. The company is a subsidiary of Hyundai Heavy Industries Group. It has seven business divisions: Shipbuilding, Offshore & Engineering, Industrial Plant & Engineering, Engine & Machinery, Electro & Electric Systems, Construction Equipment, and Green Energy.
Divisions
Edit
Shipbuilding
Offshore & Engineering
Industrial Plant & Engineering
Engine & Machinery
Electro Electric Systems
Construction Equipment
Green Energy
Affiliated companies
Edit
Hyundai Construction Equipment is a part of Hyundai Group of South Korea.
Hyundai started building Excavators in 1985. they now sell them in most of the worlds markets. They claim to be No.1 in China.
Sep. 2012 *Hyundai Cummins Engine Company (HCEC) - Established in 2012 in Daegu, South Korea, a 50/50 joint venture with Cummins
Mar. 2006 A/S Training Center Open
Apr. 2004 Established HYUNDAI-JIANGSU factory in China.
Nov. 2003 Established HYUNDAI-JIANGSU Inc. in China.
Aug. 2002 Established Beijing Joint Venture Company in China.
Mar. 2000 Exceeded 50,000 of heavy machine production.
Mar. 1999 United Hyundai Heavy Industries Co., Ltd. from domestic Hyundai Motor Company.
Dec. 1995 Europe Overseas Inc. moved to Belgium.
Jan. 1995 Established Changzhou Joint Venture Company in China.
Jan. 1994 Merged with Construction Equipment Division of Hyundai Heavy Industries Co., Ltd.
Aug. 1993 Established Rotterdam Overseas Inc. in Netherlands.
Jun. 1992 Established the 2nd factory for assembling (9,300 m2).
Nov. 1991 Established Chicago Overseas Inc. in US.
Sep. 1989 Became independent to Hyundai Heavy Industries Co., Ltd.
Aug. 1989 Extended 1st factory (12,700 m2).
Aug. 1988 Developed own brand excavators (21ton, 29ton).
Jul. 1988 Entry into domestic market from releasing of Industry Rationalization Management (Hyundai Motor Service is Sold).
Jan. 1987 Separated from Department of Construction Equipment at Division of Heavy machine to Construction Equipments Division and established the 1st step factory.

Feb. 85 Department of Construction Equipments developed a new start at Division of Heavy Machine in Hyundai Heavy Industries Co., Ltd.
From Hyundi web site.
Recently they have introduced the ROBLEX branded range of machines
Model Range
Edit
Backhoe Loaders
Edit
Crawler Excavators
Edit
Mini Excavators
Edit
Forklift trucks
Edit
Skid-steer Loaders
Edit
Wheeled Excavators
Edit
Wheeled Loaders
Edit
Reference
Edit
Hyundai web site
Earthmovers magazine
External links
Edit
Community content is available under
CC-BY-SA
unless otherwise noted.