This article is about the Hyundai chaebol prior to the completion of its break-up in 2003. For the continuing rump entity, see
Hyundai Group
.
Hyundai was a corporate group headquartered in Seoul. It was founded by Chung Ju-yung in 1947 as a construction firm and Chung was directly in control of the company until his death in 2001.
Hyundai underwent a major restructuring and break-up following the 1997 East Asian financial crisis and Chung's death, following which the rump Hyundai Group's business was reduced to container shipping services, the manufacturing of elevators and tourism. Today most companies bearing the name Hyundai are not legally connected to Hyundai Group, including Hyundai Motor Group, Hyundai Department Store Group, Hyundai Heavy Industries Group and Hyundai Development Company.
Most of the former subsidiaries of the Hyundai chaebol continue to be run by Chung's sons or their heirs. If these companies are considered as forming a broad family business, then it remains the single largest company in South Korea, with enormous economic and political power in the country.
Hyundai was founded as a small construction firm by Chung Ju-yung in 1947.[1] Hyundai Construction began operating outside of South Korea in 1965, initially entering the markets of Guam, Thailand and Vietnam.[2]
Hyundai Motor Company was founded in 1967.[3] Hyundai Heavy Industries was founded in 1973,[4] and completed the construction of its first ships in June 1974.[5]
In 1983 Hyundai entered the semiconductor industry through the establishment of Hyundai Electronics (renamed Hynix in 2001).[6]
Hyundai announced a major management restructuring in December 1995, affecting 404 executives.[7]
In April 1999 Hyundai announced a major corporate restructuring, involving a two-thirds reduction of the number of business units and a plan to break up the group into five independent business groups by 2003.[8][9]
Operations
Edit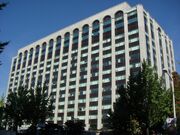 By the mid-1990s Hyundai comprised over 60 subsidiary companies and was active in a diverse range of activities including automobile manufacturing, construction, chemicals, electronics, financial services, heavy industry and shipbuilding.[2] In the same period it had total annual revenues of around US$90 billion and over 200,000 employees.[2]
Hyundai Motor Company
Edit
Main article: Hyundai Motor Company
Hyundai branded vehicles are manufactured by Hyundai Motor Company, which along with Kia comprises the Hyundai Kia Automotive Group. Headquartered in Seoul, South Korea, Hyundai operates the world's largest integrated automobile manufacturing facility[10] in Ulsan, which is capable of producing 1.6 million units annually. The company employs about 75,000 persons around the world. Hyundai vehicles are sold in 193 countries through some 6,000 dealerships and showrooms worldwide. In 2010, Hyundai sold over 1.7 million vehicles worldwide. Popular models include the Sonata midsize sedan and Elantra compact.[11]
Hyundai and its subsidiaries created a variety of initiatives in the social sphere, initially in Korea and then internationally as the company expanded. The Asan Foundation, established by Chung Ju-yung in 1977 with 50 percent of the stock of Hyundai Construction, subsidizes medical services in Korea primarily through the Asan Medical Center and six other hospitals. The Foundation has also sponsored conferences on Eastern ethics and funded academic research into traditional Korean culture. In 1991, it established the annual Filial Piety Award.[12]
Affiliated companies
Edit
Hyundai Construction Equipment is a part of Hyundai Group of South Korea.
Jun. 2010 Established of Able Hyundai Hotel & Resort.
May. 2008 Established of Hyundai Investment Partners.
Jul. 2005 Established of Hyundai Global.
Mar. 2004 Separation of Hyundai Autonet.
Sep. 2003 Separation of Hyundai Corporation.
Feb. 2002 Separation of Hyundai Heavy Industries.
Mar. 2000 Exceeded 50,000 of heavy machine production.
Mar. 1999 United Hyundai Heavy Industries Co., Ltd. from domestic Hyundai Motor Company.
Dec. 1995 Europe Overseas Inc. moved to Belgium.
Jan. 1995 Established Changzhou Joint Venture Company in China.
Jan. 1994 Merged with Construction Equipment Division of Hyundai Heavy Industries Co., Ltd.
Aug. 1993 Established Rotterdam Overseas Inc. in Netherlands.
Jun. 1992 Established the 2nd factory for assembling (9,300 m2).
Nov. 1991 Established Chicago Overseas Inc. in US.
Sep. 1989 Became independent to Hyundai Heavy Industries Co., Ltd.
Aug. 1989 Extended 1st factory (12,700 m2).
Aug. 1988 Developed own brand excavators (21ton, 29ton).
Jul. 1988 Entry into domestic market from releasing of Industry Rationalization Management (Hyundai Motor Service is Sold).
Jan. 1987 Separated from Department of Construction Equipment at Division of Heavy machine to Construction Equipments Division and established the 1st step factory.

Feb. 85 Department of Construction Equipments developed a new start at Division of Heavy Machine in Hyundai Heavy Industries Co., Ltd.
From Hyundi web site.
Recently they have introduced the ROBLEX branded range of machines
Model Range
Edit
Dash 7 series
Dash 9 series
Reference
Edit
Hyundai web site
Earthmovers magazine
External links
Edit

This article related to a company (business organisation) is a stub. You can help Tractor & Construction Plant Wiki by expanding it.
Community content is available under
CC-BY-SA
unless otherwise noted.