Hymac 370



A refurbished Hymac 370

Model history
Model introduced

Unknown

Model discontinued

Unknown

Model status

Unknown

Discontinued
Superseded by
Hymac 370C
Power hp

Unknown

Cooling system
Water
Transmission Details
Transmission type
Unknown
Drive
2WD
Linkage Category
Unknown
Other info
Factories
Great Yeldham, England
Plow rating

Unknown
The Hymac 370  Backhoe Loader was built by Hymac from ? till ?. It was replaced by the Hymac 370C in ?
Model history
Edit
The Hymac 370 series of backhoe loader was developed from the Whitlock 370 Backhoe Loader and was built at the Whitlock Bros (est 1899) factory at Great Yeldham, England till production was moved to the Hymac factory at Rhymne in South Wales following the take over. Hymac took over the Whitlock Bros Company in 1972, who had started manufacturing and designing backhoe loader's from 1956.
The model was redesigned in ? with a slimmer cab and revise oil tanks and recessed access steps built in to the tank and designated the Hymac 370C.
A replacement model was being developed in conjunction with Hanomag during the IBH-Holding era of the companies history.
Hymac design's and patents
Edit
Hymac designed and patented the off set hydraulic back-actor system which allowed the backhoe to move from either a left to right offset position from one hydraulic lever with ease and precision.
Hymac designed and patented the back-actor hydraulic knuckle joint, which allow's the dipper to move and operate off set from the boom.
Specification
Edit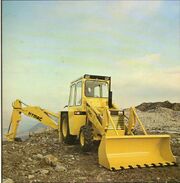 Based on a Ford 3000 engine and an Ford 4000 Industrial transmission and rear axle.
Loader capacity ?
loader lift hight
Loadover hight
Bucket width
Machine weight
Max dig depth
Max reach
Bucket sizes
Preservation
Edit
A few examples can be seen in the UK and Ireland still in occasional use.
List of Preserved Hymac 370 tractors
Make + Model No.
Reg No.
(if known)
Serial No.
Build-Date
Engine-Type/Make
Owner
(if known)
Photo
Were seen/Featured in
Other info
Fill in with your data
?
sn if known
year
engine
owner




seen at
misc




Please add any machine with known reg or serial no. with Photo if possible.
Create a page (link) for an individual tractor by linking the reg or serial number using reg number or serial number in the relevant column. Then once saved click the red link to start the new page and add info on that machine.
References / sources
Edit
External links
Edit
[www.hymac.com www.hymac.com]
| | |
| --- | --- |
| | Add any external links that directly relate to this articles subject and have more info or have related images. Other general external links can be added to the web Site Links list. |
Community content is available under
CC-BY-SA
unless otherwise noted.