The Sandman Will Keep You Awake - The Loop
Play Sound
Hummer H3
[[File:|frameless|upright=1.25|alt=]]
Manufacturer
General Motors
Production
2005–2010
Assembly
Port Elizabeth, Eastern Cape, South Africa
Shreveport, Louisiana, United States
Kaliningrad, Kaliningrad Oblast, Russia[1]/[2]
Class
Mid-size SUV
Body style(s)
5-door SUV
Layout
Front engine, four-wheel drive
Platform

GM GMT345 platform

Engine(s)
3.5L (211 CID)

L52

I5
3.7L (223 CID)

LLR

I5
5.3 L (325 CID)

LH8

V8
Transmission(s)

Hydra-Matic 4L60-E

4-speed automatic
5-speed manual
Wheelbase
111.9 in (2,842 mm)
Length
188.1 in (4,778 mm) with rear tire carrier
Width
74.7 in (1,897 mm)
Height
2006–07: 73.7 in (1,872 mm)
2008–2010: 73.2 in (1,859 mm)
Curb weight
4,700–4,900 lb ({{rnd/bExpression error: Unexpected < operator.|Expression error: Unexpected < operator.|(Expression error: Unexpected < operator.)|Expression error: Unexpected < operator.}}–{{rnd/bExpression error: Unexpected < operator.|Expression error: Unexpected < operator.|(Expression error: Unexpected < operator.)|Expression error: Unexpected < operator.}} kg)
Fuel capacity
23 U.S. gal (19 imp gal/{{rnd/bExpression error: Unexpected < operator.|Expression error: Unexpected < operator.|(Expression error: Unexpected < operator.)|Expression error: Unexpected < operator.}} L)
Related
Chevrolet Colorado
GMC Canyon
Isuzu i-Series
The Hummer H3 was a crossover SUV/Sport Utility Truck from General Motors' Hummer division introduced in 2005 based on the GMT355 underpinning the Chevrolet Colorado and GMC Canyon compact pickup trucks. Produced at GM's Shreveport, Louisiana, USA factory and the Port Elizabeth plant in South Africa, the H3 was the smallest of the Hummer models, and the first to be built by GM. It was available either as a traditional midsize SUV or as a midsize pickup known as the H3T.
H3 in the international market
In 2007 GM South Africa launched their first Hummer production facility in Port Elizabeth, this move introduced the Hummer brand to the South African market and also somewhat lightened the load of the Shreveport factory in Louisiana. Most of the South African made Hummer H3's were imported to England because of the right hand drive factor. The plant manufactured only the Hummer H3, and builds for the South African market as well as the markets of Asia and Europe. This plant also manufactured a right hand drive version for the Australian market between 2007 and 2009.[3] Throughout Australia, Hummer was distributed by Holden dealerships.
Powertrains
The H3 was launched with a 3.5 liter straight-5 cylinder L52 engine that produced 220 hp (160 kW) and 225 ft·lbf (305 N·m) of torque and was mated to a standard five-speed manual transmission or an optional Hydra-Matic 4L60-E four-speed automatic transmission. In 2007 this engine was replaced by 3.7 liter LLR that produced 242 hp (180 kW) and 242 ft·lbf (328 N·m) of torque, figures that were revised in 2009 to 239 hp (178 kW) and 241 ft·lbf (327 N·m). Under revised EPA testing standards when equipped with either transmission this straight-5 engine achieves 14 mpg-US (17 l/100 km) in the city and 18 mpg-US (13 l/100 km) on the highway with a combined average of 15 mpg-US (16 l/100 km). Available solely with the automatic transmission, a 5.3 liter LH8 V8 producing 300 hp (220 kW) and 320 ft·lbf (430 N·m) of torque was added in 2008 for the Alpha model of the H3 and returns slightly lower fuel economy estimated at 13 mpg-US (18 l/100 km) in the city, 16 mpg-US (15 l/100 km) on the highway, with a combined average of 14 mpg-US (17 l/100 km).[4]
The H3 and H3T are being discontinued after the 2010 model year as GM is winding down the entire Hummer brand. Their cousins, the Chevrolet Colorado and GMC Canyon, are reportedly being redesigned for the 2012 model year.
Plug-in hybrid
An April 2009 Engadget column[5] reported that Raser Technologies and FEV had built a prototype plug-in hybrid H3 that could achieve 100 MPG given enough mains power. This vehicle, known later as the Electric Hummer H3, was then showcased by California State Governor Arnold Schwarzenegger at a press conference at the State Capitol in Sacramento as part of a campaign to promote greener vehicles.[6]
Capabilities
The H3 features a two-speed, electronically controlled full-time four-wheel drive system that is suitable for both on-road and off-road driving in all conditions, with electronic locking front and rear differentials optionally available. Like its larger sibling the Hummer H2, the H3 can ford 24 inches (610 mm) of water (tested in depths up to 31 in/790 mm) at a speed of 5 miles per hour (8.0 km/h) and 16 inches (410 mm) of water at a speed of 20 miles per hour (32 km/h). Standard ground clearance is measured at 9.7 inches (250 mm) while the approach, departure, and breakover angles are measured at 37.4°, 34.7°, and 22.1° respectively, allowing the H3 to scale a 16-inch (410 mm) vertical wall and negotiate grades of 60% and side slopes of 40%. Though fore and aft recovery hooks are standard, a trailer hitch and wiring harness are optional.
Maximum towing capacities are 3,000 pounds (1,400 kg) for the straight-5 with manual transmission, 4,500 pounds (2,000 kg) for the straight-5 with automatic transmission, and 6,000 pounds (2,700 kg) for the V8 with automatic transmission. Cargo volume with the second-row seats in the upright position is 25.0 cubic feet (0.71 m³), which expands to a maximum of 62.8 cubic feet (1.78 m³) when the seats are folded down. V8 models feature the lightest maximum payload capacity of just over 1,100 pounds (500 kg) while straight-5, manual transmission models allow the greatest payload at 1,300 pounds (590 kg).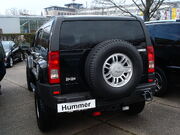 Safety
Electronic stability control, anti-lock four-wheel disc brakes, brake-controlled traction control, LATCH child-seat anchors, and tire-pressure monitoring are all standard features on the H3. Side-curtain airbags were optional until 2008 when they were made standard across. The H3 is rated Acceptable, the second highest rating, by the Insurance Institute for Highway Safety in both frontal offset and side-impact crashes (with side airbags) and Poor, the lowest rating, for rear-crash protection/head restraints.[7]
The NHTSA gives the 2008 H3 the following scores:
Frontal Driver:
Frontal Passenger:
Side Driver:
Side Rear Passenger:
AWD Rollover :
H3T
See Hummer H3T
The Hummer H3T was a concept vehicle from Hummer - mainly used as a media diversion from the Hummer H3 which was to be released in mid 2005. The Hummer H3T production model was shown at the 2008 Chicago Auto Show, with sales set to begin in August 2008 as a 2009 model. The H3T is based on the H3 model, and is a crew cab pickup truck. With a 5-foot (1.5 m) bed, the H3T lands between mid-size and full-size truck classes.
Yearly American sales
| Calendar Year | Total U.S. sales |
| --- | --- |
| 2005 | 33,140 |
| 2006[8] | 54,052 |
| 2007 | 43,431 |
| 2008[9] | 20,681 |
| 2009[10] | 5,487 |
Motorsports
Robby Gordon competed in the 2010 Dakar Rally in an H3, finishing eighth overall.[11]
References
External links

Founded: 1992 -- Defunct: 2010

Discontinued vehicles:
Concept vehicles: