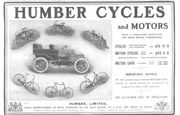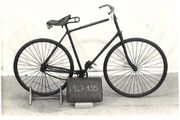 Humber is an English brand of bicycle.[1] They were produced by the Humber Company better known for its cars. The company was founded in 1868. They also produced the Humber Motorcycles. The company was taken over by Rootes Group in 1931. One model is the Humber Sport 3-speed pictured on this page. It includes an unusual fork design, called "Duplex", in which each blade consist of two separate tubes, and a stylish chainring that includes the shape of five persons.[2][3]
Made by Humber car manufacturer from the 1880s until 1932 when sold to Raleigh, who continued the brand name into the 1970s.[4]
Humber also manufactured, at one time, an unusual type of bicycle frame known variously as "cross frames", "girder frames", or "truss frames". Their variant was also duplex, consisting in part of smaller side-by-side tubes similar to the duplex fork pictured below on this page.[5]
References
Edit
External links
Edit

Community content is available under
CC-BY-SA
unless otherwise noted.