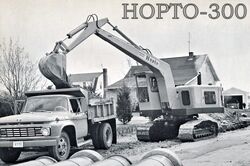 Hopto was the brand name used by Warner & Swasey of the USA on a range of excavators built in the 1950s and 60s.[1] The JCB 7 360 degree excavator was based on a Hopto design
Section heading
The Hopto name originated with the Badger Construction Equipment Company, a subsidiary of the Warner & Swasey company. The first Hopto machine was a tractor mounted hydraulic backhoe - Hydraulically Operated Power Take-Off.
The Gradall brand was also owned by Warner & Swasey who bought the rights to the design in 1946 from the Gadall's designer Ray Ferwerda of Cleveland Ohio.[1]
When introduced in 1972 the Hopto 1900 was the largest American hydraulic excavator. The machine weight 100 ton with 2 GM 8V-71 Engines of 300 hp.[1]
Model range
HOPTO backhoe

Hopto 300

- available truck mounted- (see video of a static example)

Hopto 500

- 17 ton excavator with 112 hp engine

Hopto 1900

- 8 cu yd - 100 ton excavator with twin 308 hp engines.
See also
References / sources
↑ 1.0 1.1 1.2

Giant Earthmovers, by Keith Haddock

, published by MBI, ISBN 0-7603-0369-X Cite error: Invalid <ref> tag; name "giantearthmovers" defined multiple times with different content Cite error: Invalid <ref> tag; name "giantearthmovers" defined multiple times with different content
External links
Add relevant links here please