The T360 was a pickup truck from Honda. Introduced in June 1963, it was Honda's first production automobile.
The T360 used a small 356 cc AK250E series straight-4 engine also found in the Honda S360 roadster prototype. The mid-mounted unit propelled the truck to a top speed of 100 km/h (62 mph).[1] The engine generated 30 hp (22 kW) at 8,500 rpm, reflecting Honda's motorcycle heritage. 108,920 T360s were produced from 1963 through 1967, all painted in 'May Blue'.[2]
The similar T500 used a 38 hp (28 kW) 531 cc version of the engine, exempting it from the Kei car class. This peaky engine (max power arrived at a heady 7,500 rpm, with redline at an astronomical 9,000 rpm) was a slightly downtuned version of the one found in the Honda S500 sportscar, an unusual choice for a truck. Top speed was 105 km/h (65 mph). 10,226 T500s were built from 1964 through 1967, and were all painted 'Moss Green'. Aside from the different color and engine, the T500 was 20 cm longer (all behind the rear axle), since its overall length wasn't dictated by the Kei regulations.[1] Another minor distinction was the fittings for license plates larger than those of a Kei car.
The T360 was produced as a conventional rear wheel drive pickup truck, a flatbed (the T360F), flatbed with folding sides (the T360H), and as a covered van (the T360V). The T500 came either with a conventional pickup body (T500), or with the folding side flatbed, confusingly called the T500F.[2]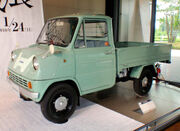 References
External links
Current Automobiles
Past Automobiles

1300

 •

Accord Hybrid

 •

Ascot

 •

Avancier

 •

Ballade

 •

Beat

 •

Capa

 •

City/Jazz

 •

CR-X

 •

CR-X del Sol

 •

Concerto

 •

Domani

 •

EV Plus

 •

FR-V

 •

HR-V

 •

Integra

 •

Life Dunk

 •

Logo

 •

Mobilio

 •

Mobilio Spike

 •

N360

 •

N600

 •

NSX

 •

Orthia/Partner

 •

Passport

 •

Prelude

 •

Quint

 •

Rafaga

 •

S500

 •

S600

 •

S800

 •

S2000

 •

That's

 •

Today

 •

Torneo

 •

Z

 •

Acura automobiles
Concept automobiles

Dualnote

 •

HSC

 •

J-VX

 •

Remix

 •

Sprocket

 •

WOW

 •

New Small Concept

Race automobiles

HSV-010 GT

 •

R800

 •

R1300

 •

RA270

 •

RA271

 •

RA272

 •

RA273

 •

RA300

 •

RA301

 •

RA302

 •

RA100

 •

RA099

 •

RA106

 •

RA107

 •

RA108

Acura race automobiles

Motorcycles

CB series

 •

CBF series

 •

CBR series

 •

CJ series

 •

CM/CMX series

 •

CR series

 •

CRF series

 •

CX series

 •

DN-01

 •

Fury

 •

GL series

 •

NR series

 •

NSR series

 •

RC series

 •

ST series

 •

VF/VFR series

 •

VT series

 •

VTX series

 •

XR/XL series

 •

XRE300

 •

Transalp

 •

Africa Twin

 •

Deauville

 •

Bros/HawkGT

 •

NX250

 •

Pacific Coast

 •

TL Series (Reflex)

 •

Valkyrie

 •

X4

Mopeds and
light motorcycles

Ape

 •

CT series

 •

Cub F

 •

Cub series

 •

Gyro

 •

Motra

 •

P50

 •

PC50

 •

ST series/Dax

 •

Wave series

 •

Z series

Scooters

Aero

 •

Big Ruckus

 •

Dio

 •

Elite S

 •

Elite E

 •

Express

 •

Helix

 •

Juno

 •

Metropolitan

 •

Metropolitan II

 •

Motocompo

 •

NH series

 •

Reflex

 •

Spree

 •

Ruckus/Zoomer

 •

Silver Wing

Aircraft
Engines

A-series

 •

B-series

 •

B20A

 •

C-series

 •

D-series

 •

E-series

 •

E07A

 •

F-series

 •

F20C

 •

G-series

 •

H-series

 •

J-series

 •

K-series

 •

L-series

 •

Circle L Diesel

 •

N-series Diesel

 •

P-engine

 •

R-series

 •

HF120 Turbofan

 •

VTEC

 •

I-DSi

 •

I-CDTi

Robots

Honda E series

 •

Honda P series

 •

ASIMO

Subsidiaries
Keiretsu affiliates

Keihin •

Showa Corporation

 • Nippon Seiki

Influential people

Soichiro Honda

 •

Nobuhiko Kawamoto

 •

Takeo Fukui

 •

Tadao Baba