Hino Pr]ofia is a heavy duty cab over truck made by Hino Motors Ltd, Japan. For most export market, it's simply called Hino 700. The name Profia is officially used in Japan, and previously was Hino Super Dolphin Profia. This is the big Hino's F-Series Truck which model codes are FN, FP, FR, FS, and FW. The Tractor Head are SH and SS.
Super Dolphin (1981-1992)
Edit
Introduced in 1981.
Super Dolphin Profia (1992-2003)
Edit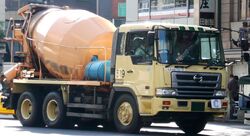 Diesel engine availabilities are 7,961 cc J08C, 10,520 cc P11C, 13,267 cc K13D, 19,688 cc F20C, and 20,781 cc F21C.
Profia (2003-)
Edit
The cabin design is similar to the fourth generation Ranger, but the Profia is bigger. It's based on the Grand Aerotech Design technology resulting outstanding aerodynamic performance. The cabin also adopts upgraded Emergency Guard Impact Safety (EGIS) to protect occupants.
Engine choices are 10,520 cc P11C, and 12,913 cc E13C. Transmission is either 7 , 12, or 16 speed manual. The Pro Shift 12 automatic transmission is offered in Japan.
The Profia Heavy Duty Trucks are available as the following models:
FH 4x2
FN 6x2 double front axle
FQ 6x4 low floor
FR 6x2 double rear axle
FS 6x4
FW 8x4 low floor
FY 8x4
SH 4x2 Tractor Head
SS 6x4 Tractor Head
SV 6x4 Tractor Head
References
Edit
External links
Edit

Community content is available under
CC-BY-SA
unless otherwise noted.