The Hino Dutro is a light commercial truck based on the Toyota Dyna, built by Hino Motors in Japan.
Like the Dyna and its twin Toyota Toyoace, the Dutro is built on the U300 platform for standard cab, or U400 platform for the wide cab. The Dutro is offered in many different chassis type suitable for different purposes.
For export market, the Dutro is sold in Indonesia, Australia, Thailand, Malaysia and Latin America. As of 2008, the Dutro will be available in Canada under the name '155'. Canadian models are built in Woodstock, Ontario, Canada from CKD kits imported from Japan.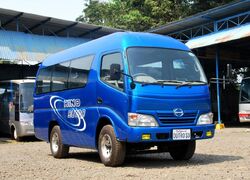 Wide range in Japan including Wide Cab, Double Cab, hybrid electric, 4WD, and Route Van. Engine choices are 3.7 liter 4B, 4.1 liter 15B-FTE, 4.0 liter N04C, 4.6 liter S05C, 4.7 liter J05D, 4.8 liter S05D, and 5.3 liter J05C.
Indonesia
Edit
Introduced in Indonesia in 2002 with five models: 125ST, 125LT, 125HT, 140GT, and 140HT. All are Standard Cab. 125ST is 4-wheel short wheelbase, the rest are 6-wheel long wheelbase. Engine for 125 models is 4.0 liter W04D, the 140 models is powered by 4.6 liter S05C.
Starting from 2007 model year, with the government requirement that all vehicles must comply to Euro-2 emission regulation, and Hino introduced 4 models with the modified W04D engine with intercooled turbocharger. The new models are 110SD, 110LD, 130MD, and 130HD.
Thailand
Edit
In Thailand: Dutro 300, 301, 340 (Standard Cab), 410 and 420 (Wide Cab).
== Second Generation (2011-)
References / sources
Edit
External links
Edit

Community content is available under
CC-BY-SA
unless otherwise noted.