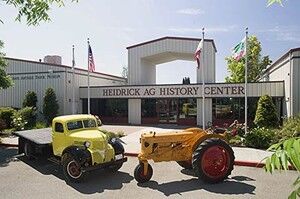 The Heidrick Ag History Center is a non­profit organization dedicated to enhancing people's education, understanding and appreciation of the rich heritage of agriculture and transportation. The Center introduces visitors to the marvels of agriculture, and commercial trucking through 130,000 square feet of interactive, one-of-a-kind exhibits featuring the latest in museum and attraction technologies.[1] The cornerstones of these exhibits are the Fred C. Heidrick Antique Ag Collection, the world's largest and most unique collection of one-of-a-kind antique agricultural equipment and the Hays Antique Truck Museum, also recognized as the largest of its kind in the world.
History
First opened in 1997, the Ag Museum exhibits farm implements, tractors and harvesting machinery from the late 1800s through the middle of the last century. Mr. Heidrick collected rare, unusual, and historic farm machinery over the course of his lifetime and built the Center to make it available to the public.
The Hays Antique Truck Museum was established 25 years ago by A. W. Hays, a pioneer in the commercial trucking industry in California. Mr. Hays and Mr. Heidrick were friends and when Hays retired, Heidrick suggested that he begin to collect and restore trucks, as Heidrick had done with tractors and farm implements. When the Ag History Center opened, the truck museum seemed a natural partner.
A courtyard for an afternoon picnic, computer interactives and a gift shop with books, toys, and antiques compliment the exhibits and enhance the enjoyment of your stay.
The collection
add details of significant / interesting exhibits here.
Contact details
Heidrick Ag History Center,
1962 Hays Lane, Woodland, California
Phone: 530-666-9700
See also
References / sources
External Links